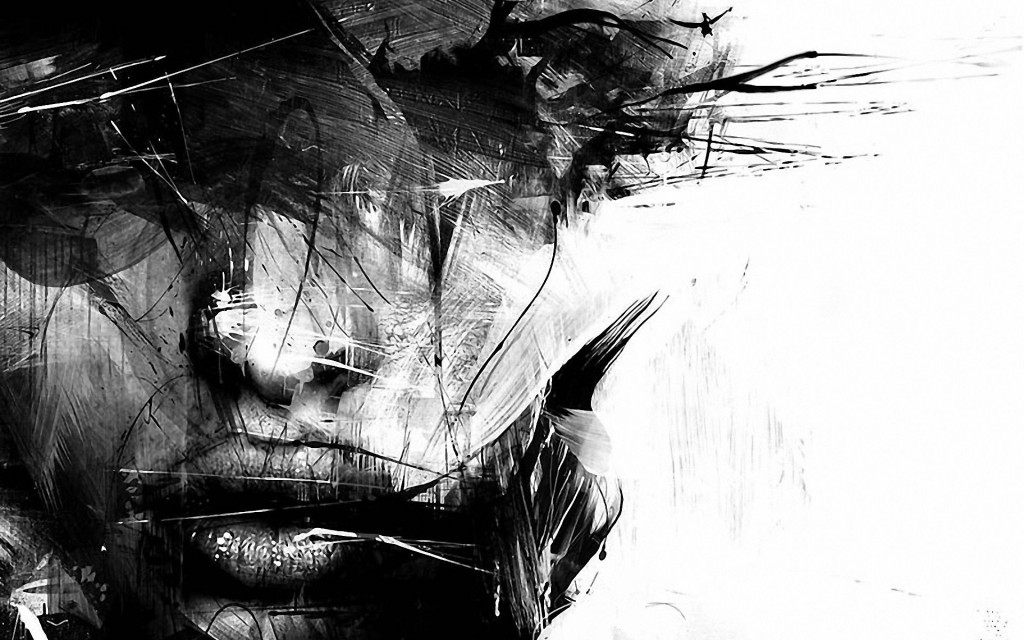 It has developed historically, that all kind of creative work is the author's monologue and viewers are passive participants of art. Due to digital-art emergence a new concept known as "interactive" has appeared, when individuals take part in action instead of being outside observers. Like a bomb of slow action popularity of digital art has been growing among public and now it is on its peak.
No doubt that the digital art itself arose neither yesterday nor today. However people has been involved to the process lately and social networks are overflowed with delightful publications under hashtag #installationart (16455 posts), #digitalart (510695 posts). The main objective of today's Popsop research is to examine society response to ability of sharing the creative process along with artist itself, which has appeared due to digital-art. As instance we took works of popular digital-art member — Daniel Rosin.
We selected Daniel, principally because he combines both occupations: artist and inventor. His installations are being altered under spectators' glances and interacting with public. For example mirror assembled from small wood pieces breaks standard perception of reality. Artist proves that any surface can reflect image. Person, watching on installation, is observing himself in real time – picture is unclear, however it is live and natural. Author's concept is exactly such types of displays, which draw a portrait of a person who is looking on it by certain logical sequences.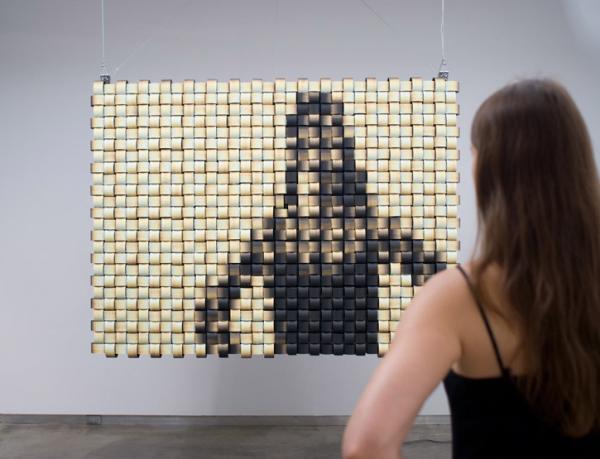 In order to recognize which emotions of different public are evoked by digital-projects we have studied users' Instagram accounts.
Nicole Henry (Instagram — @nikolehenryart) is not an ordinary inhabitant delighted by interactive creative work of Daniel. Nicole knows arts not by hearsay. In 2006 girl instituted her own art-gallery called Nicole Henry Fine Art in West Palm Beach (Florida, US), which specializes on street art, American art, impressionists' works and modern talents from all Europe. On her Instagram page Nicole publishes best works of various art masters, expressing her attitude to every picture and installation. And mirror work of Daniel has not been avoided.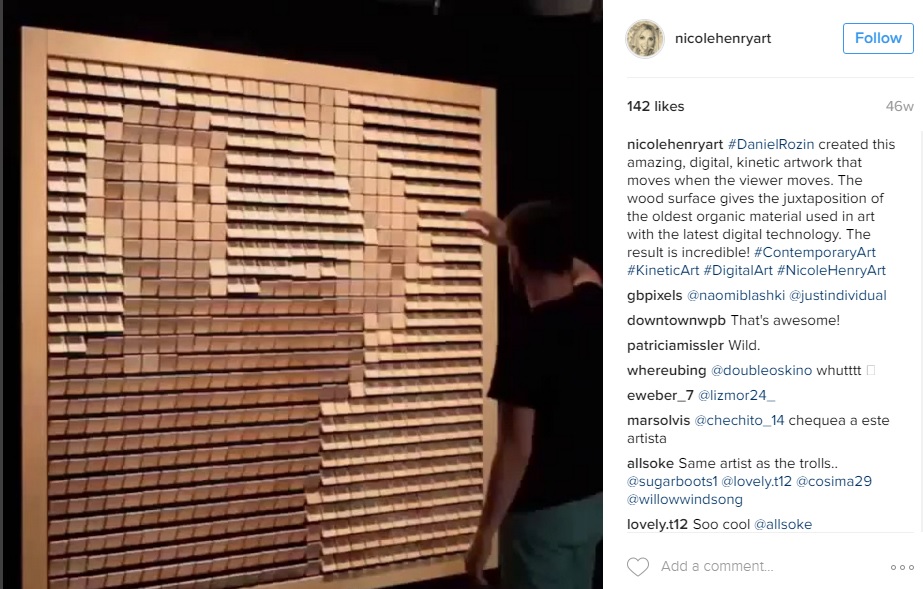 Burton Rast (Instagram — @misterburton) – is software developer from San Francisco. Among his hobbies are mathematics, arts and everything related to his favorite work. There are no personal images on his Instagram page, but a lot of beautiful landscapes, architect objects and art.
On the web-page of art gallery with works of young modern painters, @bitforms Barton (Barton is a fake name) couldn't keep delight of Daniel Rosin work – "Penguins mirror"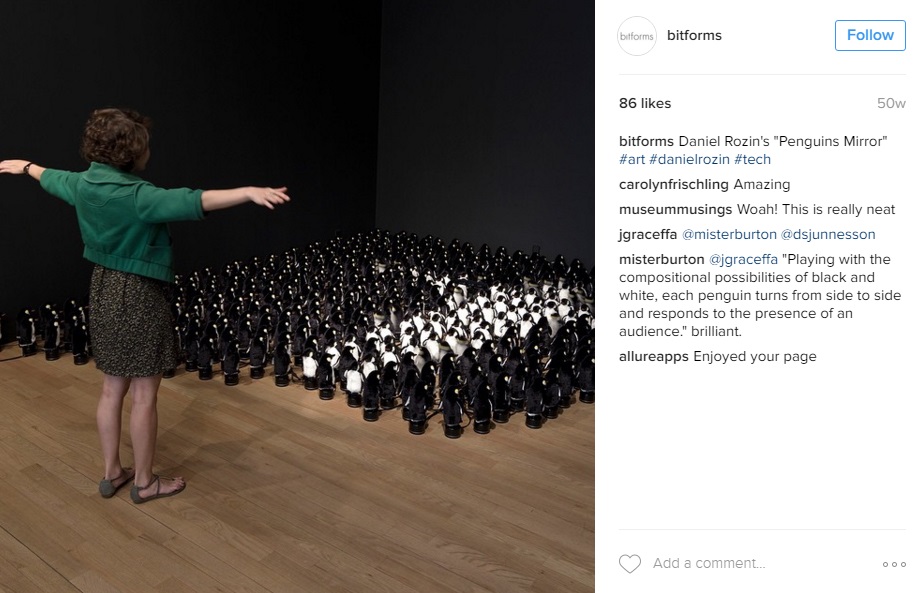 Trine Kok (Instagram — @trinekok) – is craftsman-knitter, mother of two kids, e-shop owner, where her knitted handmade goods are sold, and just creative person, inspired by arts. Girl has published post with picture of one of Rosin's works and persistently recommends everybody visit all his exhibitions and get experience of catharsis for real!

Interior designer nicknamed @krakenvrt on his account publishes page shots taken in travels, natural landscapes, lovely pets and art objects. Among others there is video of unique beauty from Daniel Rosin exhibition with work called "Snow mirror".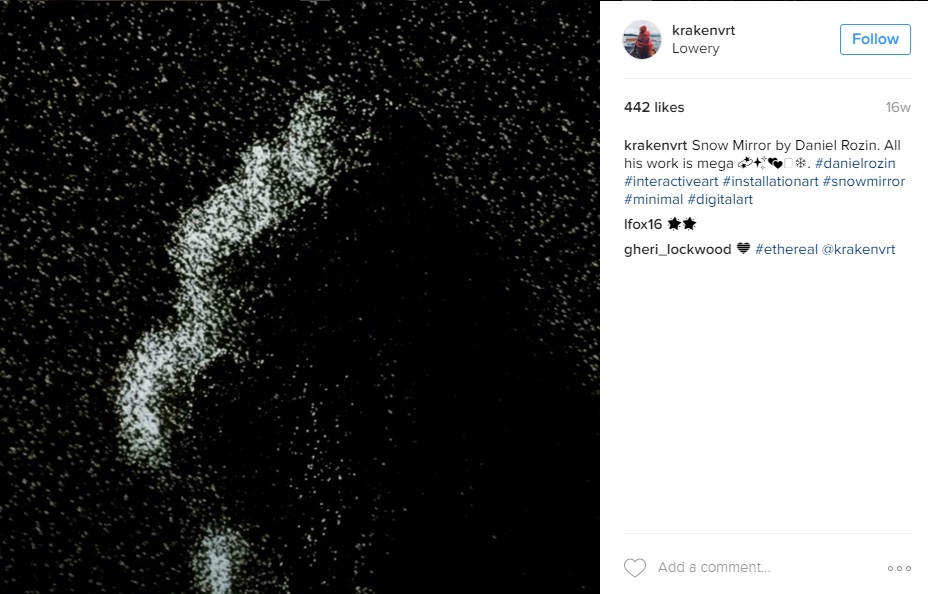 Actually thousands and hundreds thousands people are admired by digital art, and also by craftsmen who create it. And sometimes, as we are managed to notice in our research, it is not the object evokes delight but resourcefulness and genuine talent of masters of their craft, including Daniel Rosin, who composes his exhibits from everything he can find – plywood, discarded packs or common trolls figures. Needless to say that there is no more noble way to support kind name of company in social networks than to sponsor prodigies of digital art.