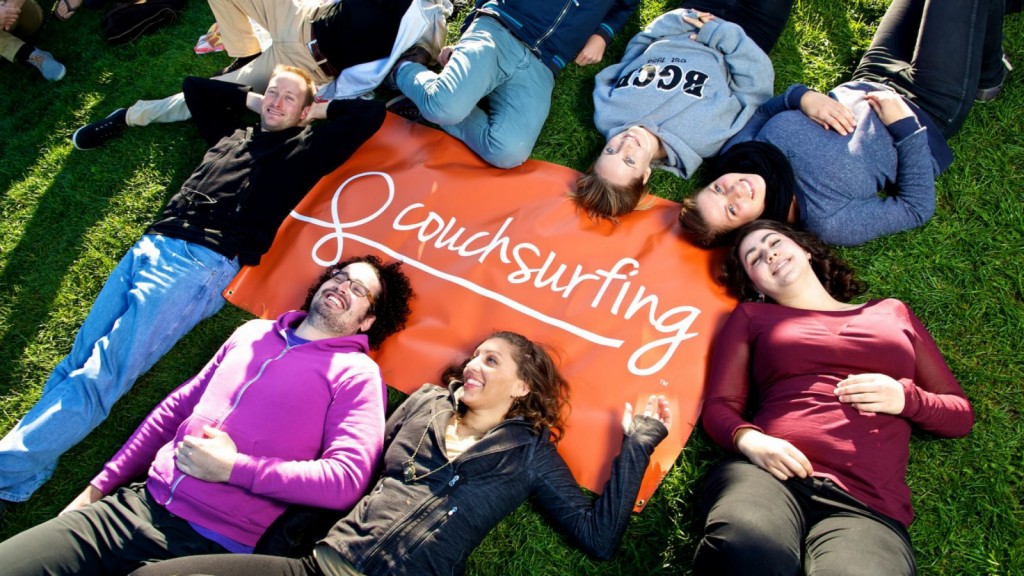 If you want to see new countries from the inside, conceive and get experience of locals' lifestyle or just meet people from different places of the world, but you have limited reserves, couchserfing is your choice! Popularity of this wonderful movement is being gained among travelers of modest means, especially during period of crisis and social networks development.
Couchsurfing isn't a new movement; it appeared in 2000, when American youth man went to Iceland-tour with no sufficient money to pay for accommodation. Therefore guy asked Iceland students for lodging for the night and they did not only provide him with shelter but even organized excursions for him. After such travel Cayce opened a new opportunity of such adventures to public, he found couchsurfing.org – couchsurfer's forum, where everybody can sign up as a surfer (if registered person wants to travel) or as a host (if registered person wants to be host).
But it has become popular nowadays, when for promotion is used not only forum, but also social networks, where people who have got experience of couchsurfing share with their posts under hashtag #couchsurfing (134547 publications). Popsop has got acquainted with the most experienced couchsurfers and has defined what the couchsurfing is for them.
@Vaga_boom – is account of tourists-spouses Demise and Nancy (South America, Patagonia). They are always en route and visit one by one countries and continents. Places which are possible to reach on two wheels they attend on bicycles. In addition, the couple is bloggers, all video, photo and wonderful stories are published on either YouTube or on various accounts of different social networks.
The couple wrote in one of their "during journey" publications on Instagram about role which plays couchsurfing in their life.

Such wandering lifestyle allows Demise and Nancy to find new friends, get acquaintances and followers, they have latest about 7000 on Instagram.

For somebody couchsurfing not only a way of low coast travels but also opportunity to find followers and friends with the same interests. Alexander Lackner (Instagram @alexlackner) is a guy from Wien (Austria). He lives quite active life, loves music and long voyages. And recently, he has given houseroom to Anne – Couchsurfer from Ukraine, who as Alex intended to attend AC/DC performance in Vien and chose his hospitable house as temporary shelter.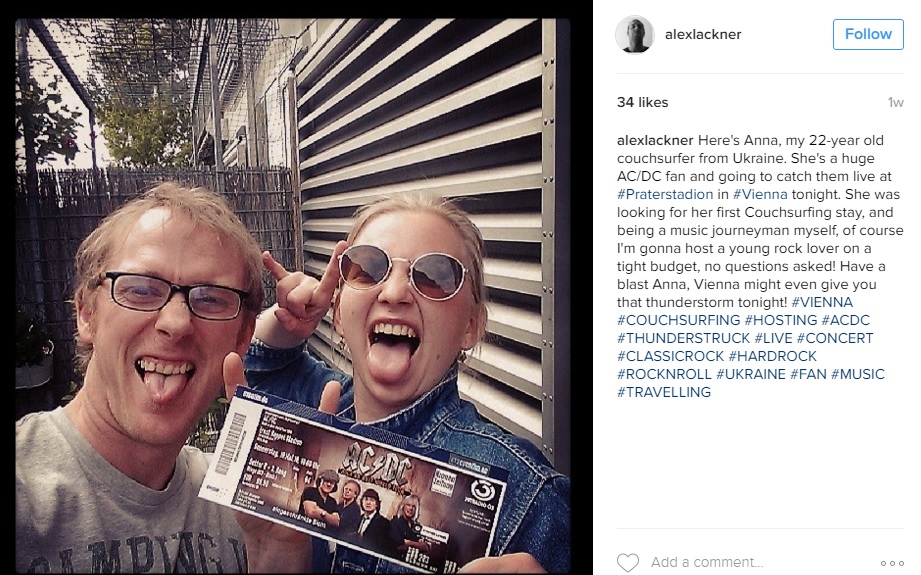 Besides, couchsurfers worldwide are in touch with each other and occasionally organize parties, they gather together in order to chat or to discuss their trips and to hang out. Couchserfer Migs Reblando from Philippines (Instagram @wandergraphylogue) in his 31 has visited 196 countries. He has published lately that in this year couchsurfers' meeting will take place on Sharab fest beach party.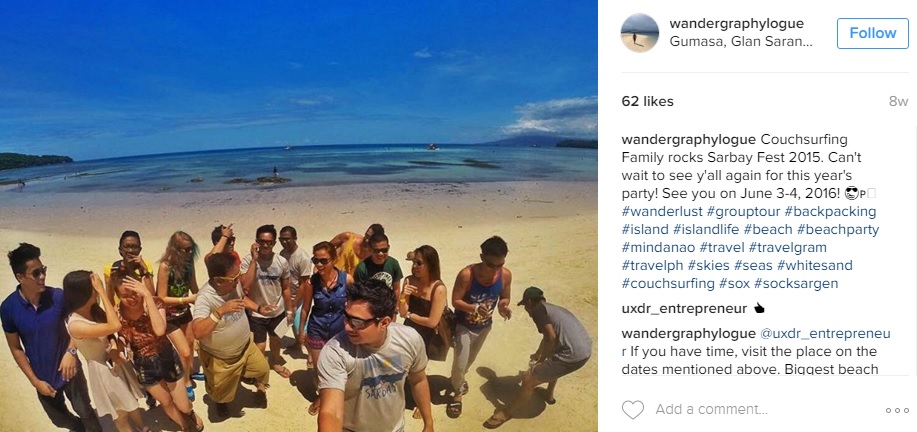 Thus we can notice that couchsurfing is unique opportunity for traveling and adventures, comprehension of world countries culture and its atmosphere, getting new acquaintances and meeting new friends. By the way, nowadays, in the condition of global crisis it is very important, cause owing to couchsurfing it is not necessary to spend money for accommodation. And in the end of our research a piece of couchsurfer's humour.