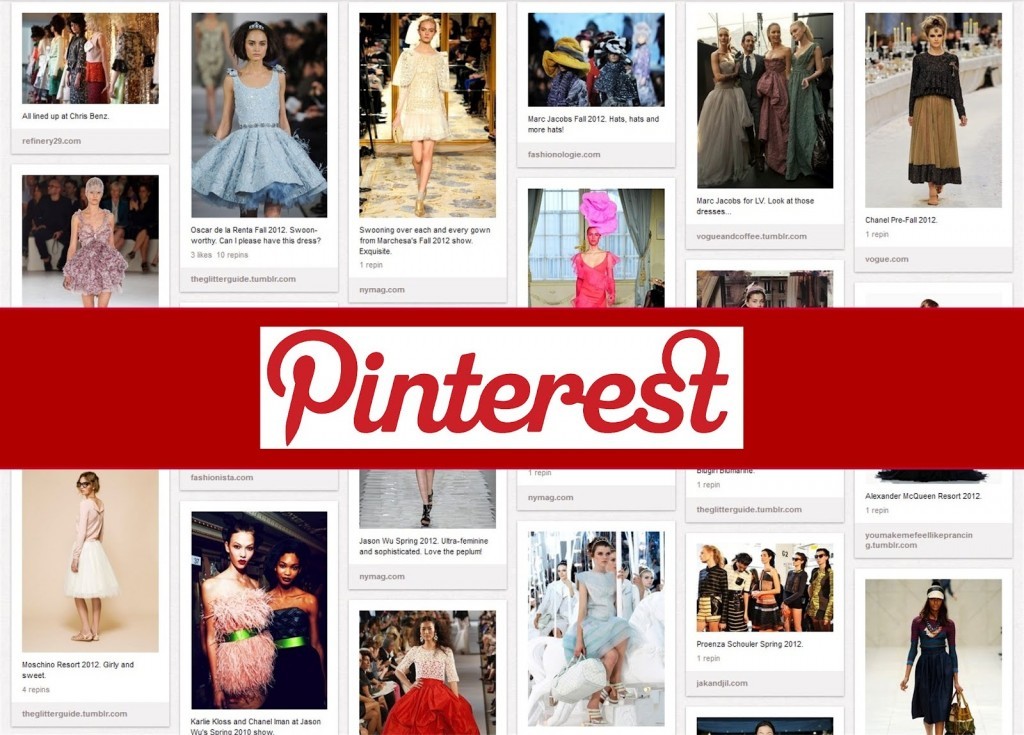 Pinterest – is a popular photo sharing service, which efficiency as instrument for public attraction has been realized by all leading brands. One by one they are getting virtual boards. Especially it's actual for fashion industry, where visual part directly affects on sales. Popsop has studied 7 most interesting accounts of recognizing brands and brought out how Pinterest is applied in fashion industry.
It is not a secret, that essential "consumers" of Pinterest for whom it is necessary as the breath of life are retail and fashion industry agents (in that case Pinterest competes successfully with Instagram). Fundamental advantage of social network for such segments is ability to upload images of goods using photo sharing service as showroom.
Among Western brand corporations Pinterest interactive function is also popular, due to it company confers common users with privilege to post "pins" on their profile pages. For example, companies may invite designers, bloggers or photographs for posting interesting content on their Pinterest page. The opportunity to become a "co-host" of favorite company is exactly good motivation.
Top western companies have been using this method of promotion, although for many of them the number of subscribers of pinboards less important than followers of Instagram or Twitter. As instances we reviewed some accounts of top world brands as:
Burberry
Burberry has proven itself as a company, which possesses skills of promotion into social networks (Instagram account with 6.7 million followers is evidence). It has to be admitted that its Pinterest account looks rather simple compared to Instagram, there are 165 000 subscribers yet. There are pictures of new collections, magazine photos, images from fashion shows, company archives and special album of famous trend history on Pinterest's page of British firm with sesquicentennial history.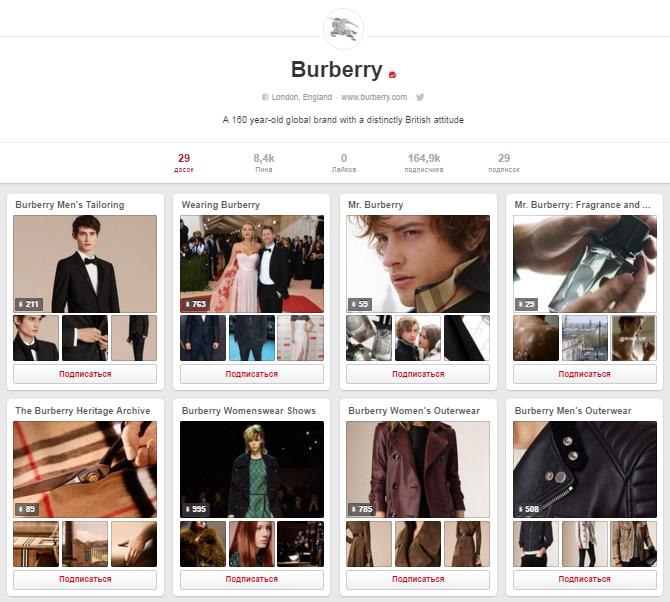 Armani
Pure agent of digital-industry on Pinterest is famous Armani brand with quite pleasant account on this social network. There is everything that can be imaged ranging from new and old collections, images from fashion show, magazine covers to gift ideas, branded choc etc on their Pinterest profile page. And it doesn't matter if the agency has a little number of subscribers yet – only 44,5 thousand. Compared to Burberry it is trifle. However, in difference of Burberry Armani has far more view boards – 69 (against 29).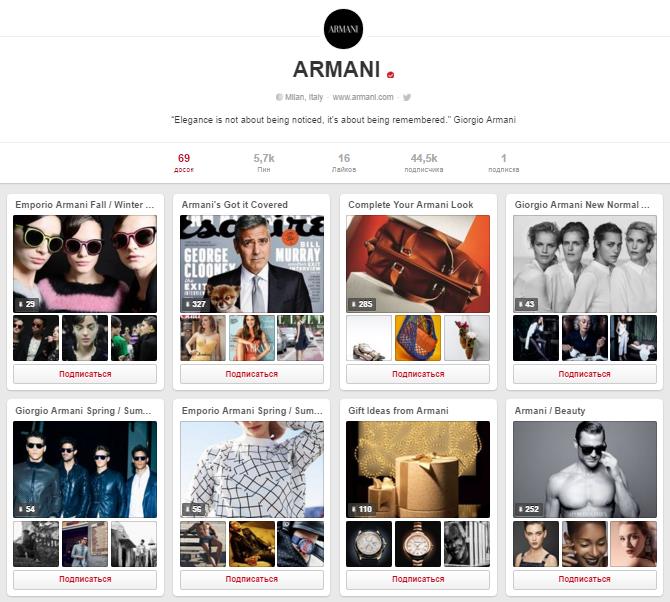 Marc Jacobs
Marc Jacobs employs service in full extent: collections, celebrity photos, backstage life, vogue sketches, motivators and even the brand mascot — bull terrier Neville and Marc Jacobs himself are there. Account is quite active – 28 boards, 7 000 pins and 106 thousand subscribers (Marc Jacobs is subscribed on 117 profiles), it is a great result for the beginning.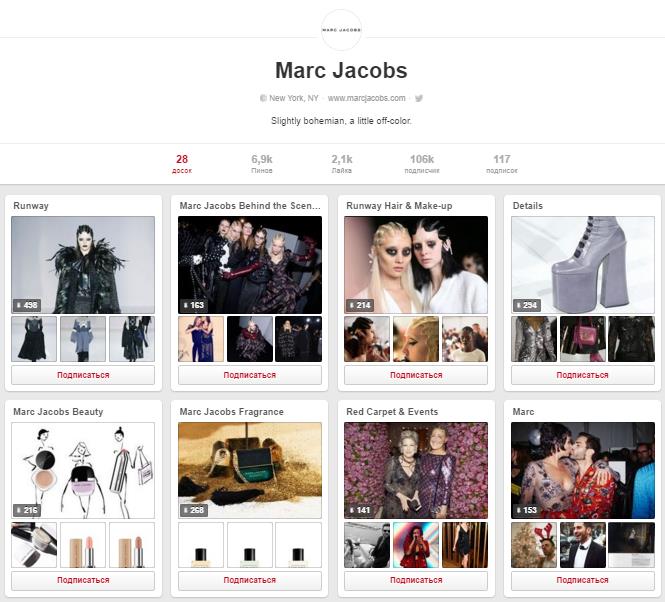 Dolce&Gabanna
Besides compulsory for similar brands pictures of new collection, shootings, backstage life, and celebrities on red carpets, Pinterest of Dolce & Gabana consists of following season sketches collections, and detailed history of company. It is on top by number of followers – 198 000.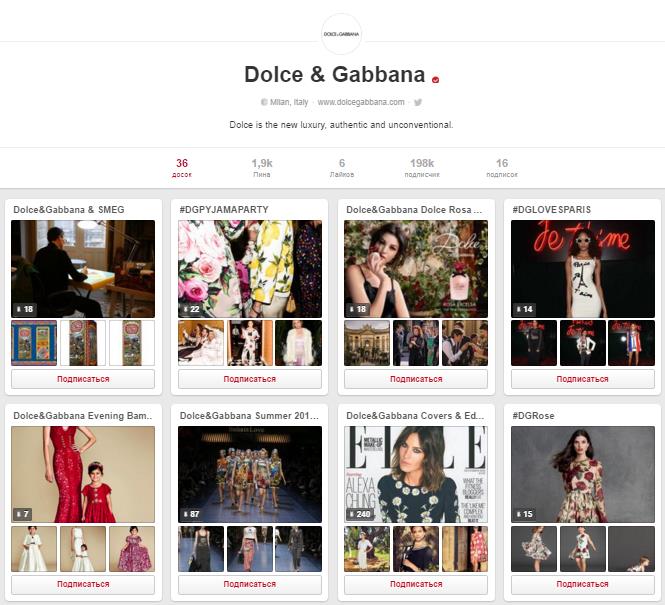 Warby Parker
Warby Parker specializes on manufacturing of inexpensive but quality glasses. It keeps also one of the most significant and various by content fashion-pinterest of vogue and style topics. But apart from commonplaces there are some inspiring photos from journeys, books, arts and shots from brand team parties.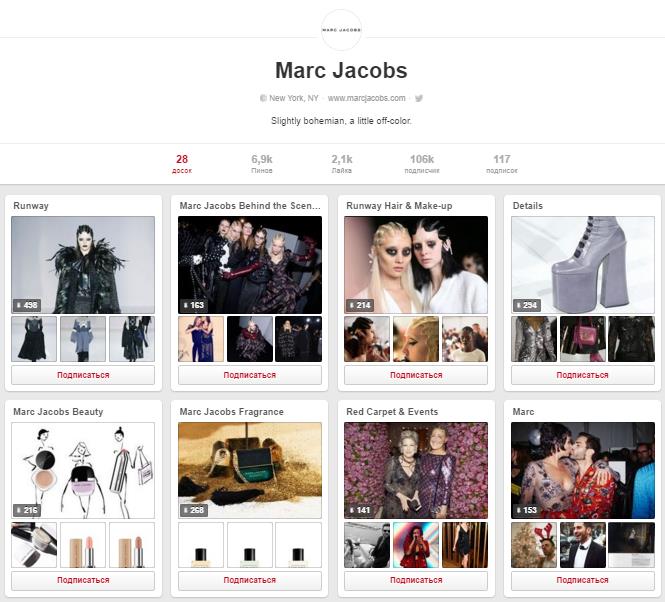 Louis Vuitton
The excellent result has been achieved by French vogue house Louis Vuitton. 96 thousand profiles was subscribed on channel (at the moment of article writing), 2,5 thousand pins, 25 boards. Incidentally, it is one of few brand accounts. There are social life, data for insiders, celebrities, brand boutiques' pictures from different countries, on the Louis Vuitton page. Some funny images can be met there.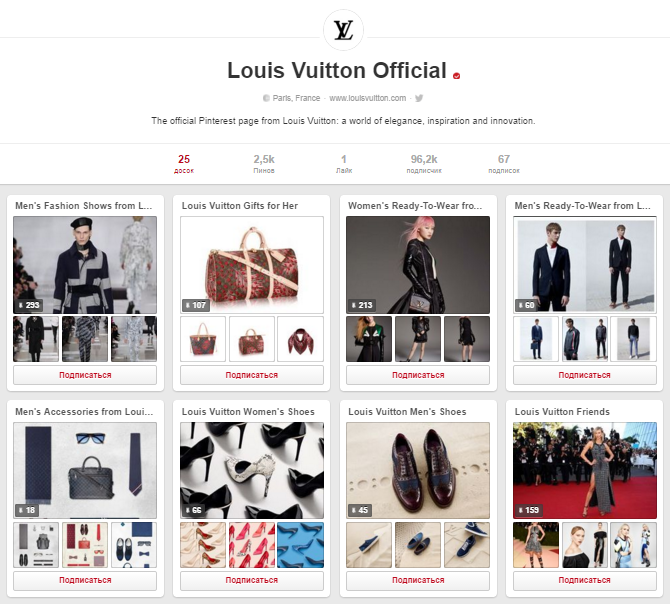 J. Crew
J. Crew is surprisingly active on Pinterest. On 43 boards more than 6,6 thousand images are published, whereas number of subscribers excess 237 000 people. It is the absolute leader of all listed brands. The cause partially is in applied by marketers the nonstandard way of product promotion: there are no any usual pictures from magazines or shows on Pinterest. But there are many inspiring pictures, images and motives, which can be noticed in brand goods.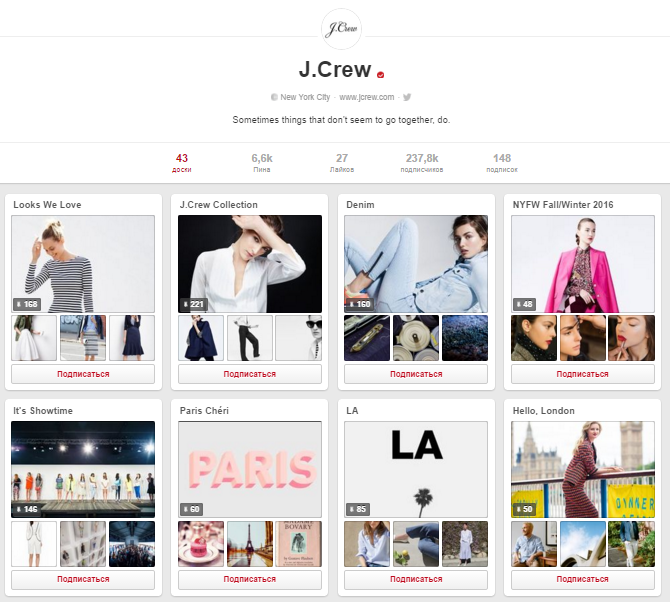 According to brand activity comparative table of Pinterest and Instagram, it is obvious that on this stage popularity of accounts of famous photo sharing service leaves much to be desired and Instagram is still the on the top of the world, but perhaps the situation will change soon. And figures will be equal if not diametrically opposed.