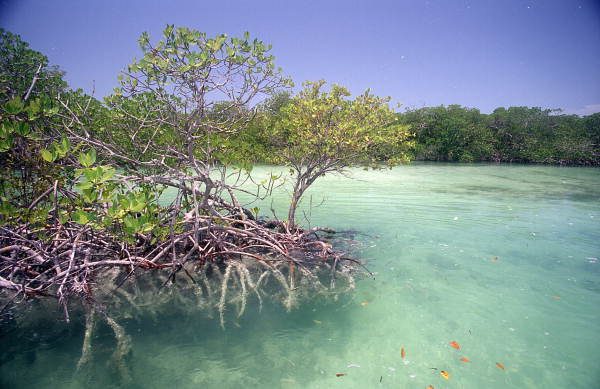 Artificially created defence structures in the form of concrete blocks — the main type of protection of any sea coast to date. But this is not ecological, in addition, concrete is prone to erosion. Japanese designer Sheng-Hung Lee invented a natural and environmentally friendly way of protecting coastlines.
Each time, while walking on the beaches of Taiwan, Lee paid attention to hydraulic engineering equipment, namely, a concrete breakwater located on the coastline. This is done allegedly in order to protect the coastline from tsunamis, the flow of ice or pumps. But this, according to Lee, does not look very beautiful and violates the emotional connection between man and nature. Therefore, the Japanese designer has created a natural solution to global problems.
His invention, called TetraPOTs, is a metal pot of a special design, filled with seeds of mangrove trees, which must be planted along the coast. Later, their roots will intertwine and gradually become a natural sea defence of any water space. To achieve the perfect result, it will take about 14 months. By the way, the construction of the pot is arranged according to the known four-component principle, and includes biological filters for water purification from pollution, protective mechanisms, and it looks quite aesthetic, which will enable it to become an ideal decoration of the coast.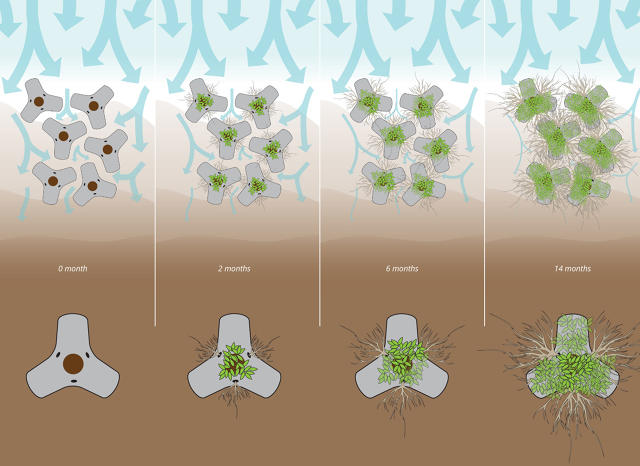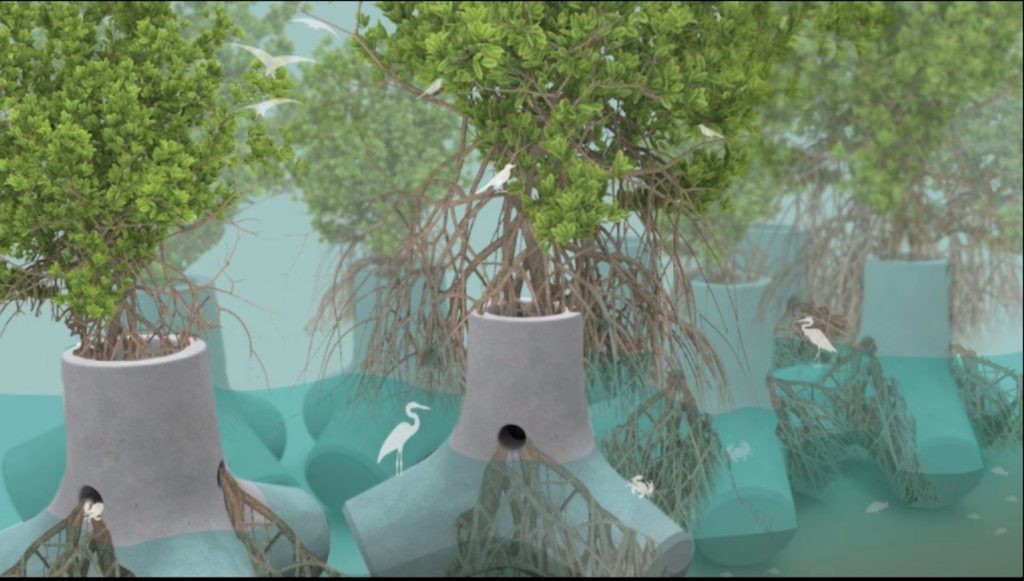 The benefit to the environment consists in the fact that mangroves and shrubs themselves are useful in the sand cleaning process, which is passed through their long roots during the growth phase. There is also an economic benefit in this invention, since the cost of the project, including design, production and materials for the production of each of the TetraPOTs is significantly lower than the construction of a traditional concrete structure.
And finally, from an aesthetic point of view, this is one of the possibilities for the mankind transition to the «green side» of emotional interconnection with nature, the realization that to improve the ecological situation it will be more logical to resort to natural ways of protecting coastlines, sweeping aside artificial concrete ones.