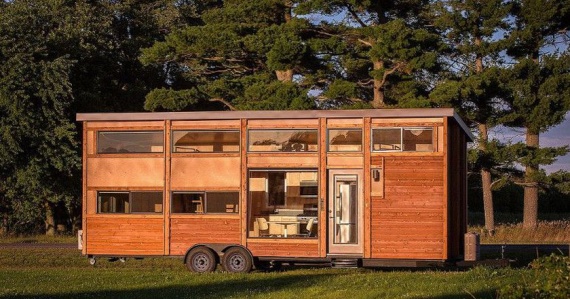 The ingenious trio in the person of the architect, designer and founder of the American company Testimonials presented to the general public an unusual eco-house on wheels that can accommodate 10 tenants at once.
In fact, the presentation of the house first version took place in 2015. However, it is now announced that there is a new improved copy called Traveler XL Limited. It greatly exceeds the original in terms of capacity and equipment. It is difficult to imagine, but 10 people can be accommodated in this house on wheels at the same time!
The tiny house on wheels is based on a three-axle trailer with dimensions of 30 feet (9.1 m) in length and an area of 344 sq. ft. (32 sq. m.). In comparison with its predecessor, the royal trailer (as it was called for colossal capacity) has more windows (and a larger size), two floors, a rethought interior layout, an increased number of storage spaces.
On the ground floor there is a living room with a sofa bed and a TV. It has LED lighting. Nearby there is a bedroom with a huge double bed with lighting, bedside table, extra TV, pantry and numerous storage boxes. By the way around the house there are also several maple closets, shelves and other assembled units.
The trailer boasts a fully-sized kitchen with a modern suite, stove, oven, refrigerator and sink. Bathroom, which is significantly modified in comparison with the previous model, is also not inferior in equipment. Even more space appeared in the cupboards over the sink (trailer buyers asked for it); it also became possible to equip the trailer with a shower or bathtub at the user's choice. For those who want to install a shower, it is possible to place additional closets by saving space or to install a real washing machine in the bathroom!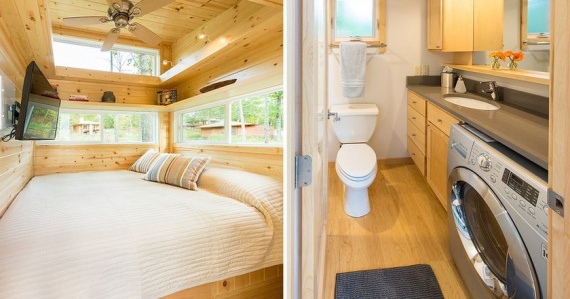 Concerning the ecological compatibility, the prevailing part of the interior of the house consists of treated pine, and the outer one of cedar. In addition, solar panels provide the trailer with energy. Of course, this will not replace fully-featured electricity, but it will be able to provide LED lighting and trouble-free operation of equipment.
Traveler XL Limited is supplied in a premium package and so it's no surprise that it's quite expensive. Price of the Traveler XL Limited from Escape starts at 78 500 dollars. This amount does not include all the extra options, such as a ceiling fan, a washing machine and a TV.