The term of digital and sound art itself is constantly changing and transforms into various sound and image installations, techno and experimental music, museum and gallery installations, photography, digital pictures, recorded voices and sounds, and even video fragments. People tend to think that abstract contemporary art is equal to painting, however this phenomenon cannot be touched or seen on a regular basis, but felt and heard — absolutely. Sound art becomes even more popular these days compared to when it just got started. Many upcoming artists use all the advantages of working with sound, creating an exceptional mix of natural noises, sounds and contemporary electronic and instrumental music, while others are getting inspired by the cultural and folk impact on their work. All these factors create a unique and outstanding sound trend that attract many galleries, agencies and media to take a look on it carefully and collaborate with some of them. 

We've picked the list of 5 remarkable and talented sound trendsetters you'd likely prefer to collaborate with and know about.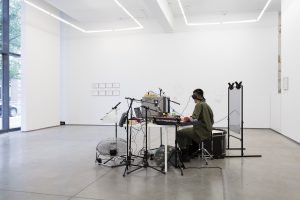 Samson Young 
Hong Kong born artist Samson Young is currently exhibiting his work at multiple galleries and museums across the planet, yet was representing his country at Venice Biennale back in 2017. The artist is famous for his extraordinary sound performances and various installations based on different aspects of humans life including political issues and sounds as a phenomenon and a number of his solo performances including Art Basel. His view on sound art is exceptional, and, undoubtedly, he's the one of few contemporary trendsetters whose works are truly remarkable.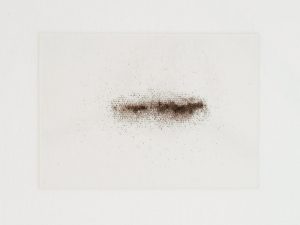 Camille Norment
Maryland born, Oslo based contemporary artist Camille Norment is focused on introducing her art as a massive installation with sound effects in order to get several psychological responses from the viewers, some of her sound installations count around 160 speakers just in one venue, besides it she uses such instruments as glass and an effect of a broken glass to explore the feeling of excitement, fear and anxiety. It's definitely one of the upcoming trends next season since it's exceptionally unique.
Acoustic piece introduced by Artsy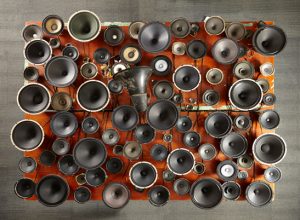 Janet Cardiff
This Canadian born and based extremely talented artist is focused on traditional and natural sounds and usually performs and works together with her husband George Bures Miller. One of her most difficult and interesting creation called The 40 Part Motet is a real gem and a masterpiece of sound art, an artist calls it a «virtual choir», because the installation consists of 40 speakers.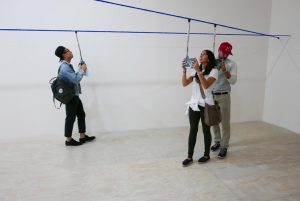 Christine Sun Kim
Berlin based, US raised artist Christine Sun Kim was born deaf, however it only forced her to be more creative, she is mixing her unique thoughts and experiences with sound in her installations. Each of her interactive pieces is concentrated on sound and its features.
Christine for i-D Mag by Harley Weir
Cevdet Erek
Turkish artist Cevdet Erek is describing his work as a mix of rhythm and place peculiarity. Usually he combines sounds, photography, images and videos in order to focus the viewer's attention on space and sound.
˜
Nowadays the majority of art trends come and go and in order to satisfy a smart and picky client or a particular brand you should always be ready for something new while following all their needs and wants, yet keeping the art product fresh, unique and relevant. So what to expect from the audio trends in 2019? Undoubtedly sound art and its innovators are on top of the peak at the moment. Despite the fact that this is a fast trend itself too, the number of brands and customers involved into its promotion and consumption is only growing according the statistics. If Biennale di Venezia back in 2017 in Italy is not an indicator of trend, then the dozen of different exhibitions and performances by the end of 2018 definitely is. Various noises emerging from speakers, sounds created while playing different classic and non instruments, original nature sounds accompanying the installation are just a few of multiple variations of contemporary sound art.