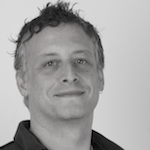 Head of Communications,
Cocoon Group
, Prague
Originally from Boston, Massachuses, Douglas has lived in Prague for over 15 years. Over the course of his career, he has worked in business management, film production, internet marketing, B2B advertising and graphic design, before finally got in brand strategy.
As a brand specialist, Douglas has put his eclectic experience and knowledge building and running the Cocoon Group. Clients that have taken advantage of his fresh perspective include Coca-Cola, P&G, Philip Morris,Nestle, Unilever, Hilton Hotels, and other well-known local and international brands. Douglas's areas of expertise include innovation solutions, portfolio management and modernization of brand image.