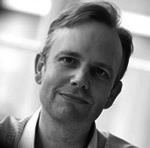 Membership Director,

Design Business Association
, London

John has been at the Design Business Association since 2009. Prior to being at the DBA, John spent 15 years in business-to-business publishing including 3 years as Publisher of In-Store before changing track.
He's responsible for bringing new members to the DBA and working with current members to ensure they see value from their investment. John also works with the DBA's Experts and Supporters to create positive conversations within the DBA community.

John is the author of the DBA Blog,

"Conversations with…."
. He is a regular contributor to Design Week and Packaging News.


In his spare time John is an avid runner and has raised money for Diabetes UK and JDRF. He's just bought a new pair of running shoes so watch this space.
You can follow John on Twitter—

@DBAScarrott
or join the conversation in the

DBA's LinkedIn group
.