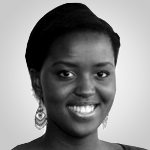 Senior Research Executive,
River Research
, London
After graduating from Oxford University with a degree in history, Mary joined a graduate scheme at a leading Media agency researching communications strategies for brands including Chanel, Lloyds banking group and Orange.
With a new passion for consumer insight and the role of social media in consumer behaviour, she moved to FreshMinds Research developing their online community offer and working on a range of luxury brands in the retail and automotive sectors.
Outside of work, Mary is a budding film critic and enjoys writing film reviews for an online culture magazine.