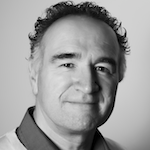 Managing Director,
Dew Gibbons
, London
Steve Gibbons studied at the Royal College of Art and co-founded Dew Gibbons, a brand design consultancy specialising in health and beauty brands, over 15 years ago.
Steve was recently appointed Director of the Design Business Association with an objective to share his knowledge of leading a successful design agency and to promote the effectiveness of design services.
Dew Gibbons' clients include Boots, Procter & Gamble, Waitrose, Lindt, Como Shambhala, Boehringer Ingelheim and Novartis. They work closely with their clients to create, revitalise and care for international and local brands in health, beauty and beyond.