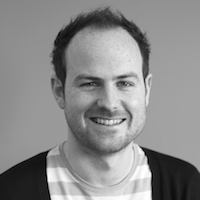 Senior Vice President,
The Big Picture
, London
Whilst filling his head with History books at Cambridge University, little did he know he'd have an opportunity to combine his ability to interpret and understand people's words and actions in the past, with his burgeoning interest in the world of design.  
Fortunately for him, The Big Picture and design research stepped in.  
He first cut his research teeth back in 2004, and since then has applied his knack for analytical thinking to the benefit of a range of major international brands.  
His application of intellectual rigour in formulating practical, down-to-earth and sugar-coated-free outputs has seen him rise through the ranks to become Senior Vice President in 2013.  
One of Stuart's key roles concerns operations, which he oversees to ensure the smooth running of the agency, and the upholding of best practice techniques and quality standards.