A perfect ad platform for you
As our readers are the industry people who work with brands directly, Popsop will be a perfect place for your ads, if you are:
• An agency (advertising, digital, branding, design etc.) looking to raise your profile;
• A marketing & research company seeking for a platform to advertise its services and expertise;
• A company that organises events in the marketing industry and is looking for the right audience.
Our Figures*
Readership, monthly
36,775 readers
30,806 absolute unique visitors
56,733 page views
1.47 pages per visit
Traffic Sources
59.7% — organic search
24.8% — direct traffic
12.7% — referrals
Countries
25.97% — the USA
12.51% — the UK
5.11% — France
4.13% — India
3.92% — Russia
rest of the audience— other countries
* As of April 2015, Google Analytics
Audience Structure*
Top manager/executive position
Sales/marketing middle or junior specialist
Brand manager/consultant
Media/PR/communications manager
Art/creative/design specialist
Account/project manager
Research/analysis specialist
Production/technology manager
27.8%
15.2%
7.6%
10.1%
13.9%
11.4%
8.9%
5.1%
Industries which our readers are from*
Brand and design agencies
Other B2B service providers
Advertising agencies
Marketing and research/consulting agencies
Media/communications/PR
FMCG manufacturers
B2C service providers
Retail
Luxury and fashion brands manufacturers
32.9%
13.4%
11.0%
11.0%
8.5%
8.5%
6.1%
4.9%
3.7%
* According to the reader survey as of August 2012
Banner ads and sponsored content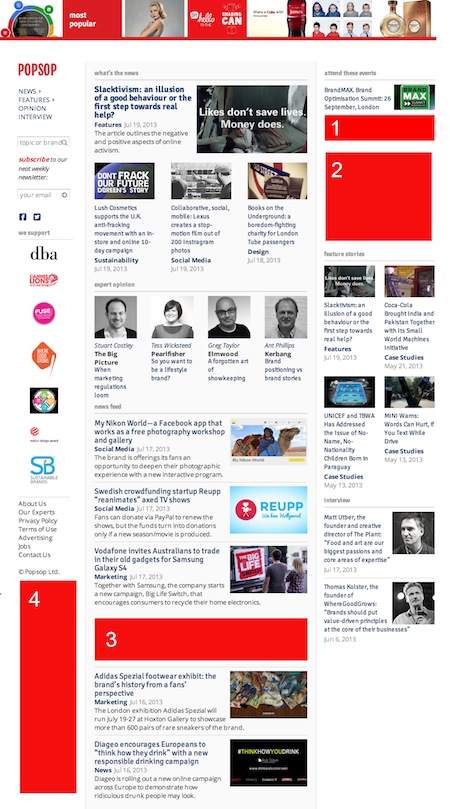 Learn more about these options from our Media Kit 2014 (pdf ad rate card in USD).
If you feel lost in terms, figures and rates, or look for some options that we don't normally offer in our standard pack, please drop us an email at advert@popsop.com.
Strategic Partnership
We strive to build excellent relations with our partners and sponsors which could be beneficial in every way— financial, networking or merely friendship.
Being an independent media company with editorial offices in London and Moscow, Popsop Ltd is looking for strategic partners and sponsors for our new projects and initiatives on the mutually beneficial terms and conditions. Let our opportunities become your strengths — start negotiations right now to create a new strong commercial tandem in the media world.
Please contact us at advert@popsop.com, if you are interested in advertising or strategic partnership with Popsop Ltd.