Popsop Presents a New Type of Award—SBA'11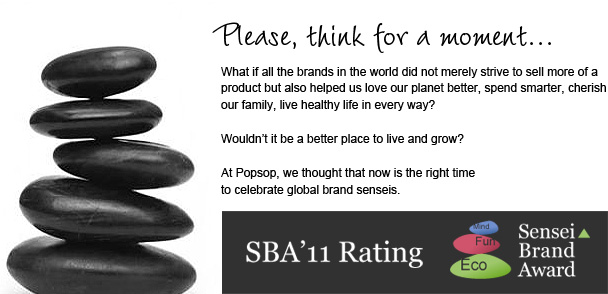 That's why we're launching our new project Sensei Brand Award 2011 (SBA'11)*, which is to prove record of continuous and fruitful commitment of brands to inspiring, mentoring and teaching across several areas, as follows:
Green Thinking and Healthy Lifestyle—ECO criteria
Youth and Family Culture—FUN criteria
Innovations and Out-of-The-Box Thinking—MIND criteria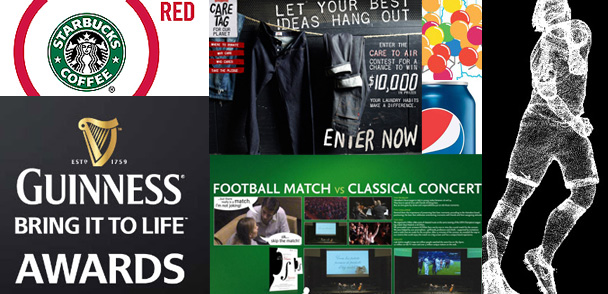 Our strongest asset is our philosophy. The time has come to realize—brand MUST guide us, not just gain profit and make us overconsume. Brands MUST teach and many of them DO—to live a healthy life in harmony with the nature, to drink responsibly, spend smarter etc.
That is our philosophy and we're seeking great people who share our views. That's why WE NEED YOU there. We think globally and act effectively. Branding is not a mere speculation anymore.
Join our expert pool and establish the new industry standard of smart consumer philosophy with Popsop and SBA'11.
Popsop Brand Senseis: Hall of Fame
At Popsop, every day we go through enormous brand-related scope of information, so we have an excellent opportunity to keep tracking of all (or at least the most important) brands' "teaching" activities day by day.
Without doubt, our editorial point of view is subjective. But the truth is that we all feel the same when a brand speaks to our hearts. So, can our small pre-evaluation be more sincere? We hope not.
Take a look at what conclusion we've reached.

The #1 Eco Brand Sensei 2009-2010, according to our internal survey, is PepsiCo with its new Performance with Purpose global initiative. It is all about sustainable growth by investing in a healthier future for people and our planet. The brand teaches us sustainability in 3 dimensions: human, environmental and talent sustainability.

The eternal leader in "positive" thinking, i.e. Fun Brand Sensei 2009-2010, is considered Coca-Cola with its Open Happiness campaign. Coca-Cola has always strived to express a positive view of the world. Through their products, advertising, Live Positively message and sustainability initiatives, the brand has always teached us that despite the difficulties and stresses of modern life, there are still opportunities to find a moment for simple pleasures.
We thought that every living intelligent creature on the planet, who's ever used Apple products can definitely say Apple=innovations. So, we could hardly ever find a better candidate #1 to be named the Mind Brand Sensei 2009-2010. So, Apple, with its cutting-edge series of innovative "unbelievable" products such as iPad, iPhone 4, IOS4 etc. teaches us to make difference through thinking, researching and working hard on what really matters for everyone.
* See our SBA'11 Presentation to learn the details.