L'Oreal Paris has merged beauty care, digital technology and shopping experience in a unique 2-in-1 intelligent vending machine to appear in NYC metro next Monday, November 4. This will be a smart object enabled with colour-recognition technology that detects a colour palette in a woman's outfit by scanning her from feet to toe, and expertly suggest eye, lip and nail shades that better fit the colour of her clothing and hair. If a person likes it, she can instantly buy it from the vending machine as a set or by item.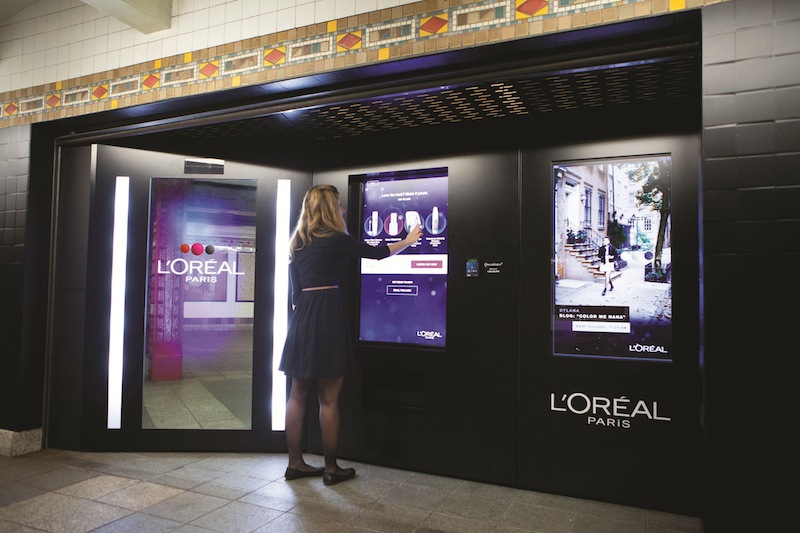 The technology and the whole shopping experience has been developed by the digital agency R/GA and planned in partnership with the outdoor advertising provider CBS Outdoor. The first-ever intelligent vending machine, as the brand's spokespersons call it, will be stationed within the Bryant Park subway station and can be accessed from the entrance on the southwest corner of Fifth Avenue and 42nd Street starting Monday, November 4th through December 30, 2013.
The official start of the 1-month underground shopping initiative will be supported by the New York City «it girl» Coco Rocha, invited by L'Oreal Paris to cut the ribbon and to encourage female commuters to stop by and experiment with their makeup and looks.
«It's an unexpectedly immersive, playful experience designed to make her day more beautiful,» says Erin Lynch, R/GA Group Executive Creative Director. After all, if we entrust robots to do surgery, why can't we rely on an automated makeup advice from a vending machine? At least it won't heart.