BMW and Independent Collectors, a community dedicated to modern collectors of contemporary art, have launched a blog to accompany the latest edition of "BMW Art Guide by Independent Collectors," an annual pocket-format reference publication.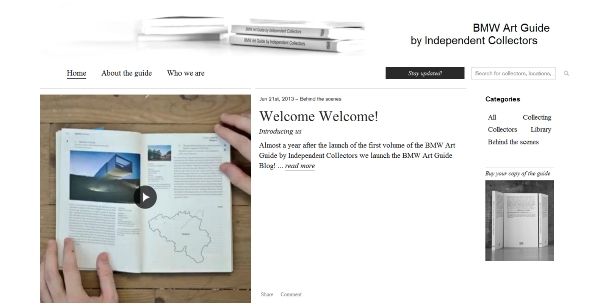 The first physical BMW Art Guide that featured a compilation of 173 less known, hard-to-find private collections from 124 locations in 34 countries, was released last year at Art Basel, and the second, extended volume is slated to arrive in bookstores on September 13, 2013. The new edition will feature 218 "concise collection portraits" taking the readers to more than 30 countries, in different parts of the globe. To maximize experience, the content in the book will be supported with the new BMW Art Guide Blog, designed as a platform with versatile and comprehensive info on the international private art collections described in the latest BMW Art Guide.
The interactive digital platform, which has gone live prior to the release of the second edition of the book, is to feature the behind-the-scenes posts about how the publication is created and what it will feature. The BMW Art Guide site will also provide the readers with anytime accessible relevant information (posts, videos and images), recommendations, updates and highlights on arts-related events and institutions around the globe, and interviews with well-known collectors. All this is to help the audience build an accurate, sharper picture of the world of contemporary art collecting.