This fall, Campari's SKYY Blue Vodka RTD range got a new 'outfit,' designed by the Sydney-based graphic design agency The Saltmine, which won the business in a competitive pitch. The label designs are clear, creating a crisp effect against the brand's iconic blue glass bottle. They also highlight the product's USP of being triple filtered and quadruple distilled, producing less sweetness and fizz to appeal to a more unisex target than other RTDs.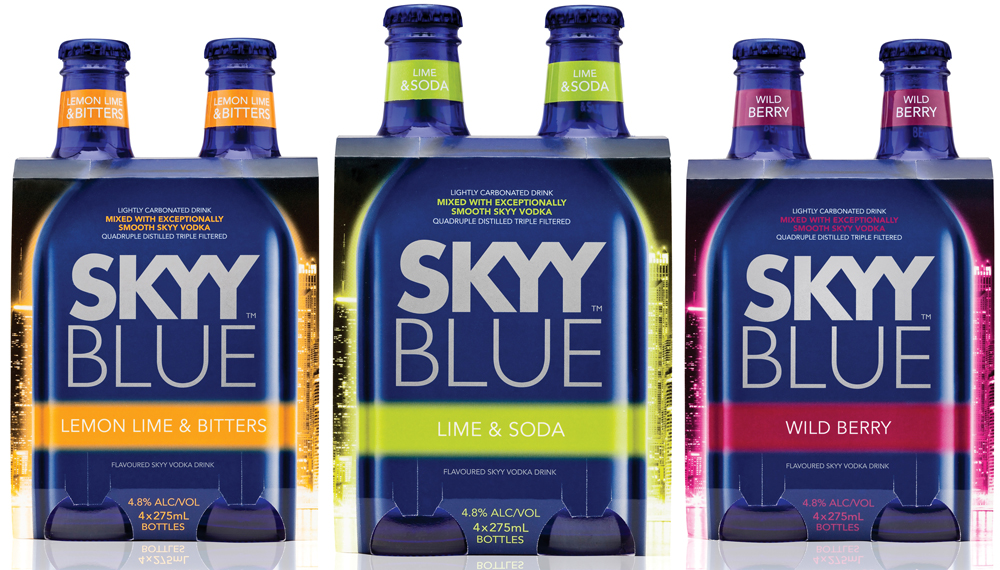 SKYY Blue's wrap features a background cityscape highlighting the brand's stylishness and sophistication whilst increasing its branding and shelf presence. Overall the new streamlined flavour variants are clearly differentiated for better navigation.
The new designs have sharper shelf stand-out in an extremely competitive category saturated with bright colours. "Skyy Blue's new look is already receiving extremely promising sales feedback," commented Campari's Spirits Marketing Manager Nick Maglis.
The new designs start rolling out across the Out of Home Channel from this week. The flavors of SKYY Blue's in bottles featuring the redesigned label include Lime & Soda, Lemon, Lime & Bitters and Wild Berry.
Source: The Saltmine Design Group