Mazda refers to the greatest scientific and sporting achievements in its new marketing campaign, the first one over past 13 years. The "Game Changers" effort, which will be launched in May, draws parallels between the innovations in the car industry pioneered by Mazda and the remarkable achievements of American scientists and athletes who revolutionized their disciplines.
The new campaign for the U.S. market promotes a 2014 Mazda6, a new model, along with other cars in the line-up through in-cinema, television, print, out-of-home and digital media.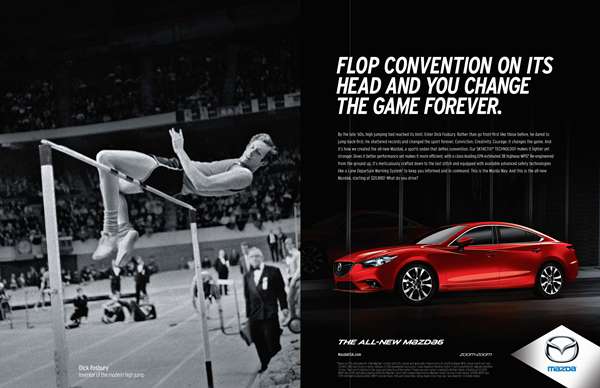 Photo: Dick Fosbury print ad in the Mazda's «Game Changers» campaign (click to enlarge), www.mazdausamedia.com
The new campaign features such icons, as Olympic gold medal winner Dick Fosbury, who set the new standard for high-jump technique, "the Fosbury Flop," and surfer Laird Hamilton, who introduced the tow-in surfing technique. The upcoming commercial will also feature inventor Thomas Edison.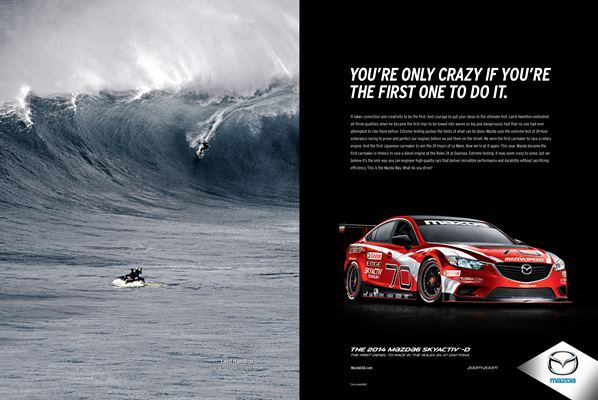 Photo: Laird Hamilton print ad in the Mazda's «Game Changers» campaign (click to enlarge), www.mazdausamedia.com
"We're focusing on courage, creativity and conviction in the new campaign," commented Russell Wager, Mazda's U.S. CMO, to Forbes. "Those three words are basically what consumers told us they thought Mazda was about, Versus just being 'any brand,' the idea is to align our products with people who changed the world for good." The campaign will be running for the next three years minimum.
Switching to a new communication platform doesn't mean Mazda will ditch its long-running Zoom-Zoom tagline, introduced in 2000. The new effort is aiming to position the Mazda cars as "alternative-to-premium" vehicles, which are a premium product, providing a premium experience, but not at a premium price.
With the new campaign, Mazda follows in the footsteps of Nike with its numerous inspirational ads, adidas and Apple with its legendary "Think Different" commercial— they all celebrated visionaries and game changers of all times. Coupling that with the focus on innovations, Mazda also steps into the realm of Honda, which also pays tribute to people who revolutionized their industries in the past—for instance, the brand featured Mr. Hamilton, the surfer, in a film "The Undying Dream" from its "Dream the Impossible" series.