Cadbury's Twirl is the UK's favourite countline, and Kraft Foods has taken the opportunity to extend the brand franchise into sharing through the launch of new Twirl Bites. Slice Design was appointed to develop the packaging design for this new launch.
Slice enhanced the current equity by introducing their hypnotic swirl device to draw consumers into the wonderfully whirly world of Twirl. Slice also built appetite appeal through the introduction of a moreish product shot and engaging on pack narrative.
The end result is a delicious treat designed to share, and emphasises the fun-loving, spontaneous nature of Twirl Bites.
"We wanted to try and capture the intensity of the product flavour in the design, so we utilised the bold swirl device to draw you into the pack, using the substrate to add depth and intrigue. The side of pack provided a lovely canvas to communicate the product story in the style of a tongue twister," commented Alan Gilbody, Creative Director, Slice Design Ltd.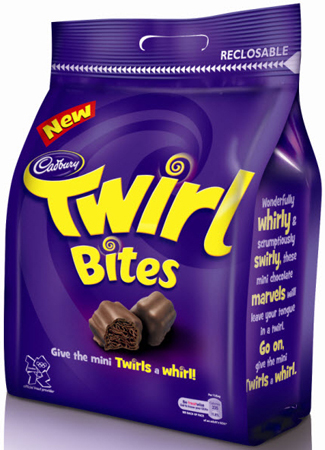 Photo: New Cadbury's Twirl Bites design