Toyota is teaching web users an English grammar lesson and promotes its new Prius line at the same time. The automaker decided to leave all the technical talks behind and focus on debates revolving around making its name plural (now, since there will be more models in the range, this question should be resolved once and for ever). To gear up discussion, the brand commissioned the Saatchi & Saatchi agency to create something really catchy—and the creative team develop a nice video in a children educational song's tone.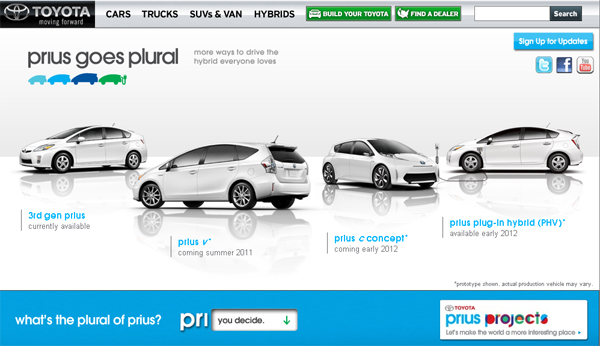 Toyota is inviting consumers to decide which word is grammatically correct for the plural of Prius (Latin for first). "There's octopus to octopi, spiky cactus to cacti then how come when we multiply, platypus doesn't become platypi?" asks the voiceover in the video. Toyota fans can proceed to its Facebook page to vote for one of the variants including Prii, Prien and Prium.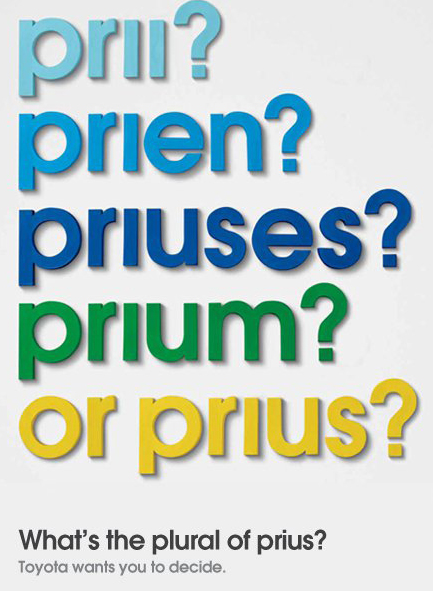 "We really wanted to tap into the passion and enthusiasm of Prius owners," commented Kimberley Gardiner, national digital, marketing and social media manager for Toyota. Three new models—Prius C, Prius V, and Prius plug-in hybrid—from the line will come to the market this summer and early next year, and a period of six months seems to be enough to promote the upcoming additions. "It's very reasonable, in fact it's expected for [consumers] to have some early information about what's coming out. They don't just want information, they want to know what their friends are saying," continued Gardiner.
"This is no ordinary family. It's a modern family with a Prius for everyone," said Bob Carter, Toyota Division group vice president and general manager. "The Prius v is an all-new dedicated hybrid vehicle, and all future Prius family members will be as well. They will all share common Prius attributes but will be unique, with a special appeal to different buyers."
Toyota also invites consumers to learn more about its previous and forthcoming initiatives on the www.toyotapriusprojects.com, where it has created the timeline of the brand's history.