TNS Digital Life, a global study of consumer behaviour online, has unveiled the results of this year's in-depth interviews conducted by TNS amongst 72,000 respondents from 60 countries. The main outcome might be alarming to those companies who are pushing hard to increase the number of followers of their brands' pages on Faceboook, Twitter and other social networks. As much as 57% of consumers do not want to engage with brands in social media. By country, this index rises to 61% in the U.K. and 60% in the U.S. The most receptive to engagement with brands in social media are Mexican consumers: 67% don't mind if brands kindly keep «updating» them with their news and offerings.
Despite the mostly negative out-take for marketers, 54% of respondents find social networks to be a useful place to learn more about some products or services.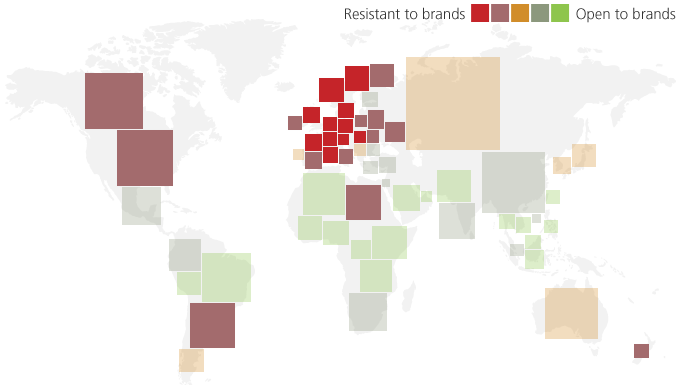 In regard to the qualitative findings, the surveyed consumers admit that excessive interaction with a brand in social networks in most cases results in a negative perception for that brand, which turns off the majority of them from a further digital involvement, and, more importantly, may project that negativity into the real word.
A noteworthy research on what exactly turns people off brands in social media was recently revealed by the UK digital PR agency Disruptive Communications. Unexpectedly enough, the majority of the U.K. consumers is annoyed with poor language (42,5%) more than with «too salesy» updates (24.9%). While there are 12.8% percent of those who are pissed off by too frequent updates, 7.2% hate when, on the contrary, brands post updates too rarely. Answering the dilemma, whether brands in social media should be informal or not, 12.5% consider inappropriate when brands try too hard to be funny. These findings remain consistent across all age groups, except the youngest consumers aged 18-24. They are less worried about sales updates (19.8%), and choose «not frequent enough» postings as the top annoyance (22.1%). Younger respondents pay less attention to spelling or grammar the brands use to reach out to them in social media.
There are slight gender differences in how men and women perceive negative sides of engagement with brands: men tend to unfollow brands because of poor English (39.6%) more than women (38.9%), while ladies are less receptive to «too salesy» updates.
See the infographics below for the full picture.