Barilla and Disney Media Sales and Marketing have joined forces on a multi-platform promotion that offers a unique character call program featuring select characters from Disney Channel's #1 Playhouse Disney series, «Mickey Mouse Clubhouse.»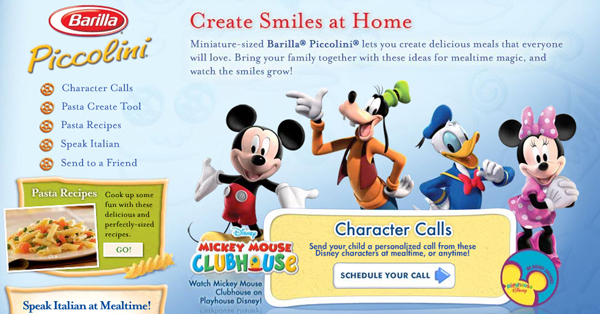 Starting June 16, parents and family members can schedule one of six themed personalized phone calls from popular Disney characters including Mickey Mouse, Minnie Mouse, Donald Duck, and Goofy for their little ones.
Personalized greetings aren't the only fun to be found on the interactive website, www.disney.com/PiccoliniSmiles. For the first time, an advertiser has been integrated into the Create Tool's Digital Painter feature called Play it with Pasta where children can build custom works of art with pasta-inspired stamps, brush strokes and textures to help bring a child's artistic vision to life. The microsite also includes fun for the entire family with tips and tools on creating homemade centerpieces and recipes suitable for all members of the family.
Barilla Piccolini also comes in the following five miniature shapes to capture the imagination and meet a variety of recipe needs.
«Moms and families can trust that Disney and Barilla brands are dedicated to families and through the strength of our media platforms, we are providing 'Piccolini moms' with all the right ingredients to share the value of mealtime and special moments with her child,» said Jon Sayer, Vice President, Sales, Disney Media Sales and Marketing.
The Disney — Piccolini Smiles program and online activities are available through September 20, 2010.