Coca-Cola is tapping into the joy and inspiration of the Vancouver 2010 Olympic Winter Games with the launch of a multi-faceted Olympic Games-themed program in the U.S. The campaign is anchored by a group of high-profile U.S. Olympians, known as the Coca-Cola «Six Pack» of athletes, limited edition Olympic Games-themed packaging, media and digital experiences.
Currently hitting supermarkets, convenience stores and mass retailers are limited edition, Coca-Cola Olympic Games-themed collectible cans and FridgePacks featuring silhouettes inspired by some of the most popular Olympic Winter Games sports. Commemorative can featuring a contemporary interpretation of the Inukshuk, the symbol of the Vancouver 2010 Olympic Winter Games, will be released closer to the opening of the Games.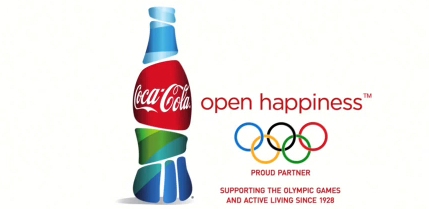 The Coca-Cola «Six Pack» of athletes is featured on in-store materials and serves as Coca-Cola «Ambassadors of Active Living,» they are Apolo Anton Ohno (short track speed skating), Gretchen Bleiler (snowboard), Angela Ruggiero (ice hockey), Evan Lysacek (figure skating) and Keauna McLaughlin and Rockne Brubaker (figure skating).
The new Coca-Cola global Olympic TV commercial, «Snowball,» is the major commercial spot (below the text).
During the Opening Ceremony on February 12, viewers will see a special commercial that celebrates the 80-year partnership between Coca-Cola and the Olympic Games. The ad, which originally aired during the Opening Ceremony of the Beijing 2008 Olympic Games, has been refreshed.
Coca-Cola is partnering with NBC on NBCOlympics.com and NBCOlympics mobile. The sponsorship includes a custom content section that captures all of the celebratory moments of the Vancouver 2010 Olympic Games and a mobile application.
Rounding out the NBC partnership is the exclusive sponsorship of «Primetime Challenge,» which enhances the Olympic Winter Games viewing experience by allowing fans to play along with the TV broadcast through a two-screen application synced up to live action, offering trivia, predictive questions, polls, fun facts and athlete profiles.
MyCoke.com and MyCokeRewards.com serve as the hub for information related to Coca-Cola's Olympics Games products.