Red Bull, known for its deep connection with contemporary music, is launching an accelerator Red Bull Amplifier created to aspire musicians. The programme is open to the EU residents and doesn't involve any financial support for the participants—rather, they get an access to the Red Bull's global audience on social media channels and the brand's properties. The brand handles this project in collaboration with incubator innovation consultancy Sidekick Studios.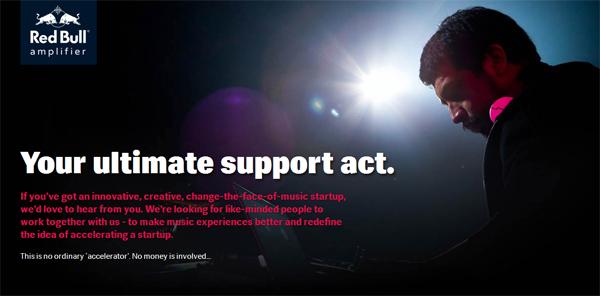 Pic.: A screenshot from the www.redbullamplifier.com website
"If you've got an innovative, creative, change-the-face-of-music startup, we'd love to hear from you. We're looking for like-minded people to work together with us—to make music experiences better and redefine the idea of accelerating a startup," says Red Bull on the dedicated page.
Entries from music startups are accepted from March 7 through April 22, and the results will be announced in early June.
The successful candidates will get plugged directly into the Red Bull universe. They will get access to Red Bull Studio, Red Bull live events as well as the Red Bull Music Academy in order to maximize their audience and reach their potential. In other words, they get something bigger than money—they get the stage, which has already attracted a plethora of music fans. The applications will be viewed by a panel of professionals including SoundCloud's Dave Haynes, VentureBeat's Ciara Byrne, Red Bull Music Academy's Davide Bortot, Sidekick's Strategy Director Asi Sharabi and music artist Ghostpoet.
Back in 2010, Converse launched  a similar project, a free recording studio Rubber Tracks that provided musicians with a chance to get their songs recorded using professional equipment.