The Metaverse is still a big mystery to many. However, some restaurant chains are beginning to realize its potential. They register trademarks and open divisions in the virtual world. In this issue, we analyze how WEB 3.0 technologies, cryptocurrencies, NFT and blockchain affect the promotion of catering outlets and try to answer the question "Why do restaurants need a metaverse?".
If you missed the first and second edition.
«Para universe»
The Metaverse is the Internet 3.0 playground, often immediately followed by buzzwords like Web3, cryptocurrency, NFTs, and blockchain. Sometimes it seems that this is Schrödinger's digital universe: it simultaneously exists and does not exist.
For a teenager, the metaverse is just a virtual platform where they can play online games and meet their friends virtually using programs like Roblox. For the sci-fi fan, this is the beginning of a semi-dystopian future in which people spend more time with their headphones on, escaping into the universe of virtual reality than solving pressing «real world» problems.
For marketers, the Metaverse represents an opportunity to take your brand's social media presence to a whole new digital 3D level.
Seems like a dubious benefit. However, let's look at the existing positive experience of HoReCa players. Much of the restaurant industry is already poised to dive into what the metaverse could become. McDonald's, Burger King, Panera Bread, Wingstop, Yum Brands, and Inspire Brands have filed for trademarks in the metaverse, and Wendy's and Chipotle are already operating in the virtual universe.
Everyone seems to be just waiting for this newfangled trend to switch from a mostly hypothetical to our daily internet experience. But it is not.
1. World's first NFT restaurant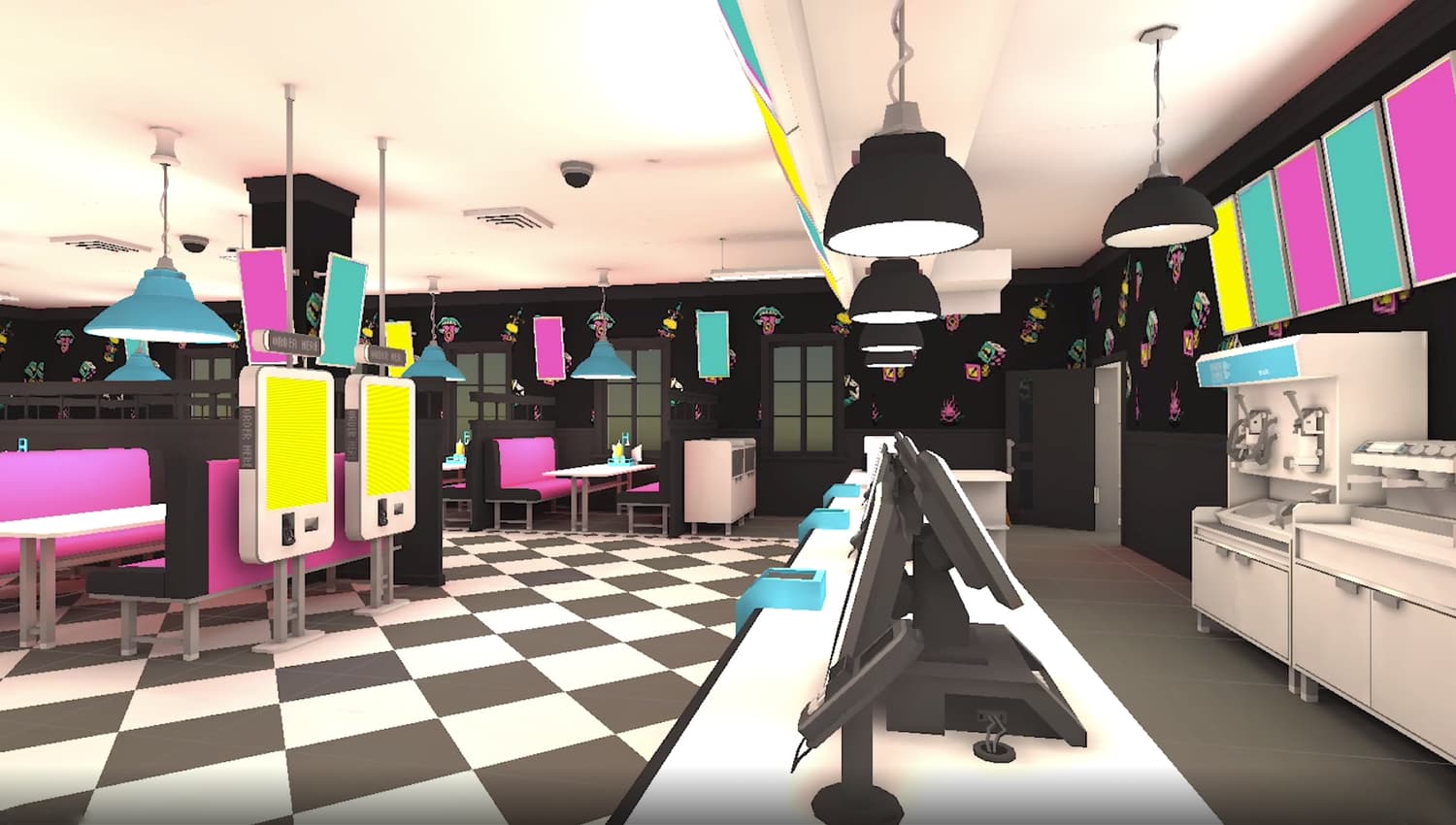 If you have not spent the last year on a deserted island, then you have probably come across the concept of NFT. NFT art objects are trumpeted at every turn, and NFT tokens themselves can bring millions to their owners.
An NFT token with the first tweet in the history of Twitter, made by company founder Jack Dorsey, was sold for almost 3 million euros, and The First 5000 Days jpg image, a collage of 5,000 thousand paintings by the artist Beeple, was sold for almost $70 million. And this not the most record prices!
The seemingly incredible prices are due to the huge demand for digital goods, which, by the way, appeared long before the advent of NFT technology itself. Before the advent of non-fungible Non-fungible tokens (as the abbreviation NFT stands for) in 2017, gamers bought skins in CS:GO, Dota 2 and many other games. Moreover, the cost of such skins was often expressed in completely non-symbolic figures.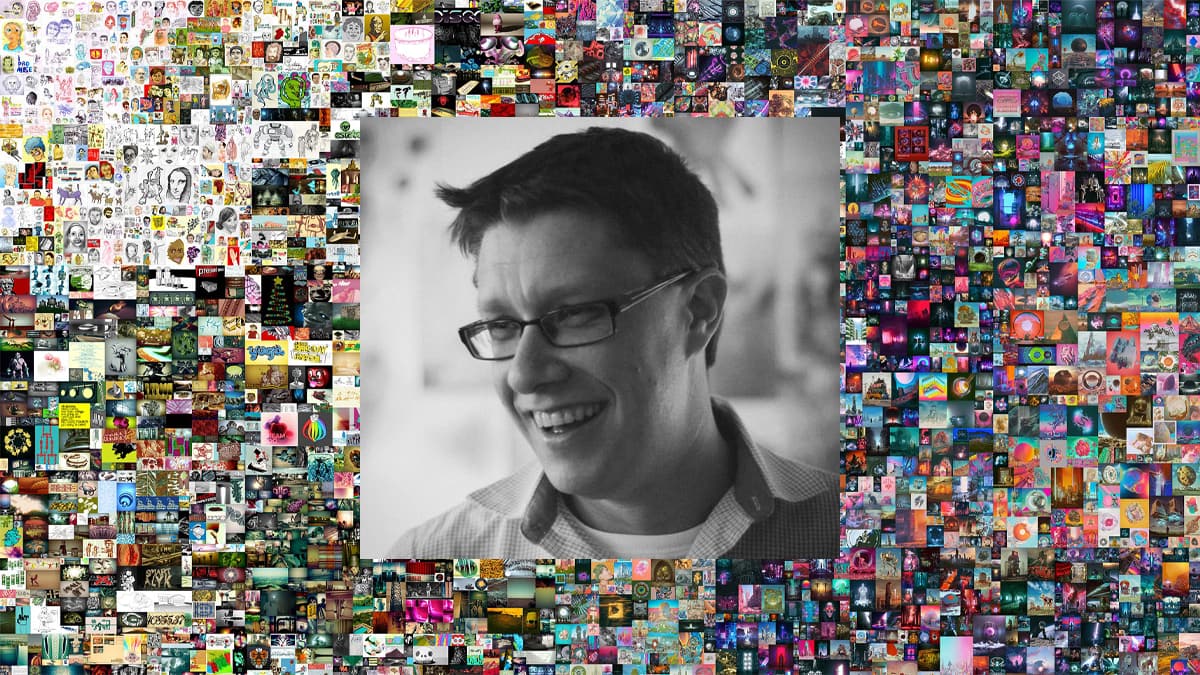 Today, not only tech enthusiasts, but also quite respected financial structures are investing in NFT [although they do not openly talk about it]. And, despite some confusion with the state regulation of cryptocurrencies of catering industry in different countries.
For example, in February last year, Lunchbox announced an auction on digital crypto marketplace OpenSea, which the company claims is the world's first NFT restaurant. In this case, a digital animation of a fast food restaurant was presented.
The NFT restaurant was sold to Lunchbox partner Bareburger restaurant chain (where Lunchbox founder Nabiel Alamgir began his career in the restaurant industry) for an undisclosed amount. According to insider information, the buyer paid 35 Ether (Ether is the cryptocurrency of the Etherium network), which at the exchange rate at the beginning of 2023 could be about $45 thousand.
For Lunchbox, this is the first experience in the metaverse. But the company does not plan to stop in this direction. In an interview, Alamgir said he was in talks with several Lunchbox clients about innovative ways to immerse guests in the virtual world to «take digital ordering to the next level.»
All profits from the sale of the NFT restaurant were donated to charity to support marginal entrepreneurs.
The new owner of Bareburger built a digital restaurant animation with virtual kiosks into its VR portfolio of virtual restaurants, which already featured a digital chicken brand, Naked Bird.
2. VCR Group Launches Club NFT Restaurant Membership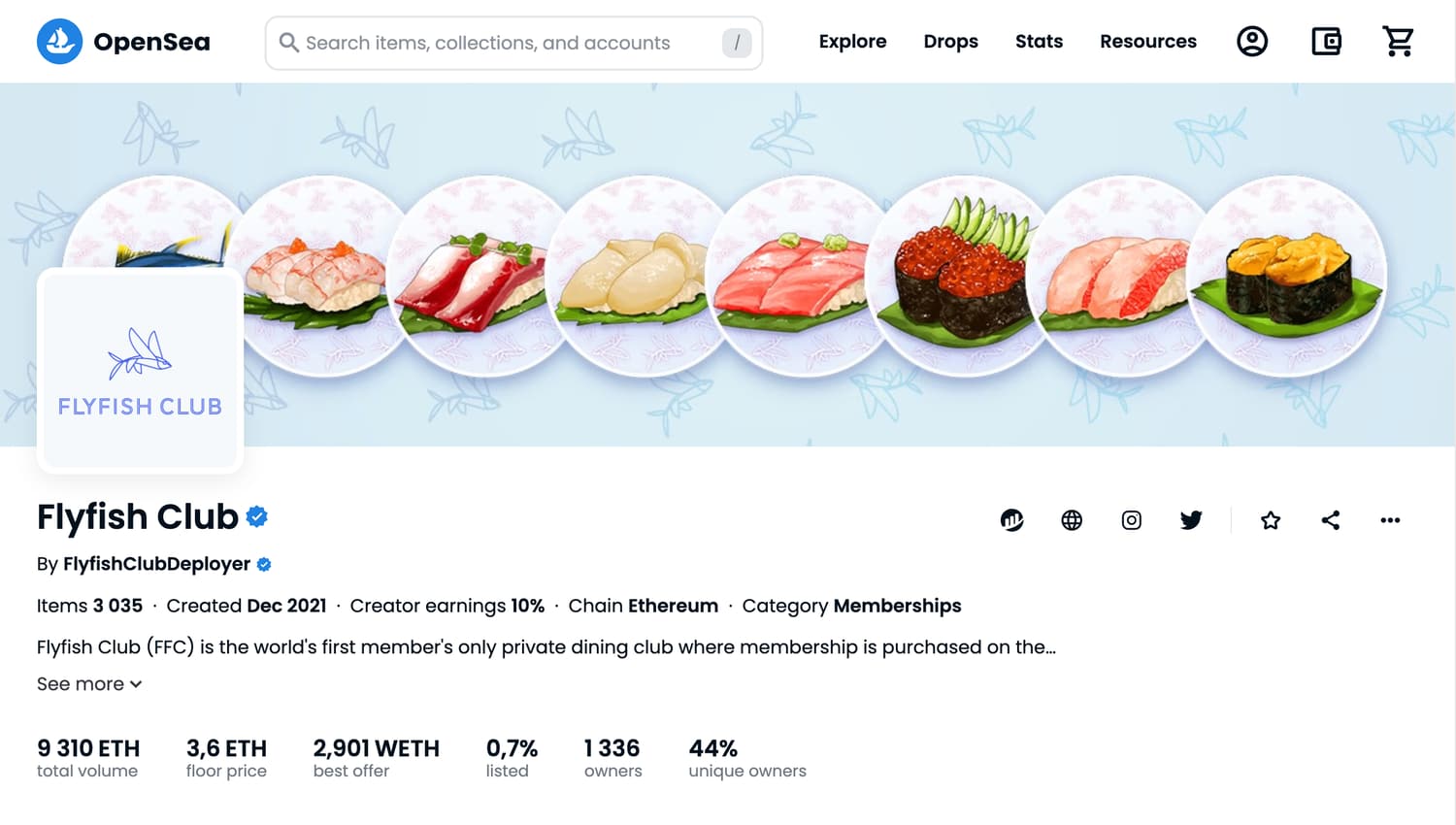 Flyfish Club is a famous seafood-inspired concept. It was created by the New York-based VCR Group, founded by serial entrepreneur Gary Vaynerchuk with restaurant industry veterans David Rodolitz, founder and CEO of Empellon Restaurant Group, Josh Kapon of Lure Fishbar, and NoHo Hospitality EVP of Operations Conor Hanlon.
Flyfish Club will function as a private dining club with an iconic city view, where membership is purchased on the blockchain as an NFT token, using the Ethereum cryptocurrency. Tokens can be rented or resold on the Opensea.io crypto exchange.
Last January, 1,151 membership tokens sold out within the first few hours. Another 1,534 tokens have been reserved, according to the company's website.
Potential members were offered two types of membership: a lifetime membership to the Flyfish Club (gives the user access to the entire buffet and cocktail lounge) for 2.5 Ether (approximately $7,900). In fact, the token was trading for 3.9 Ether (or about $12,528).
The second more expensive option is the Omakase membership, which includes access to the omakase room with menus from an unnamed world famous sushi chef. It was originally available for 4.25 Ether (about $13,485), but by the end of the day it went up to 7.4 Ether (about $23,771).
NFT membership, however, gives the owner access only. In the restaurant itself with an area of about 930 sq. m. (10,000 sq. ft.), which will open in 2023, participants
The main idea of the organizers of this blockchain loyalty project is to turn the membership itself into an asset that can potentially generate passive income if members rent out their NFTs or earn investment income by selling it at a higher price.
The VCR Group operates an omakase-style Japanese restaurant, Ito, run by Masa Ito and Kevin Kim. It is not yet clear whether Ito and Kim themselves will participate in the Flyfish Club.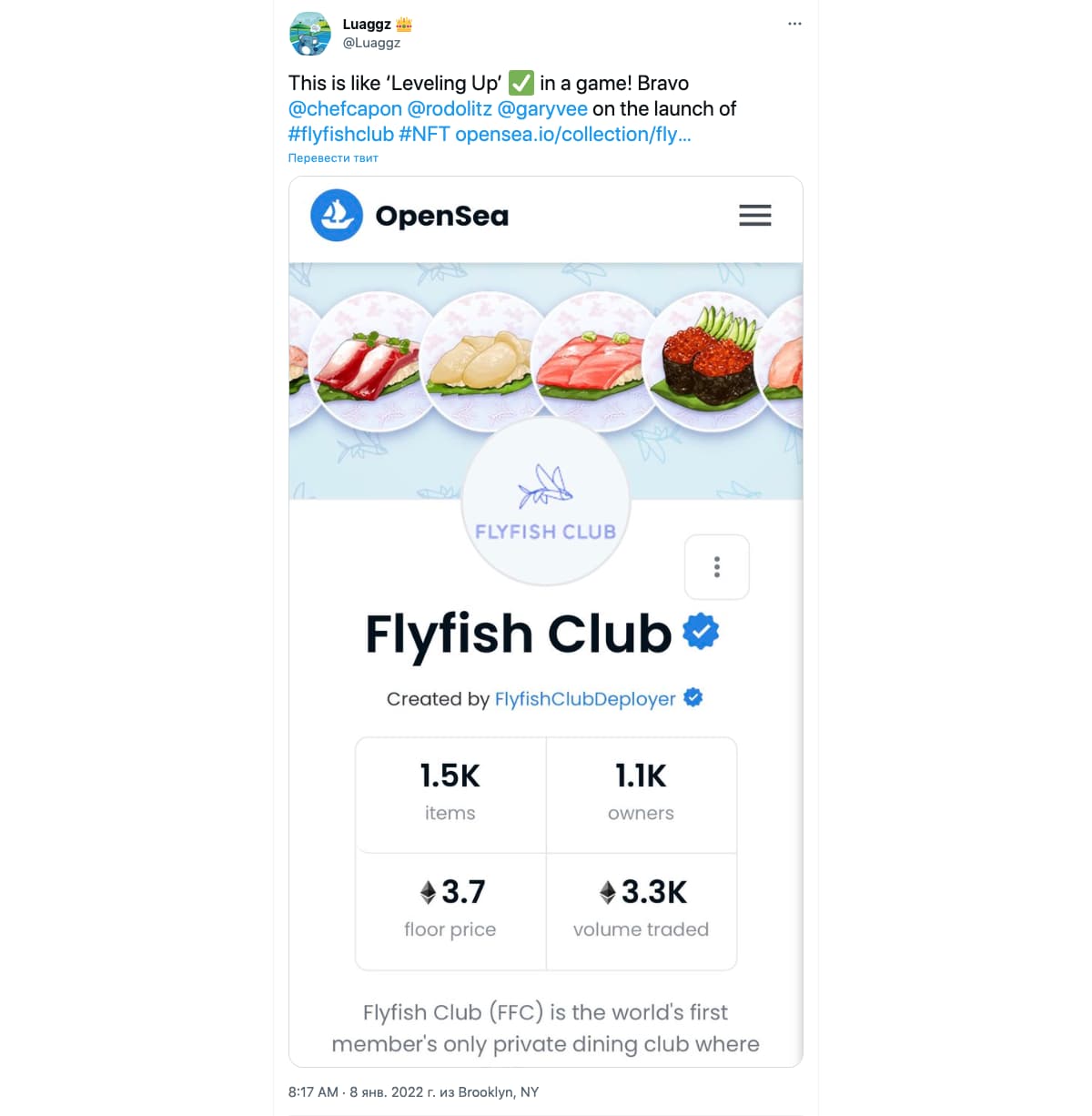 Last year's drop in NFT quotes was met with both enthusiasm and questions. "What if #flyfishclub never opens? What happens if it opens and it sucks? Restaurants in New York go out of business all the time," @GlennLaFaye asked on Twitter.
3. The first menu item in the metaverse
Newport Beach, Calif.-based Chipotle Mexican Grill, a Mexican restaurant chain, offered its Guajillo garlic steak in both the metaverse and the real world for a limited time last September.
"By launching Garlic Guajillo Steak in the metaverse, we can share our culinary tradition and real food offering with Generation Z," said Chipotle Chief Marketing Officer Chris Brandt. "For the first time, our fans can discover our latest chef-driven menu innovation with an immersive experience, combining the best of Chipotle's digital and physical worlds."
The virtual meal is available at Burrito Builder locations operated by Chipotle in the Roblox metaverse. Moreover, in the virtual world it was possible to participate in its preparation.
Once inside the Burrito Builder, players were greeted by Chef Neville. He suggested picking an apron and «grilling» as many steaks as they could before the game time was up. Users then compete in cutting as many steaks into strips as possible. Finally, the trainee chefs had to mix the lime and cilantro preparations until the «progress bar» was full.
After «successfully cooking» the Garlic Guajillo Steak, users could virtually experience the menu innovation. A virtual iconic black Chipotle fork was offered for this. The brand even promised the appearance of an aura of taste, emphasizing all the taste characteristics of the new menu item.
Needless to say, this attempt represents the first time that the casual game network has introduced a real menu item on the Web3 platform.
Roblox users who participated in the virtual tasting could taste garlic steak in real life. Chipotle has given away 100,000 codes to receive the novelty for free at any of its more than 3,000 network locations throughout the United States. This is made available to Chipotle Rewards members in the US and Canada through the network's app.
Find your place
Today, many believe that a paradigm shift on the Internet is already in full swing, and the time of the metaverse has almost arrived. Now we have come close to that very "meta" moment when people began to understand what the metaverse really is, and whether they should be part of it. With examples, we have seen that food service brands have already navigated this new frontier and even figured out where to start.
In general, the basic idea of the metaverse is simple. To put it simply: it includes any digital presence on the Internet, defined as sustainable, immersive, three-dimensional and virtual, that is, taking place not in the physical world.
The Metaverse gives us the opportunity to have fun, work, socialize, or buy just to make things even more interesting. And it turns out that the things that we acquire can be both real and virtual.
It is worth adding that the very name «metaverse» does not quite accurately reflect the meaning of this phenomenon, since it implies a certain monolithic, internally interconnected and compatible world. This is not true. Each restaurant that creates its own virtual reality does so with its own membership access, monetization rights, and creative expression formats, so business and technical specifications can vary greatly.
Rather, the concept of a metaverse conveys the general idea of these many individual worlds and possibilities, and embraces the recognition that we are entering a richer and richer immersive environment than ever before.
New guests
As more restaurant brands are betting on the metaverse, there is good news for food service businesses. According to a joint study by Paytronix Systems Inc. (Newton, Massachusetts) and PYMNTS of Boston, 20% of restaurant goers are familiar with the Metaverse.
Surveys show that young Gen Z customers, who will dominate many markets in the next 15-25 years (we have detailed the specifics of this prospective consumer audience), will be happy to deal with the new platform, especially in takeaways.
About 18% of restaurant goers (the average age of respondents was 48 years old, 52% of them are women, and 36% of them earn more than $100,000 a year) are already participating in the metaverse. 38% of those who participate — or are interested in them — would be willing to integrate their orders from conventional restaurants into virtual reality.
The researchers presented such data in the report "Digital Divide: Technology, the Metaverse and the Future of Restaurants".
A survey of attitudes towards digital food ordering and virtual reality trends in the restaurant context revealed:
20% of restaurant goers are familiar with the metaverse
34% of Millennials (aged 26 to 41, born between 1981 and 1996) and 27% of Generation Z (aged 10 to 25, born between 1997 and 2012) have already participated in the Metaverse
40% of Gen Z respondents reported being very familiar with the Metaverse
33% of takeaway customers were very familiar with the metaverse, more than double the share of customers who dine in restaurants
21% of those who said they were not interested in buying food in the metaverse were either unfamiliar with it or thought the metaverse was too complicated.
Today, the media landscape is extremely scattered, which creates a massive scramble for attention. Brands are forced to compete for places in Google search, in social media feeds, on mobile phone screens. And when you consider that out of the 8 billion people on the planet in 2022, more than 5.34 billion people were unique smartphone users, 5 billion use the Internet, and 4.7 billion are active users of social networks, then the metaverse represents the next battleground.
If you are ready to share your interesting experience, unusual ideas or ready-made cases, write to us by mail.