Coca-Cola is committed to spreading happiness and sharing positive emotions all around the globe. Usually, one doesn't need much to feel happy, since even a small gesture, a little personalized gift can make our day. In Australia, the legendary soft drink brand has released a range of bottles and cans with the most popular names in the country—Jess, Sam, Edward, Matt, Kevin, Kate and others (there are 150 of them)—printed on the front of the packaging as part of the Share a Coke campaign ahead of the Christmas season, inviting people to buy these personalized drinks for their friends and family. Consumers can purchase the cans and bottles, which already have the names, or ask to put the ones they want for free at one of 18 Westfield Shopping Centers.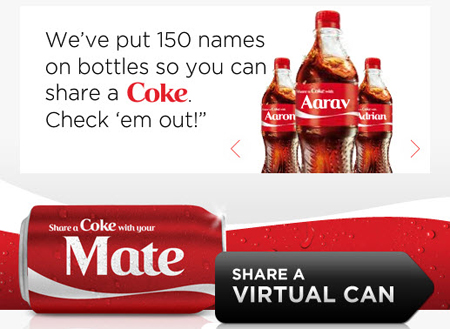 Photo: Coca-Cola Australia Facebook fan page
"Names were chosen to represent a cross section of the Australian population,» shared Coke spokesperson. "We used publicly available data to review the most popular names in Australia and ethnic representation in Australia to ensure the diversity of our multi-cultural nation was represented appropriately."
The campaign kicked off on October 1 (though the cans and bottles with names appeared on shelf two weeks ago) and will be rolling out until the end of December—it will "act as an invitation for consumers to share a bottle or can with someone they know, or want to know," states the brand. According to The Australian, the new campaign with a budget of around $5 million, will help "sell 268 million Cokes over the next three months." To spread the word about the campaign, Coca-Cola teamed up with Ogilvy to create :30 ads, encouraging people to "share a Coke with [name]."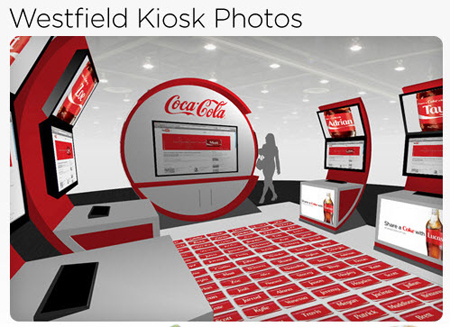 Photo: Coca-Cola-Australia Facebook fan page
The spots direct audience to www.shareacoke.com.au, the Coca-Cola Australia Facebook fan page, where consumers can listen to name songs now and will be able to share a virtual Coke can later as well as participate in sweepstakes for a chance to get four $50,000 cash prizes. In addition to that, for the first three days following the launch of the campaign, Australia's most famous outdoor advertising sign, the one in Sydney's Kings Cross, displayed names sent over in text messages by passers-by.
"We are using the power of the first name in a playful and social way to remind people of those lives they may have lost touch with or are yet to connect with," noted Lucie Austin, Marketing Director Coca-Cola South Pacific.