IRI's 2021 Most Popular Food & Beverage Newest Rankings Dominated by Sodas
The Chicago-based analytics company, which has been identifying leaders in new food and beverages for 27 years, presented at the end of June the TOP 10 leaders of 2021 (in terms of sales across all distribution channels, in $ million). 6 of the 10 best new products for the past year are carbonated drinks (low and non-alcoholic). "Whatever health trends are in the air, our ranking very clearly reflects consumer desires," the IRI said in a statement.
Our review includes 8 new products from the TOP-10 of 2021 — we only talk about all the drinks noted in the IRI review. At the same time, the material answers the age-old question «how to make a hit drink.» We closely follow the leaders of the segment.
#1. Dr Pepper & Cream Soda
Annual sales: $137.3 million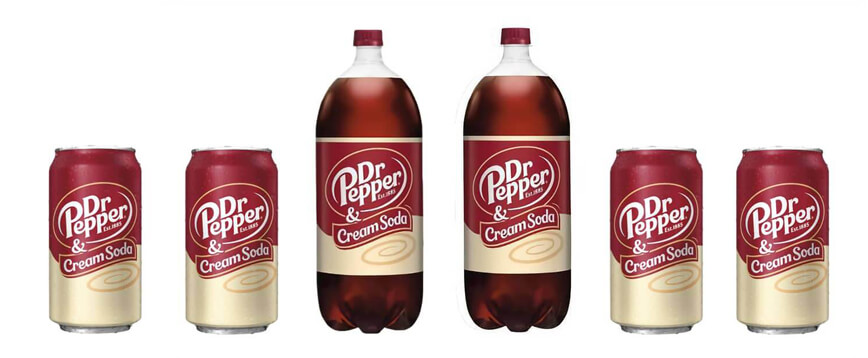 Dr Pepper & Cream Soda by Keurig Dr Pepper takes the first place in the ranking. The latest addition comes in 3 SKUs: Regular, Diet, and Zero Sugar.
The top IRI strain combines Dr Pepper flavor with vanilla cream soda flavor. The IRI Pacesetter report states, «Remarkably, Dr Pepper & Cream Soda appeals to a large part of Generation Z, eager to explore innovative flavor combinations while also being sympathetic to old established brands.»
Conclusion: Well-known brands are able to revive the category by relying on heartfelt tastes. Verified by Keurig Dr Pepper.
#2. Sparkling water ANA
Annual sales: $128.6 million
Coca-Cola's AHA non-alcoholic sparkling water line, featuring invigorating flavors of peach and honey, orange and grapefruit, pomegranate and blueberry, watermelon and lime, raspberry and acai, has recently been enriched with new unexpected combinations: blackberry and lemon, pineapple and passion fruit, mango and black tea.
To refresh and invigorate consumers, some AHA flavor combinations are low in caffeine (30mg per can). All this was enough for fans of flavored water to taste a delicious and invigorating idea from the leader in the beverage industry. The novelty took off in all traditional retail channels. And as a result — 2nd place in the ranking.
Takeaway: Give your customers a mix of unexpected yet understandable flavor combinations of regular sparkling water — they'll appreciate it. And better without sugar — in the best traditions of current beverage trends.
  #3. Corona Hard Seltzer
Total sales for the year: $113.8 million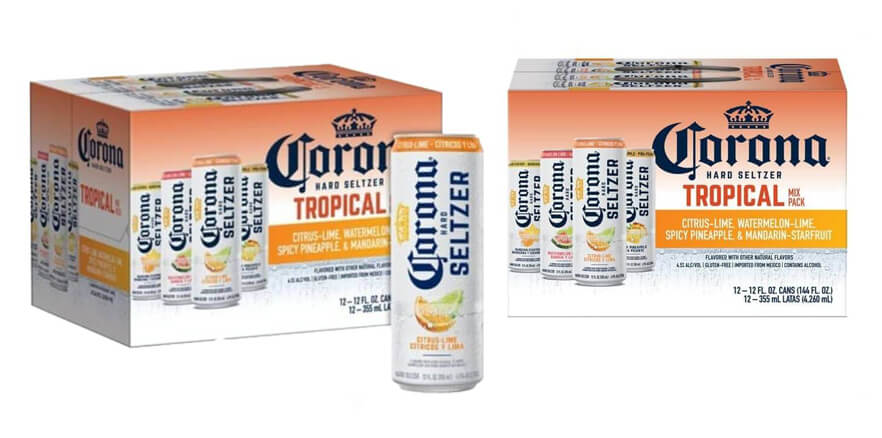 Low-alcohol carbonated drinks Corona Hard Seltzer (traditional hard seltzers contain no more than 4.5% alcohol) have been replenished with four tropical flavors: watermelon-lime, spicy pineapple, citrus lime and tangerine carambola and have confidently reached the 3rd place in the rating. Constellation Brands Natural Flavored Alkoseltzer is gluten-free and only 100 calories per can.
Bottom line: Low-alcohol carbonated drinks are gaining momentum around the world, quenching consumers' thirst for «fun without consequences.»
#4. High Noon Sun Sips
Total sales for the year: 103,4 млн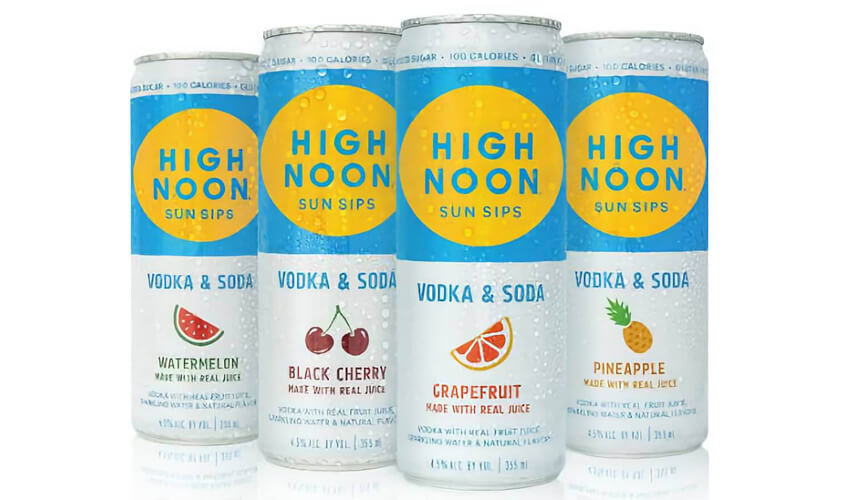 Another drink for adults feels confident both in our rating and on retail shelves. High Noon Sun Sips by E&J Gallo Winery is made with vodka, real juice and sparkling water. Each can of 4 SKUs in Passionfruit, Peach, Pineapple and Watermelon flavors has only 100 calories per serving and is traditionally 4.5% ABV – the benchmark for hard seltzer.
Now in the full line of High Noon Sun Sips 11 SKUs of simple and understandable tropical flavors. The question remains: what gives the brand more synergy: real juice or natural vodka? Or sun-soaked fragrances?
Takeaway: Fill your drinks with lightness and freshness – consumers love it.
#5. Oatly
Total annual sales: $98.8 million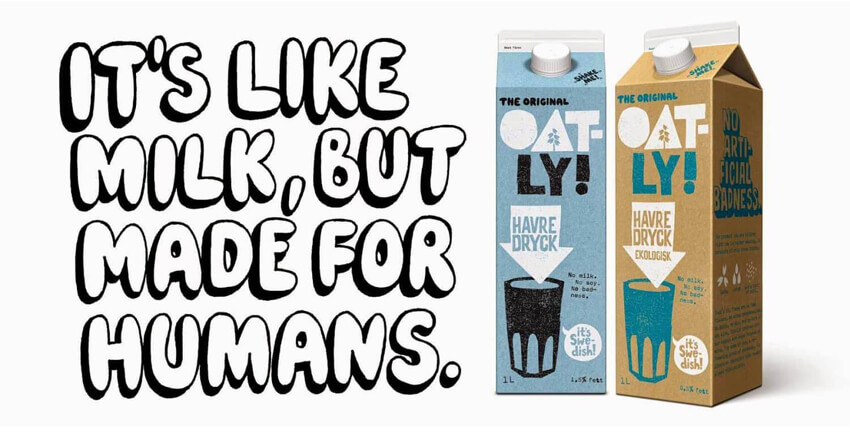 Oatly makes oat milk from full-fat, low-fat, and chocolate-flavored varieties. Sweden's world leader in dairy alternatives uses 100% gluten-free oats and is fortified with calcium.
According to SPINS sales data compiled by the Good Nutrition Institute (GFI) and the Plant Based Foods Association (PBFA), plant-based milk is the largest and most mature segment. And Oatly is the recognized leader in this category. The Swedish innovation company has been following the shift in consumer focus towards plant-based alternatives since the 1990s, a major shift affecting the entire dairy sector.
Today, Oatly supplies its products to markets in more than 30 countries in North America, Europe and Asia. In many sales channels, the company is the «oat leader» and an absolute favorite among consumers, to which we have already devoted entire sections more than once in our vegetable and dairy reviews. Therefore, the 5th place is deserved.
Conclusion: Although several followers are trying to claim the place of the leader of plant-based dairy alternatives at once (the new love of consumers is almond milk, which we talked about in a separate review), and soy milk is trying to regain its once lost positions, the "oat segment" of plant-based milk will be one for a long time to come. of the most promising.
#6. Truly Iced Tea
Sales for the year: $90.5 million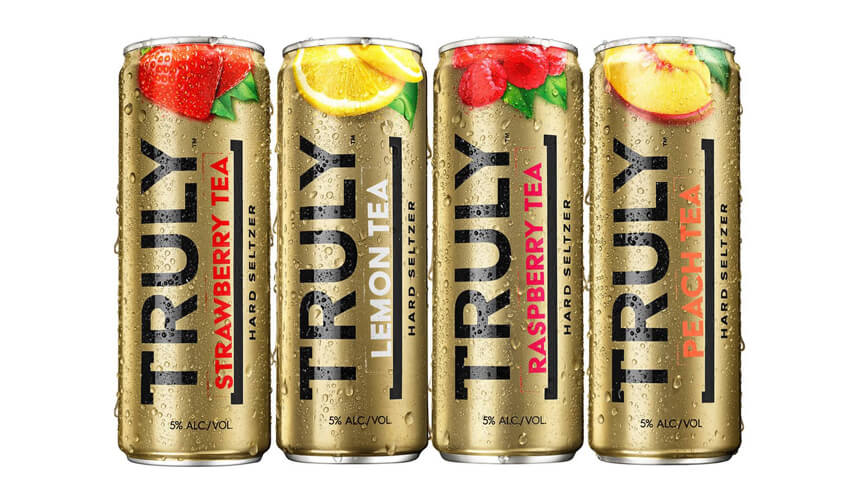 Produced by the Boston Beer Co., Truly Iced Tea consists of low-alcohol seltzer with the addition of natural brewed tea with fruit flavors. Four popular 4 SKUs: lemon, raspberry, peach and strawberry blew up the segment and took the 6th place in the ranking.
The new line of Truly Iced Tea hard seltzer has definitely strengthened the position of the entire Truly hard seltzer umbrella brand. The novelty appealed to those active young consumers who continue to search for fresh flavors in a growing category, preferring healthier alternatives.
Conclusion: Find a reasonable balance so as not to inflate the assortment, but do not forget to regularly delight them with unusual novelties, without letting them get tired. Consumers appreciate variety.
#7. Michelob Ultra Organic Seltzer
Total sales: $87.2 million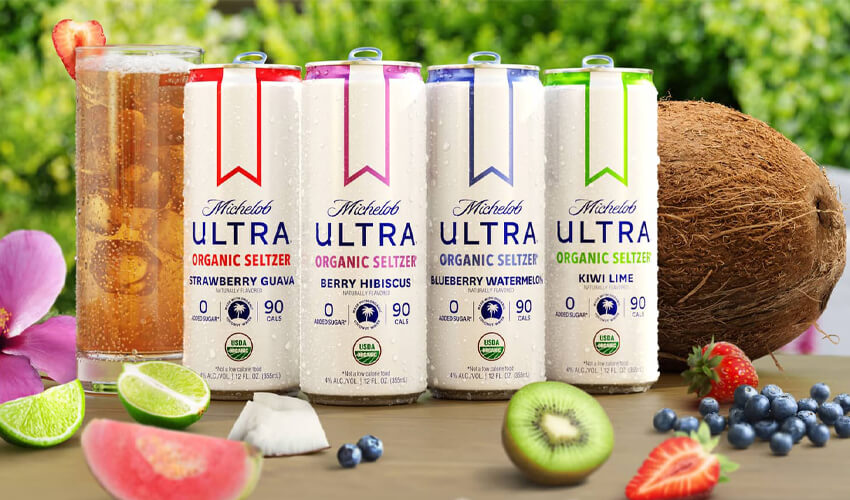 Made from coconut water and real fruit juice, Anheuser-Busch InBev Ultra Organic Michelob Seltzer contains 90 calories per serving.
USDA-certified drinks for adults (4% alcohol in Michelob Ultra Organic Seltzer) are available in blueberry watermelon, kiwi lime, berry hibiscus, and strawberry guava flavors with no added sugar.
Conclusion: Tropical fragrances have been popular for several seasons.
#8. Minute Maid Zero Sugar
Total annual sales: $70.7 million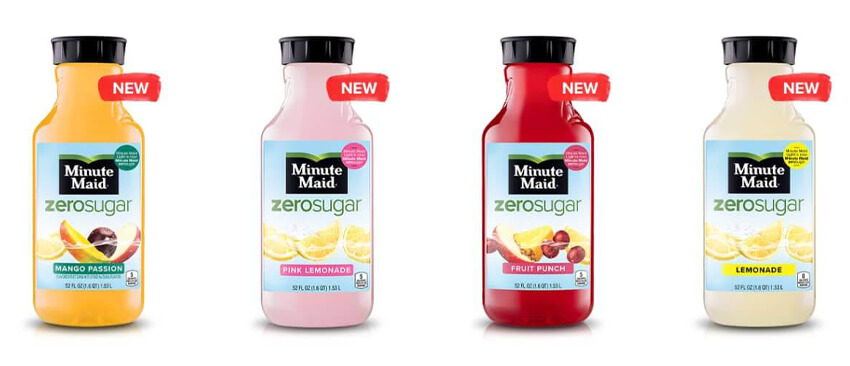 Minute Maid Zero Sugar low-calorie juice line from The Coca-Cola Co. Available in Mango Passion, Pink Lemonade, Fruit Punch and Lemonade flavors. All variants are sugar-free and with far fewer calories than regular juice drinks from the 75-year-old brand.
"Zero-sugar and low-sugar are key requirements for growth in all categories, but are especially prominent among healthier beverage options, covering RTDs as ready-to-drink beverages," the IRI report says.
Conclusion: The refreshing flavors of well-known drinks like juice should not only excite the taste buds, but also keep you feeling good. This is exactly what consumers need in a post-COVID world.
Soda wins
As shopping behavior worsened throughout the year and the COVID-19 situation persisted until the end of the 21st, the new sodas «succeeded in overcoming the pandemic forcing people to stay at home,» said Joan Driggs, vice president of content and IRI thought leadership.
The $30 billion segment of carbonated soft drinks continues to be one of the fastest growing segments in the entire beverage industry. Experts vying with each other evaluate its prospects, although five years ago all forecasts were reduced to a decline in the soda segment, and the most marginal forecasts generally spoke of its possible imminent death. But consumers vote with their wallets differently!
Looking closely at the rapid success of newcomers in the carbonated beverage segment, we have repeatedly noted in our reviews that there are huge opportunities for disruptive innovation in the soda market. Moreover, if new products meet growing consumer challenges, manufacturers of any size will be able to achieve success.
2021 once again confirmed our findings. Over the past year, the brands of the giants of the drinking industry have shown themselves excellently on the market. But there are quite a few gaps left in the category, in which the products of independent brands feel quite confident. And the rating of the TOP novelties of 2021 clearly shows what modern consumers prefer to drink.