McDonald's Germany kicked off a retro styled campaign to promote its new 1955 Burger. The recipe of the recently launched addition, which is made of bacon, barbecue sauce and caramelized onions, was 'devised' back in middle of the last century—at least, the promotion, which includes a TV-spot and the 1955 Burger section on the corporate website, is assuring this fast-food product has a 55-year history.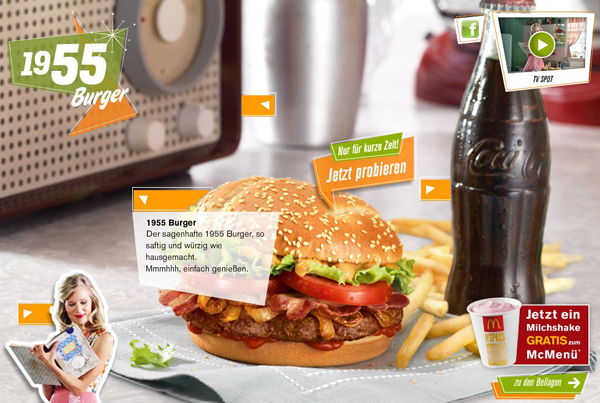 The advert, created by the Heye Group agency, features a pretty woman, who is improvising when making a new burger in her Formica-covered kitchen to a "That's why I love it" tune. The first part of the spot is set in Chicago 1955, and then the plot spins off into to the modern period and showcases a young McDonald's employee, who found the cook book and is now creating the same burger in the restaurant's kitchen in strict accordance with the old recipe. It's quite hard to believe that somebody would be inventive enough to mix all these ingredients and make a burger of this kind more than half a century ago, but the campaign is so lovely with all of these photos in the spot and references to the style and icons of these period—Elvis, Merlin Monroe, Buddy Holly, James Dean and many more— that you even do not want to dig out the truth.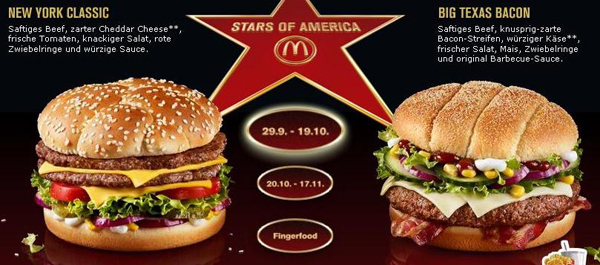 Image Courtesy: www.burgerbusiness.com
The new addition to the McMenu is available only in German McDonald's restaurants, but who knows, maybe it will come to the US chain in short time (being probably the first product with pure American spirit originated from the centre of Europe). Consumers in other German-speaking country, Austria, are also treated to the new «Stars of America» burgers inspired by New York and Texas—Big Texas Bacon, made of bacon, spicy cheese, onion rings and barbecue sauce to be followed by New York Bacon burger and a Big Pepper Cheese with bacon, pepper-Jack cheese and Cheddar sauce. Will McDonald's USA nod back and pay tribute to German cities by launching new 'deutchen' fastfood items? Time will show.