As part of the Futbol Now campaign, Pepsi is presenting a new music album, Pepsi Beats of the Beautiful Game, that incorporates the energy of youth culture, sports and cultural diversity. For this music project, "the largest music, film and football collaboration in the brand's history" the legendary soda label has tapped a pool of original and unique—popular and emerging—artists from all across the globe. These 11 tracks will also be used as soundtracks and a source of inspiration for the upcoming short films by acclaimed directors.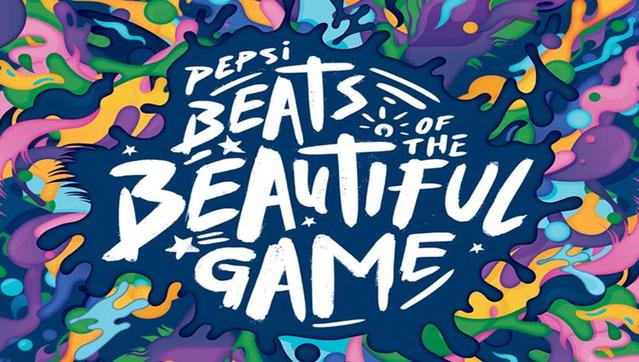 The music artists, who collaborated on the album, include international stars such as Janelle Monae, Rita Ora, Don Omar, Timbaland, R3hab to name a few as well as local music celebrities including Pearls Negras (Brazil), Jolin Tsai Yl-ling (China) and Hassan El Shafei (Egypt). The mix comes as an eclectic picture that combines contributions from various ethnical groups and highlights various styles, creative approaches and messages. The songs will be unveiled as singles, one each week, on iTunes store.
The songs will go with short films, inspired by the musical narration. There'll be 11 short films that will be directed by celebrated filmmakers including Spike Lee, Idris Elba, Jessy Terrero, Diego Luna, Andy Morahan and The Kolton Brothers among others. The videos will be available on www.pepsi.com/thegame and will also be posted to the artists' YouTube or Vevo channels. The brand informs that the 11-track Pepsi Beats of the Beautiful Game original album, which is already available for pre-sale, will be released internationally on June 9 and June 10 in the U.S.
Pepsi has already launched the debut track, "Heroes," by Janelle Monae, who created a fresh version of David Bowie classic. The accompanying video is also already there—a 4-minute film was created by Young Astronauts.
As part of this project, the brand not only sources creative talent of established directors, but also helps young talents boost. Pepsi has teamed up with Cine Favela, a cultural NPO centered around film education and support for young directors across Brazil. The school's alumni will develop a special short film for Pearls Negras track "Guerreira."
"This visual album is a celebration of different artistic talents and intertwines two art forms that up until now existed mostly in service of one another. With Pepsi Beats of the Beautiful Game, we are finally elevating these artforms to an equal plane and showcasing them on a global level. The 'beats' are both musical and visual snapshots that speak to the spirit of football culture, where songs serve as inspiration for the films – and the films allow for greater interpretation of the songs," said Frank Cooper III, Chief Marketing Officer, Global Consumer Engagement, PepsiCo Global Beverages Group.