Collagen supplements have become popular for skin health, and there is a reason for it. Studies show that the results of their short-term and long-term oral use are promising for anti-aging skin (primarily to moisturize and maintain elasticity), as well as intestinal health, and a host of other benefits for the whole body.
9 Perfect Collagen Supplements for Skin, Joints & More
The good thing is that there are a large number of collagen supplements on the market. However, with so many options available, it can be easy to get bored when deciding which pack to pick up at a pharmacy or specialty department of a beauty store. Although it would seem so simple, after all, these are ordinary collagen supplements that have received all the necessary regulatory approvals.
But not so fast: there is actually a method for determining the best collagen «fit» that comes down to your goals and needs.
Collagen formulas vary slightly, whether due to the type of collagen or additional ingredients. These factors play a role in how effective it will be in achieving the intended result.
What is collagen?
Collagen describes a family of proteins that make up the most abundant proteins in the animal kingdom. In fact, there are at least 28 types of collagen that we know of that exist in vertebrates (yes, including us), but types I, II, and III are the most common in humans.
Benefits of Collagen Supplements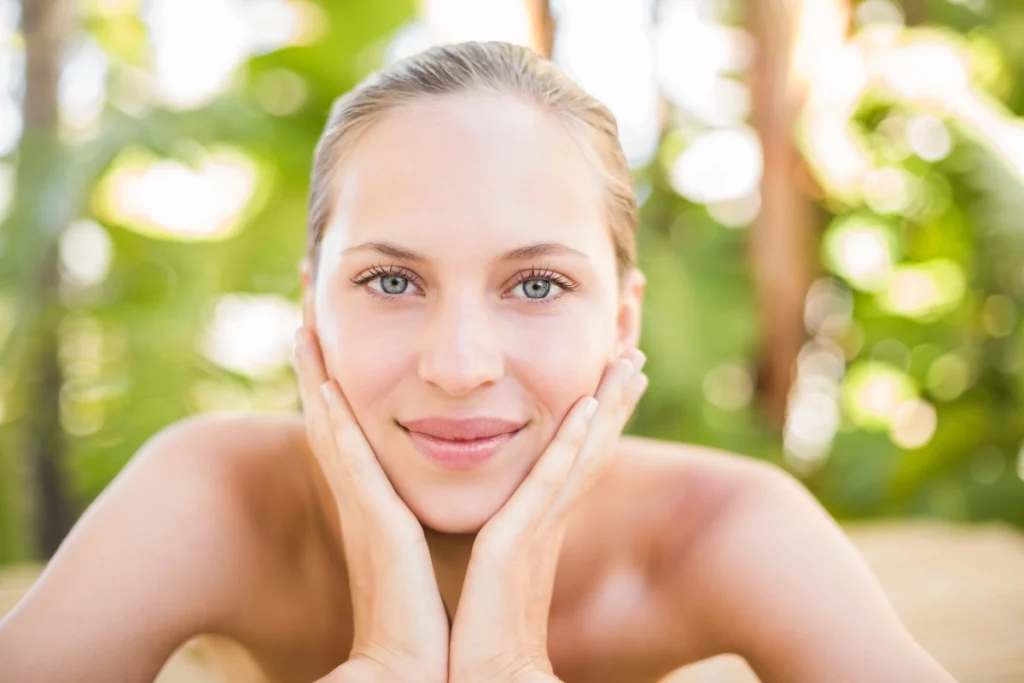 The specialized supplements collected here will help immediately in some areas of health that you can expect from high-quality collagen brands:
Skin and Hair: Studies have shown that taking collagen peptides will promote greater elasticity and hydration of the skin, which promotes the development of youthful skin texture. Collagen supplements also provide many of the amino acids and nutrients needed for hair growth.
Digestion: Research shows that collagen can help maintain gut health. Gut health specialist Vincent Pedre, MD, said: «For the same reasons, collagen helps repair and build muscle tissue and is a great source of nutrients to support the rapidly dividing cells that line the inside of the gut.»
Joints: Based on various studies, collagen has also been found to help maintain joint health and comfort. Collagen is found in all connective tissues, including ligaments and tendons, and collagen supplements provide nearly 20 unique essential and non-essential amino acids to maintain natural levels throughout the body. A healthy connective tissue structure helps maintain joint health and function.
Muscles: Parts of our muscles are made up of… you guessed it, collagen. A clinical study has shown that a hydrolyzed collagen supplement supports muscle strength. Although this is a new area of research, science has shown that collagen supplements can support skeletal muscle mass.
Popsop Experts' Choice
Our experts and editors have selected the products listed on this page. Read on to understand which collagen product deserves more attention.
BEST GENERAL COLLAGEN
mindbodygreen beauty & gut collagen+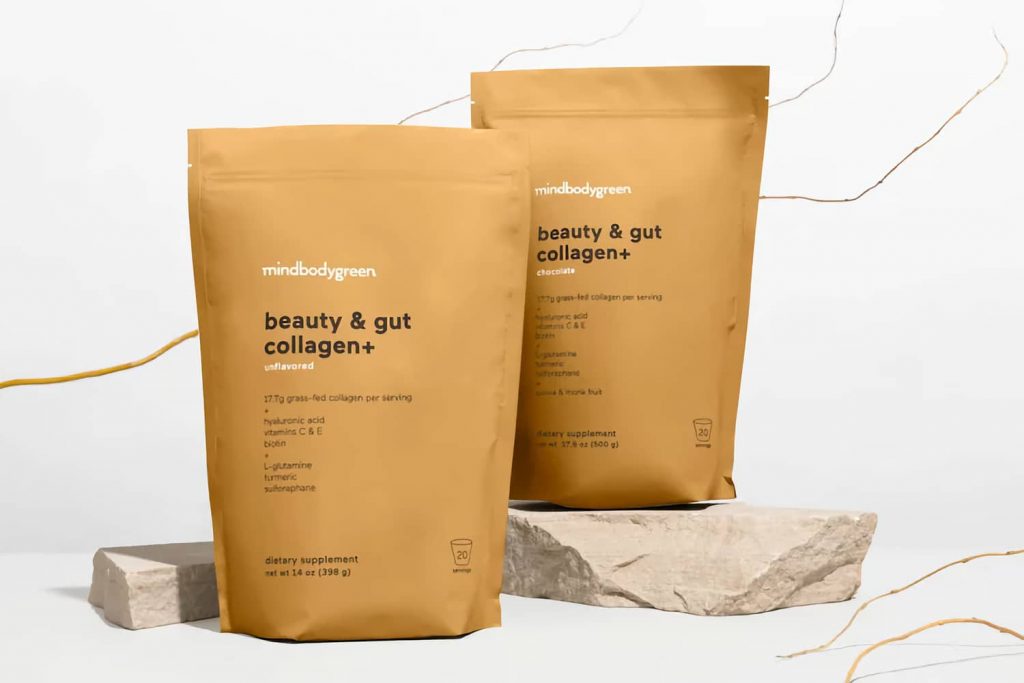 pros
Specialized Complex: collagen plus 7 nutrients, botanicals and bioactives
Supports strong hair and nails, radiant skin and a healthy gut
cons
Collagen Per Serving: 17.7 g
Collagen type: Types I and III
Dietary: Free of gluten, soy, dairy, sugar. Keto friendly, free from major allergens
Form: powder
Source: bovine
A one-step beauty treatment for youthful skin, healthy hair and strong nails. The innovative mindbodygreen beauty & gut collagen+ blend is based on a high strength collagen foundation providing 17.7g of Collagen I & III enriched with botanical bioactives for comprehensive skin health and beauty support.
There are vitamins C and E to boost collagen production and support antioxidants, hyaluronic acid to hydrate the skin, block L-glutamine for protein building, biotin for your beauty needs, and curcumin from turmeric extract and sulforaphane from broccoli seed extract to support detoxification and combat oxidative stress and photoaggregation.
BEST MARINE COLLAGEN
Gold Ration Marine Collagen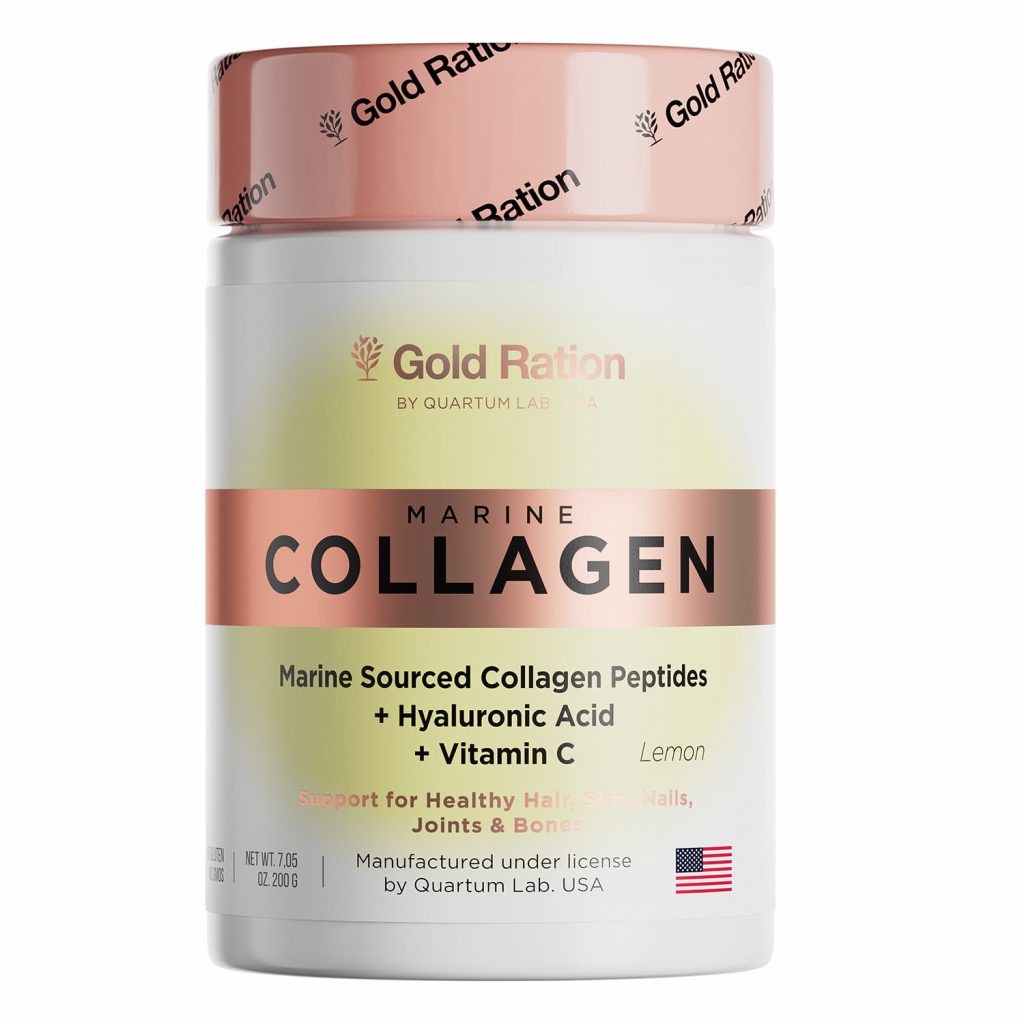 pros
Supports firmness and elasticity of the skin
Accelerates the growth of hair and nails
Contains hyaluronic acid and vitamin C
Cons
Collagen Per Serving: 5.6 g
Collagen types: Type I
Dietary: Gluten Free, Dairy Free, GMO Free
Form: powder
Source: marine
Marine Collagen from Gold Ration by Quartum LAB (USA) with vitamin C (ascorbic acid) and hyaluronic acid. It helps to improve the elasticity and firmness of the skin of the face and body, the production of keratin amino acids and the acceleration of hair and nail growth, the improvement of joint nutrition and the production of synovial fluid in the joint «bag». As a result, the condition of the joints, ligaments and cartilage improves.
BEST FLAVORED
THRIVE Market Matcha Mint Collagen Peptides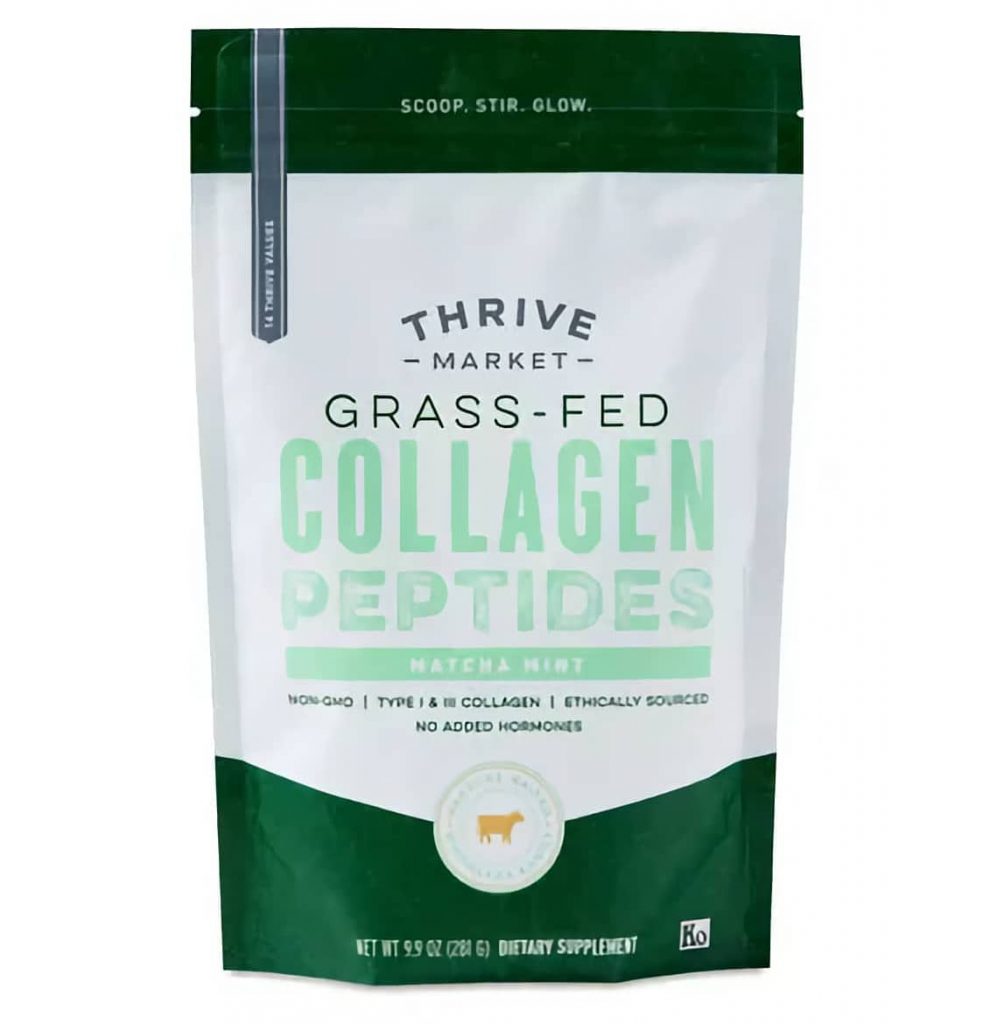 pros
Promotes healthy hair, skin, nails*
Easy to dissolve
Natural fragrance
Cons
Contains caffeine
Not vegan
Collagen Per Serving: 11.1 g
Collagen type: Types I and III
Dietary: Gluten Free, Dairy Free, GMO Free. Certified Kosher
Form: powder
Source: bovine
When it comes to flavor varieties, flavored foods dominate. That's why we were pleasantly surprised by this refreshing variation of matcha mint. The base of THRIVE Market Matcha Mint Collagen Peptides is 10g of pasture-raised, ethically sourced bovine collagen (also listed amino acid profile), and the sweetener used is extracted from monk fruit. And thanks to matcha, it even contains 6mg of caffeine per serving for a little "morning shake."
BEST BUDGET COLLAGEN PEPTIDE
Orgain Collagen Peptides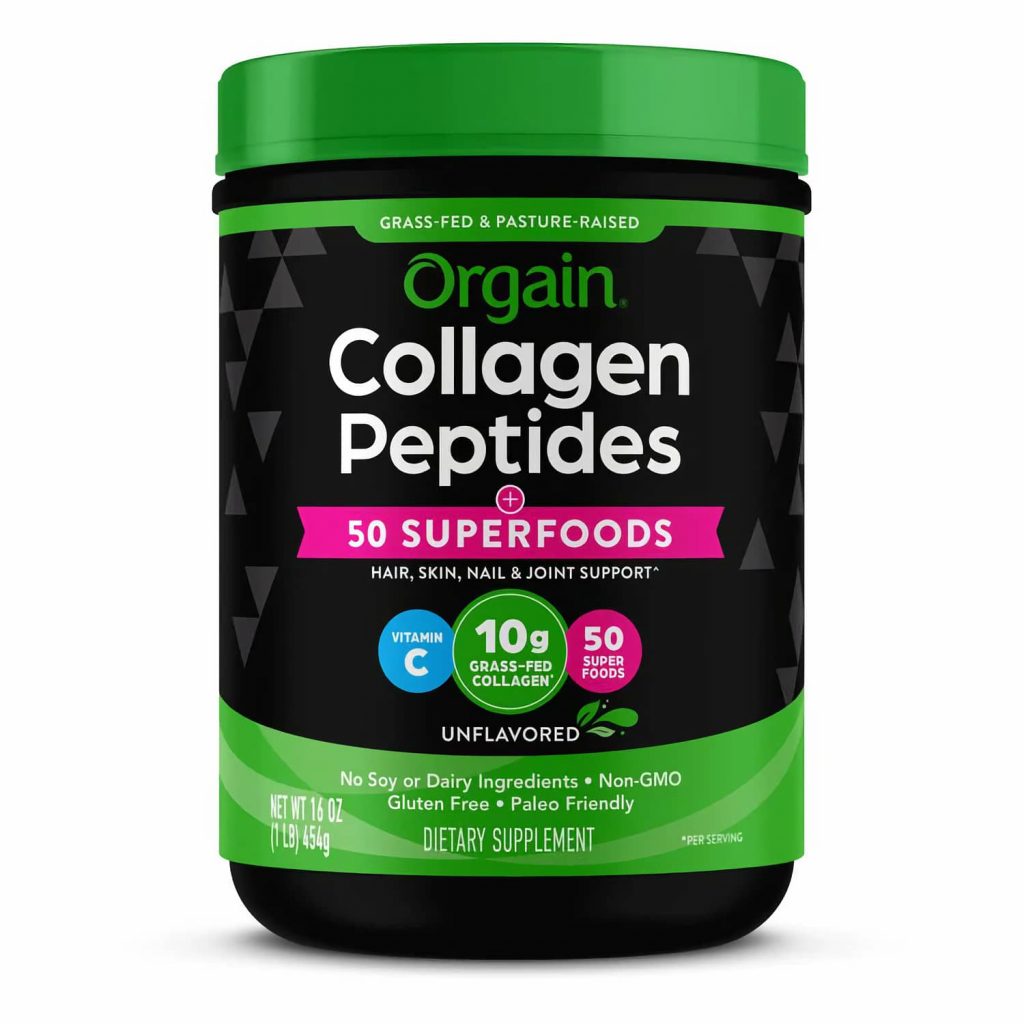 pros
No added odors
Supports hair, skin, nails and joints
Derived from grass and pasture fed cows
Only one ingredient
cons
Collagen Per Serving: 20 g
Collagen type: Types I and III
Dietary: Gluten Free, Soy Free, Dairy Free, GMO Free
Form: powder
Source: bovine
If you're looking for a less expensive option, Orgain Collagen Peptides has 20g of collagen peptides at an affordable price. It should be noted that you are just getting plain collagen — no additional ingredients are included to support your health. If you don't like the unflavored variety, this can be fixed by mixing the powder into the flavored drink of your choice.
BEST FOR MUSCLE
Vital Proteins Vital Performance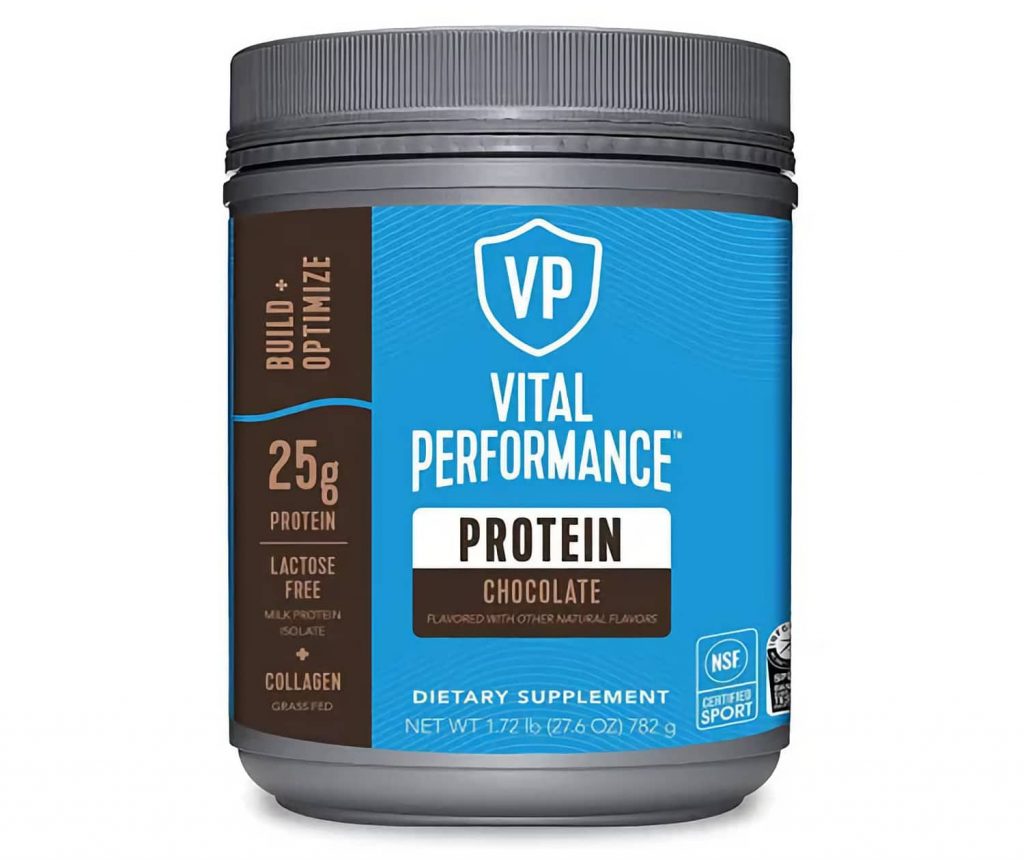 pros
Contains all 9 essential amino acids
4 g of branched chain amino acids (BCAAs)
NSF-sport certificate
cons
Contains added sugars
Contains dairy products
Long list of «other ingredients»
Collagen Per Serving: 10 g
Diet: Lactose Free
Form: powder
Source: bovine
Vital Proteins Vital Performance is a good mix for athletes: whey and collagen mix protein up to 25 grams (about 10 g of collagen and 15 g of whey protein). Both whey and collagen contribute key amino acids critical to muscle mass, but whey contains all nine of the essential amino acids not found in collagen. Just make sure you (and your skin) can tolerate the serum.
BEST FOR HAIR
Garden of Life Collagen Beauty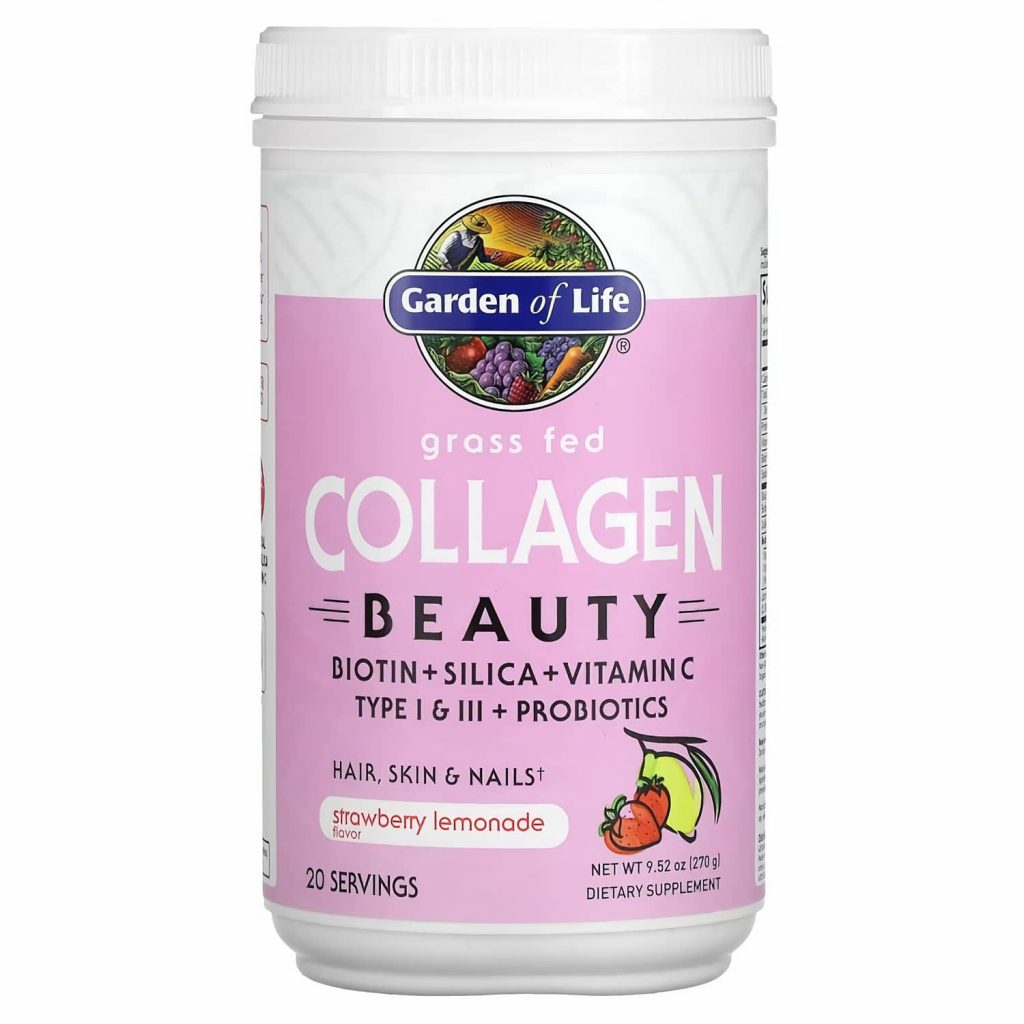 pros
Contains nutrients, herbs and probiotics
cons
Long list of «other ingredients»
Not vegan
Collagen Per Serving: 11 g
Collagen type: Types I and III
Diet: no soy or dairy products. Keto friendly
Form: powder
Source: bovine
While the Garden of Life Collagen Beauty foundation contains a decent dose of collagen types I and III (12g of protein), the stars for hair are biotin, silica, and vitamin C. Biotin is the main component of keratin production, or hair's main protein. (In one small study, women with thinning hair reported a significant increase with biotin supplementation compared to those who received a placebo.) It is then layered with vitamin C to help neutralize free radicals (which can lead to hair aging) and silica (which can help strengthen hair and minimize thinning).
BEST FOR SKIN
MUKTI Bioactive Collagen Booster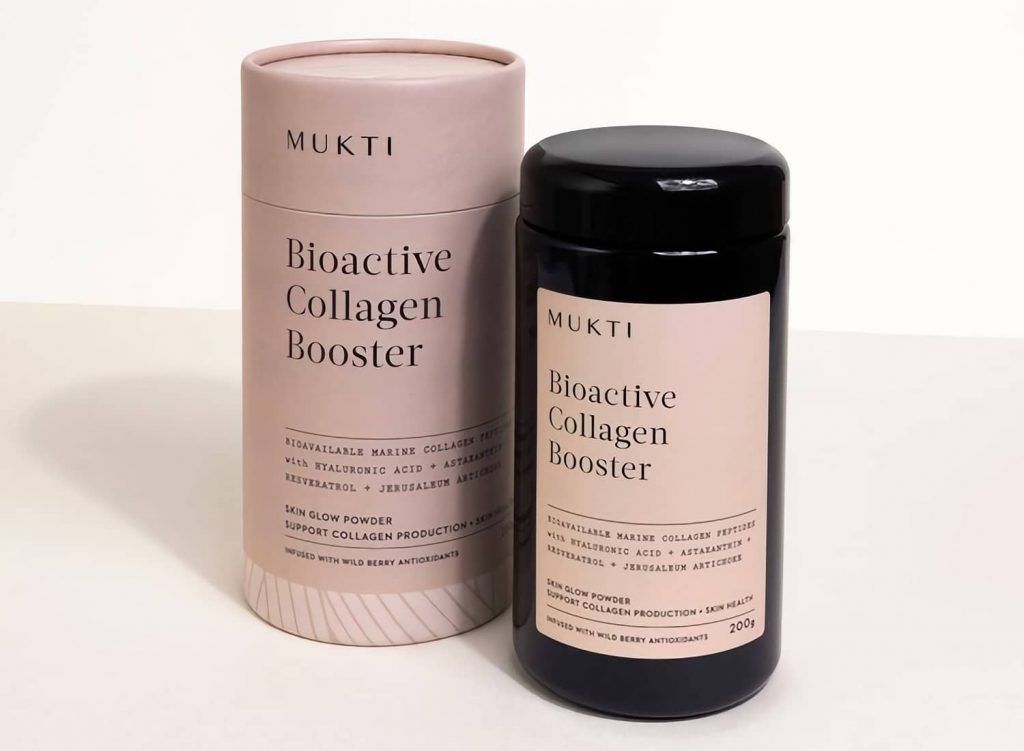 pros
Features of the botanical and berry mixture
Promotes skin hydration, elasticity and moisture retention
cons
Not vegan
Long list of «other ingredients»
May Contain: Wheat, Dairy, Peanuts, Soy, Tree Nuts and Eggs as product is manufactured in a facility that also processes products containing these ingredients.
Collagen Per Serving: 3 g
Collagen type: Types I and III
Dietary: Non-GMO
Form: Powder
Source: Marine Collagen
MUKTI Bioactive Collagen Booster uses three grams of marine collagen supplemented with additional actives to support your skin. There's hyaluronic acid and aloe vera for hydration, astaxanthin for photodamage protection, and a patented berry antioxidant complex to help with oxidative stress.
BEST CAPSULE
Hum Collagen Love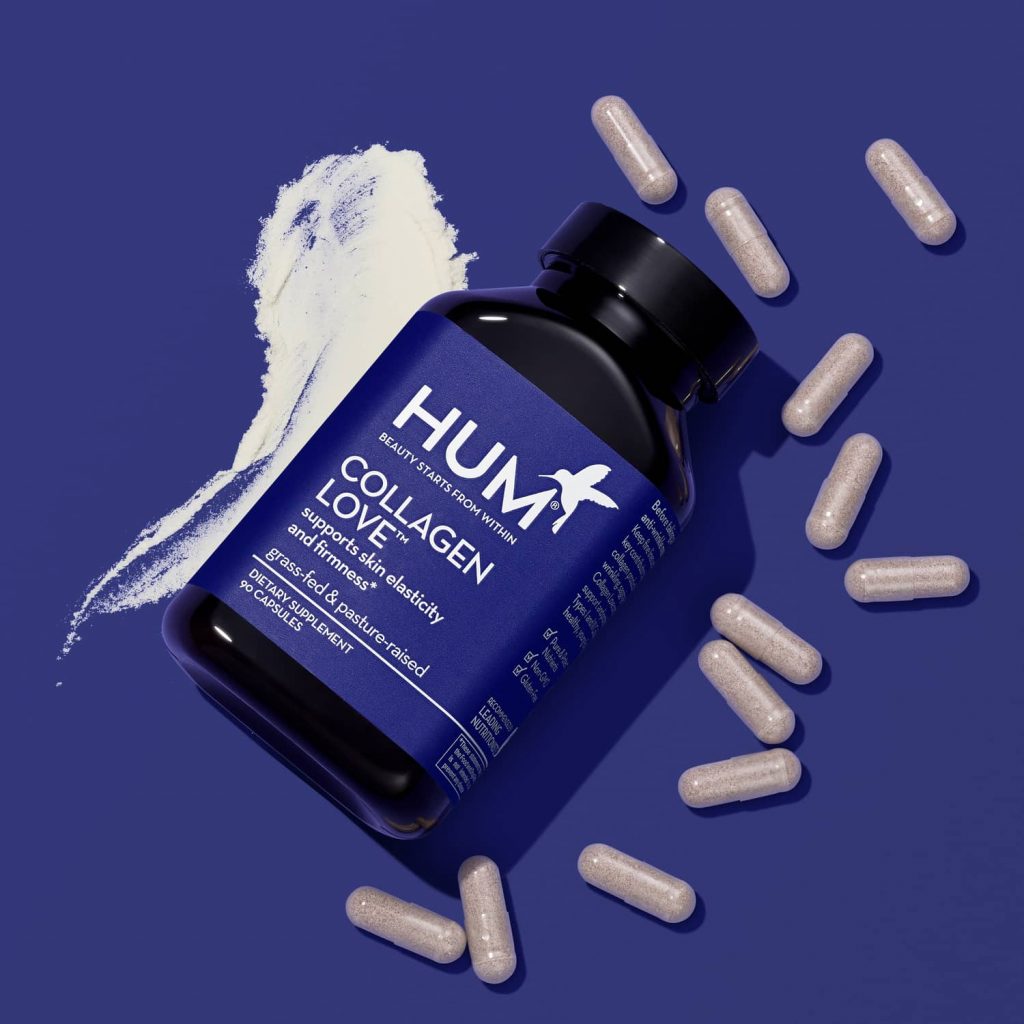 pros
Supports firmness and elasticity of the skin
Phytonutrient + Skin Protection Bioactive Blend
cons
Small dose of collagen
Not vegan
Serving Size: 3 capsules
Collagen Per Serving: 600 mg
Collagen types: Types I and III
Dietary: Gluten, Soy, Dairy, Nut & Wheat Free
Form: capsule
Source: bovine
While we believe powder is the best way to ingest meaningful amounts of collagen, some people love the lightness of a capsule. If that's you, check out Hum Collagen Love, this blend of bovine collagen (600 mg), vitamin C, hyaluronic acid, chondroitin, and phytonutrient antioxidants from red wine and grape seed extracts.
BEST VEGAN PRODUCT
Vegan Collagen Booster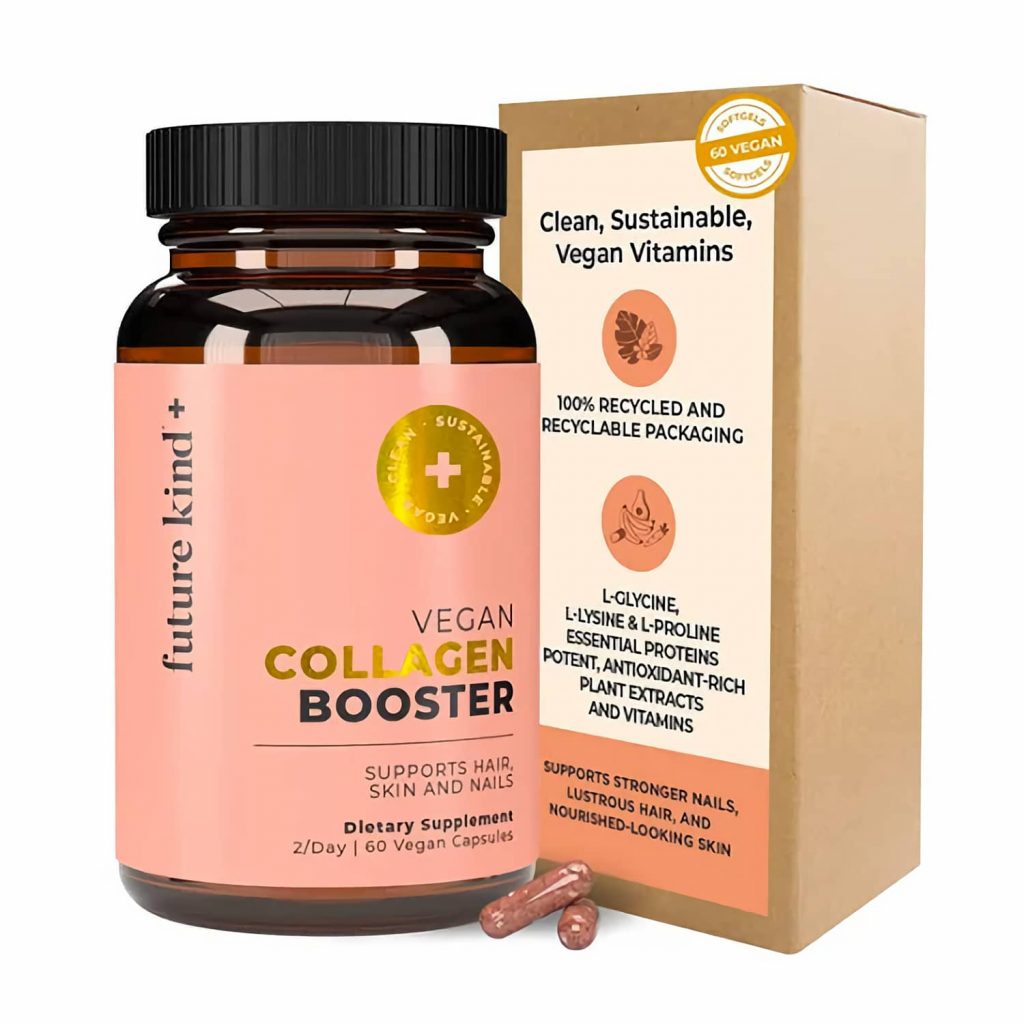 pros
100% recycled and recyclable packaging
vegan
cons
Contains no actual collagen
Dietary: Free of gluten, soy, dairy, sugar, GMOs. Free from major allergens: free of lactose, nuts and wheat
Form: capsules
There is no such thing as vegan collagen. Collagen is present only in the animal kingdom. Thus, collagen is obtained only from animals. Vegan Collagen Booster is not collagen itself, but nutrients that can help support your natural collagen levels. For example, this high quality blend contains the amino acids L-Glycine, L-Lysine, and L-Proline, which are some of the building blocks of collagen itself. Plus, they contain vitamins, minerals, and botanical extracts that support collagen in other ways. For example, vitamin C is a vital part of the collagen synthesis process, and resveratrol is an antioxidant that can neutralize free radicals.
Quick List: What to look for
The review includes products that we consider useful to our readers. While we have tested the above products and can wholeheartedly recommend them, we also want to provide you with the tools to find your own collagen supplements — or at least help guide you through the process of choosing on your own.
1. Dosage
There is no official daily recommendation for taking collagen. For healthy adults, the recommendation for total protein requirements is about one gram of protein per kilogram of body weight per day.
If you are physically active, your needs may be higher. Collagen is a peptide protein, but it's not a complete protein — it doesn't have all nine essential amino acids (it skips tryptophan and is on the underside of several others) — but can contribute to your overall daily protein goals and needs.
For a collagen supplement, we recommend looking in the 5 to 20 grams range (per serving).
2. Source
Look for brands that detail where their collagen comes from on their packaging or website. Bonus points if they list an amino acid profile.
Look for keywords such as «vegetable», «bovine collagen from Brazilian cows» or «from fish». Ideally, they also note which types of collagen are being provided (such as types I, II, or III).
3. Shape
Powders are the most convenient way to add a meaningful dose of collagen to your diet, whether you're mixing them into smoothies or your morning coffee or tea.
But if you prefer other delivery methods — the most popular capsules and drinks — that's fine; just know how much collagen you are getting with these products.
4. Additional ingredients
Additional ingredients such as vitamins and minerals or botanical bioactives can help create a more holistic product to achieve the desired effects (if you just want collagen, that's great too!).
On the other hand, make sure the product formula is clean. There should be less artificial colors, flavors, sweeteners, GMOs and known allergens. If your collagen product has flavors, look for natural varieties.
If there is a sweetener, we recommend natural plant sources like organic monk fruit extract or organic coconut sugar.
5. Transparency
It's not so much about decoding the ingredient label as it is about finding brands that are open and honest about their product. The type, source of collagen and manufacturer's data should be obvious.