We analyze a relatively new, but rapidly gaining popularity, sub-segment of the well-known functional drink with kombucha probiotics – hard kombucha. Found a lot of interesting things.
Before the start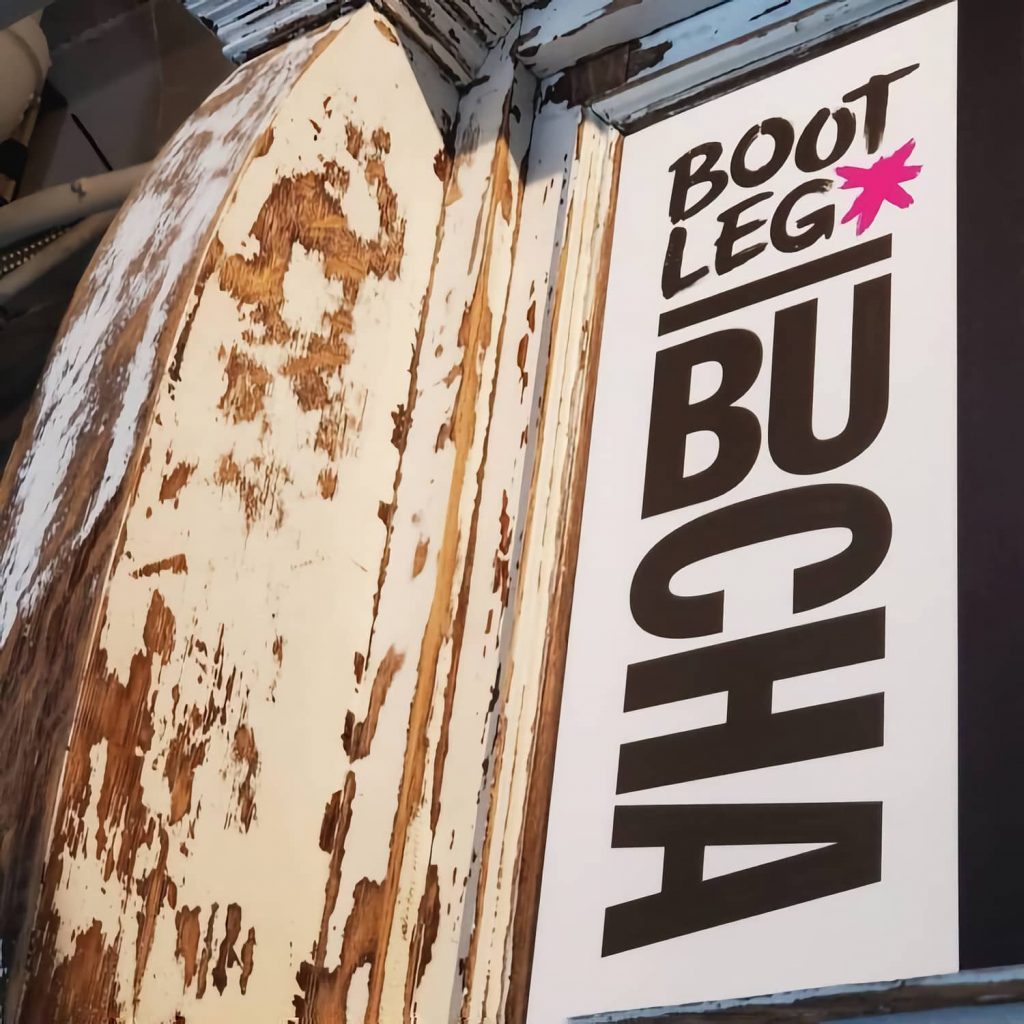 With the motto in the title of our review, the Bootleg Bucha brand conducted an advertising campaign for its products in 2019. The purpose of the advertisement was to emphasize that only natural ingredients are used in the manufacturer's drinks, it is accessible and loved by everyone.
In commercials and posters, the company showed ordinary people enjoying Bootleg Bucha to emphasize the suitability of their product for an extremely wide audience. Basically, everything you need to promote a healthy functional drink with «millions of probiotics per serving.»
Bootleg Bucha produces a niche product in a sub-segment that experts call hard combucha. In the best traditions of the development of various categories of drinks, whose hit in recent years is hard seltzer, now the segment of hard kombucha is gaining the popularity.
We were attracted to this sector of the market for several reasons. First, the hard kombucha market represents one of the most promising segments in the soft drink industry.
Secondly, despite the apparent simplicity of the product, hard kombucha remains a niche product, and is unlikely to become a popular drink for the most. The dynamics of its development is strongly influenced by the change in consumer preferences, which, in fact, we have been studying in recent years. And with the insights that we regularly share, our readers will be able to gain additional competitive advantages.
Finally, thirdly, this market itself is extremely diverse. It presents a variety of brands – from large industries to young innovative start-ups, which opens up endless scope for evaluating various product and marketing strategies.
So heavy, so useful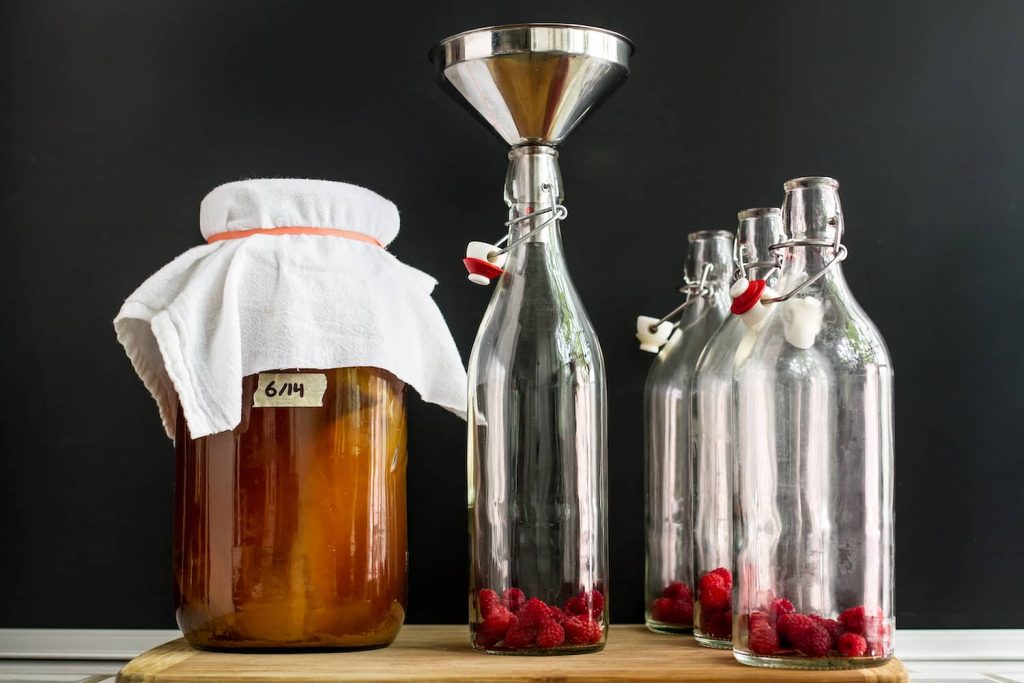 Hard kombucha is a relatively new but rapidly growing segment of the soft drinks market. The drink is made by adding extra sugar and yeast to traditional kombucha, which in turn is obtained by naturally fermenting sweet tea with the help of a special mushroom.
Hard kombucha contains 4.5 to 7% alcohol, making it less strong than wine or beer, but stronger than traditional kombucha, which is typically less than 0.5% alcohol. At the same time, all the beneficial properties of ordinary kombucha are preserved in hard kombucha, which made this drink a favorite among healthy functional drinks with probiotics in recent years.
Classical kombucha has long been known in different cultures around the world, but only recently this drink has begun to gain popularity and become an object of interest for producers and consumers in the United States and other countries.
An analysis of the kombucha market in the US shows that since 2016, kombucha sales have more than tripled, reaching $550 by 2020. It will continue to grow further and is projected to reach $2.5 billion by 2027. However, this is far from the limit, and this market will continue to grow in the future.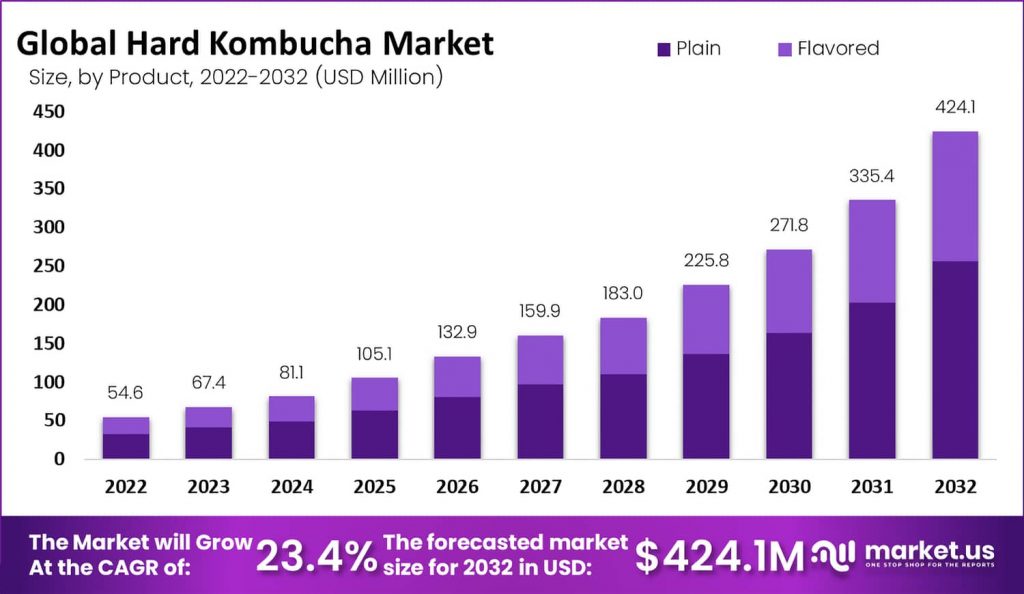 The hard kombucha market was valued at $54.6 million in 2022. However, according to a study by Grand View Research, Inc., it is expected to reach $424 million within ten years, and in terms of average annual growth will overtake its older brother – 23.4% years against a 20% CAGR for the global kombucha market.
It is quite clear that such positive growth attracts more and more new players to this market, and many companies have already joined this rapidly growing segment. This provides an extremely colorful palette of various innovations for both consumers and professionals.
Consumer profile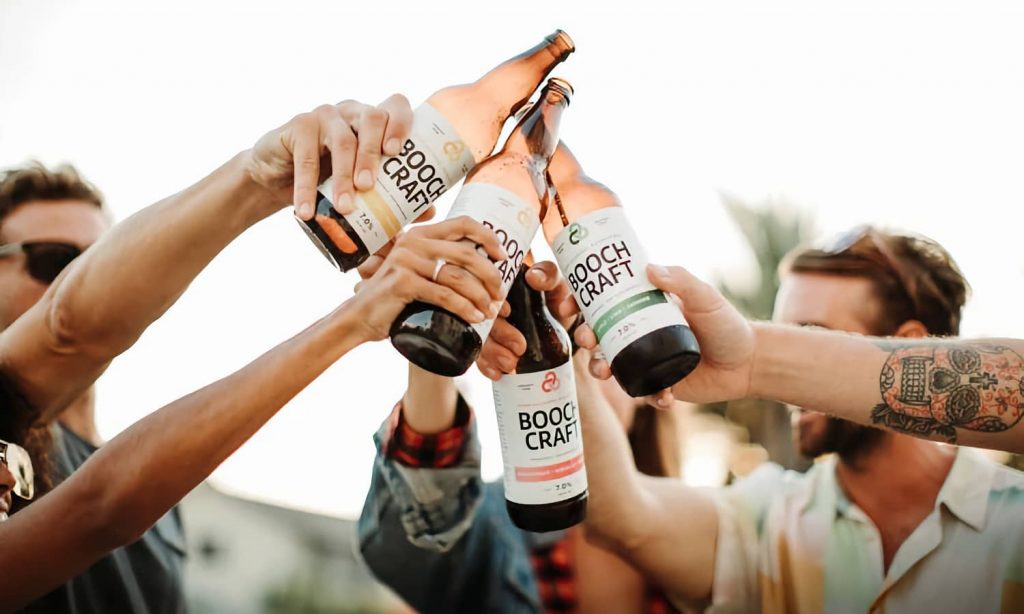 Hard kombucha drinkers represent a fairly broad audience in the 21 to 45 age range looking for healthy alternatives to alcoholic beverages and high sugar soft drinks.
Hard kombucha is chosen by people who follow a healthy lifestyle and are interested in organic products, but who are constantly looking for healthy ways to enjoy alcoholic beverages in the tradition of the current LowNo trend, which we have already covered in detail.
As a rule, they are aware of the products that they use. They pay attention to packaging, study ingredients, and choose brands with missions that reflect their values and lifestyle. They also value organic products and are more likely to choose fair-trade products.
In the US, hard kombucha users tend to have a high level of education and income, according to market research. They are bright representatives of the creative, media and technology industries, often associated with companies that bring a healthy lifestyle and culture to the masses.
Among them are many adherents of vegetarianism and veganism, fans of yoga and fitness. These values can influence their choice of product – first of all, they pay attention to ingredients and calorie content. And above all, they want the product to contain only natural ingredients, as well as low levels of sugar and calories. This factor especially affects the choice of the group of consumers who also try to monitor their weight.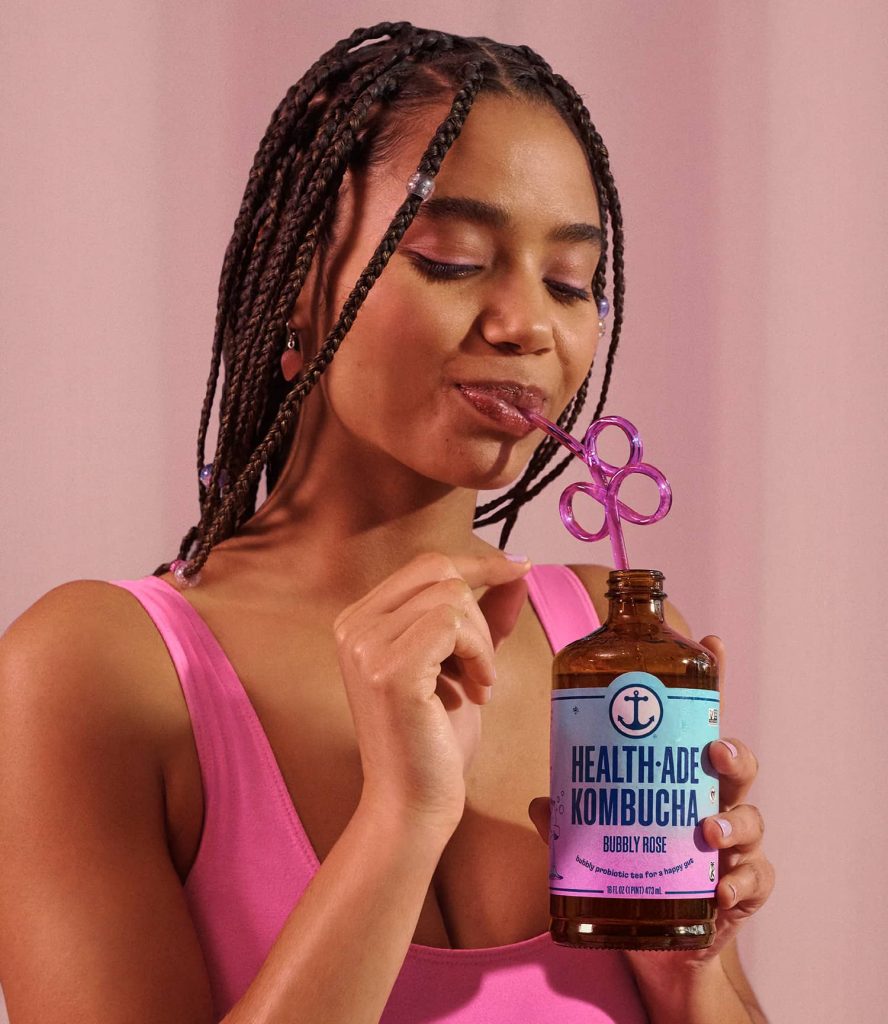 However, there is something that distinguishes them from simple followers of a healthy lifestyle and organic products. They choose hard kombucha not just as a way to get the benefits of a healthy drink, but also to get their share of joy and fun without harm to health. That is, the consequences of a hangover are irrelevant for them, although they prefer alcoholic beverages, even though there is little alcohol in them.
It should be noted that there are quite a lot of hard kombucha consumers from the world of art, music and various cultural festivals. Their choice in favor of this drink makes it popular at various events and entertainment events, which may well influence the development of the hard kombucha market and lead to an increase in demand for this product in the future.
Finally, they value creativity in product branding and packaging.
Brands and competitors
The competitive landscape in the hard kombucha market is quite diverse. It features many well-known manufacturers such as Boochcraft, Unity Vibration, Wild Tonic, Kyla, June Shine and many, many others with a very small share of this market.
The following manufacturers represent the biggest players in this segment.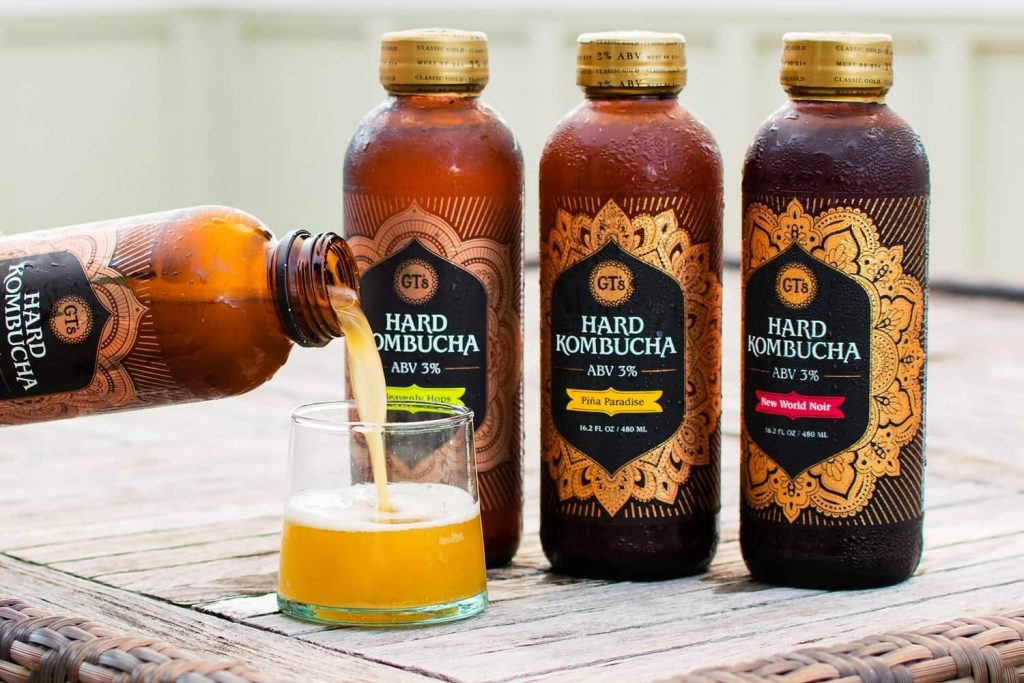 GT's Living Foods is the market leader with a market share of around 50%. The company was founded in 1995 and has been producing organic drinks, including classic kombucha, since 1997.
GT's Living Foods offers a wide range of hard kombucha in a variety of flavors. Popular hits Tantric Turmeric, Watermelon Wonder and Mystic Mango.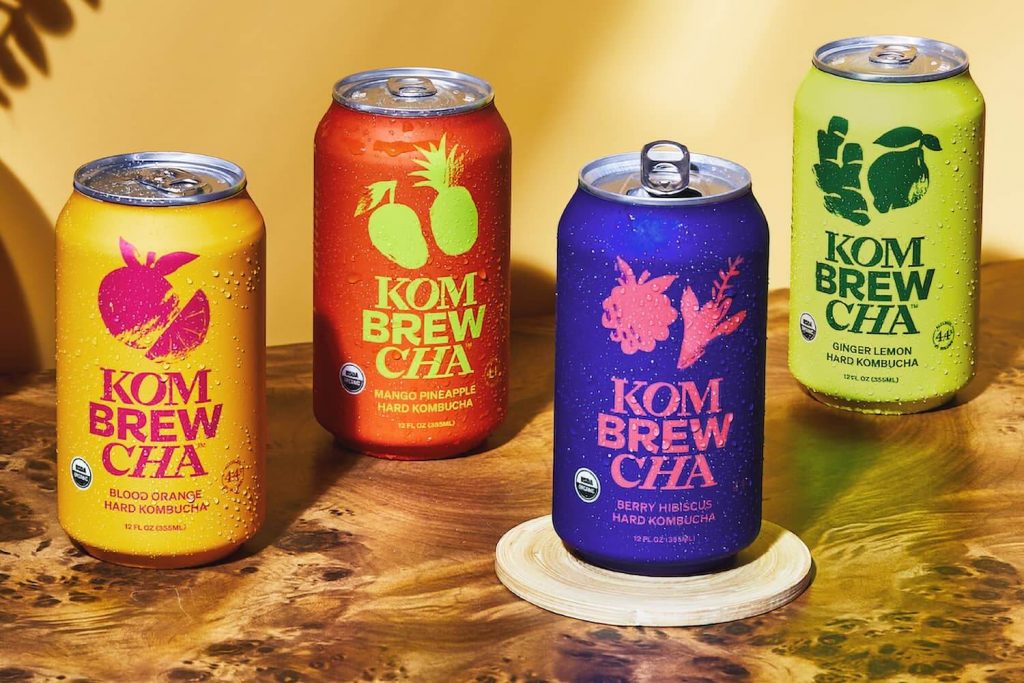 New Yorkers Kombrewcha (Brooklyn) have been repeatedly mentioned in our reviews, as soon as we touched on the current trends in functional drinks. The popular hard kombucha producer, with a market share slightly under 10%, continues to show exceptional growth with over 70% sales growth.
Founded in 2013, the brand remains a product cherished by fans old and new alike – USDA certified organic hard kombucha, gluten-free, made from black tea, with 4.4% ABV. Available in four unique and delicious flavor combinations including: Hibiscus Berry, Ginger Lemon, Pineapple Mango and Blood Orange.
In 2021, UPROXX named Kombrewcha number one in an overall blind taste test against other brands in the category, which very clearly demonstrates how much consumers love the brand's products.
The next two brands are relatively new players, but they have already won both decent market shares and the love of fans of a low-alcohol healthy drink.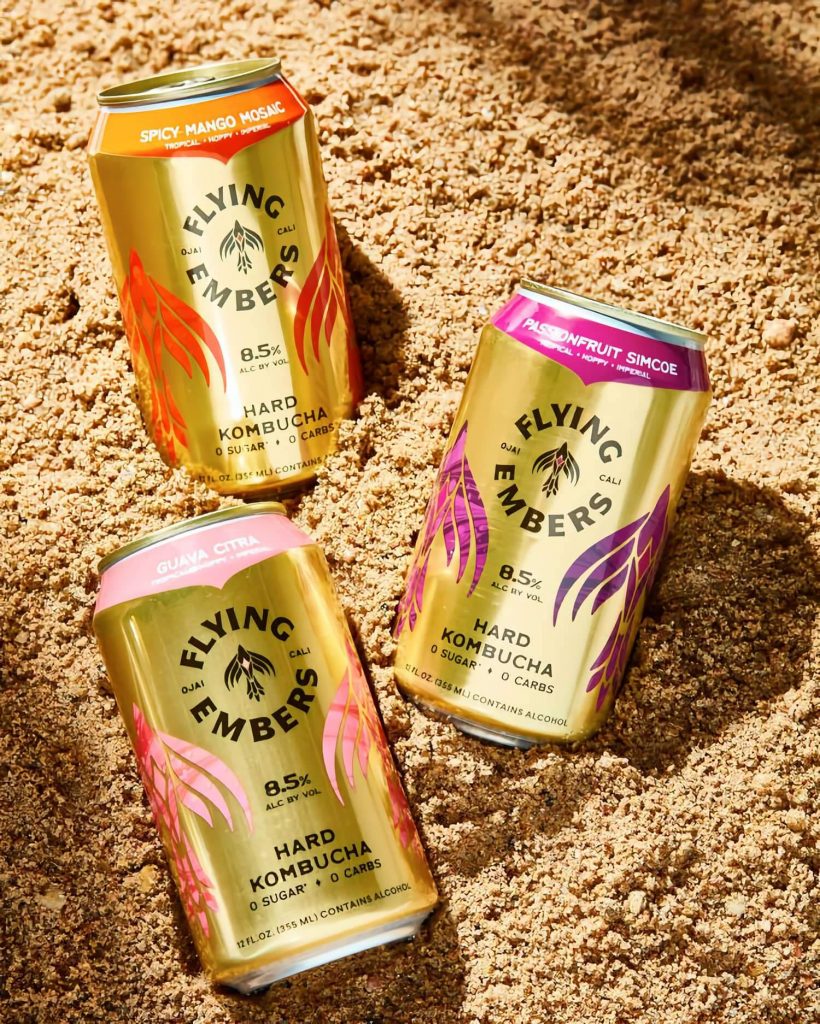 Californians from Flying Embers (the company was founded in 2017) has a share of about 5%. Their hits Lemon Orchard, Ginger&Oak and Ancient Berry are well known to hard kombucha fans.
Finally, JuneShine (founded in 2018) currently has a market share of about 3%. The manufacturer offers several types of hard kombucha, including its breakthrough SKUs – Honey Ginger Lemon, Acai Berry and Midnight Painkiller.
The rest of the market is cumulatively accounted for by hundreds of small manufacturing brands. However, it is among them that you can find the very real courage that we value so much in young startups. For example, in the young, but promising brand Jiant.
Strength in every sip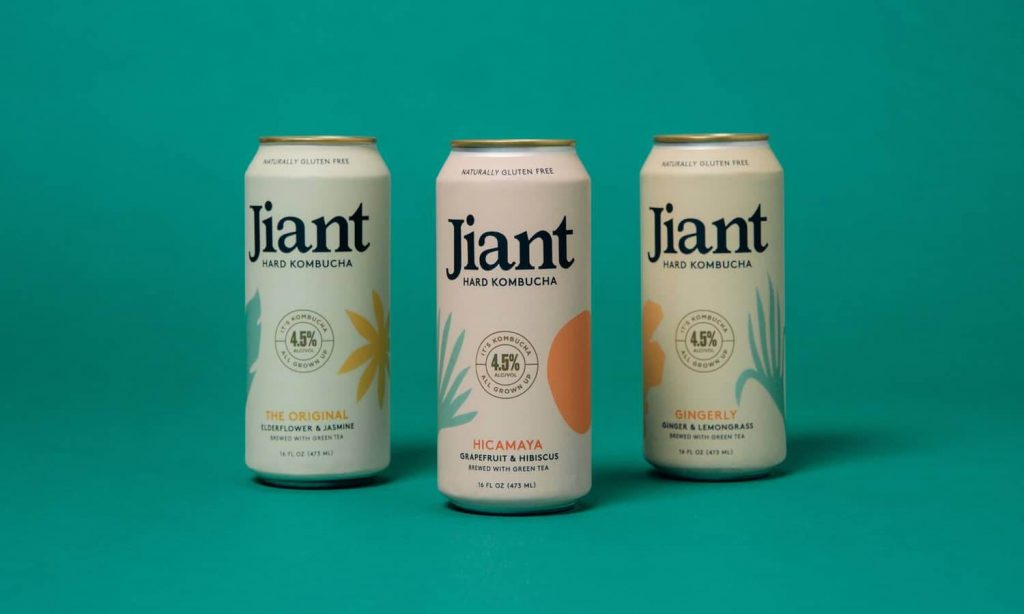 Jiant was founded in 2018 in California. The company originally started production in its founder Michael Shallahan's barn in Santa Cruz, but is now a fast growing company with excellent distribution throughout the country.
Today, the brand offers several killer hard kombucha flavors to choose from: peach tea, lemon ginger, apple ginger, and raspberry tea. And those are just the ones we liked.
One of Jiant's success factors is its unique taste. The company uses only natural ingredients, including fresh fruits and organic teas, to create more complex and rich flavors. Jiant products also contain less sugar than many other brands, making them healthier, lower in calories, and more appealing to healthy lifestyle aficionados.
It is also worth noting that the company's products have a unique packaging design. It both attracts the attention of consumers and clearly distinguishes the brand in the market. The stylish and minimalistic design of Jiant reflects the quality of the product, and the bright trendy colors are easily recognizable on store shelves.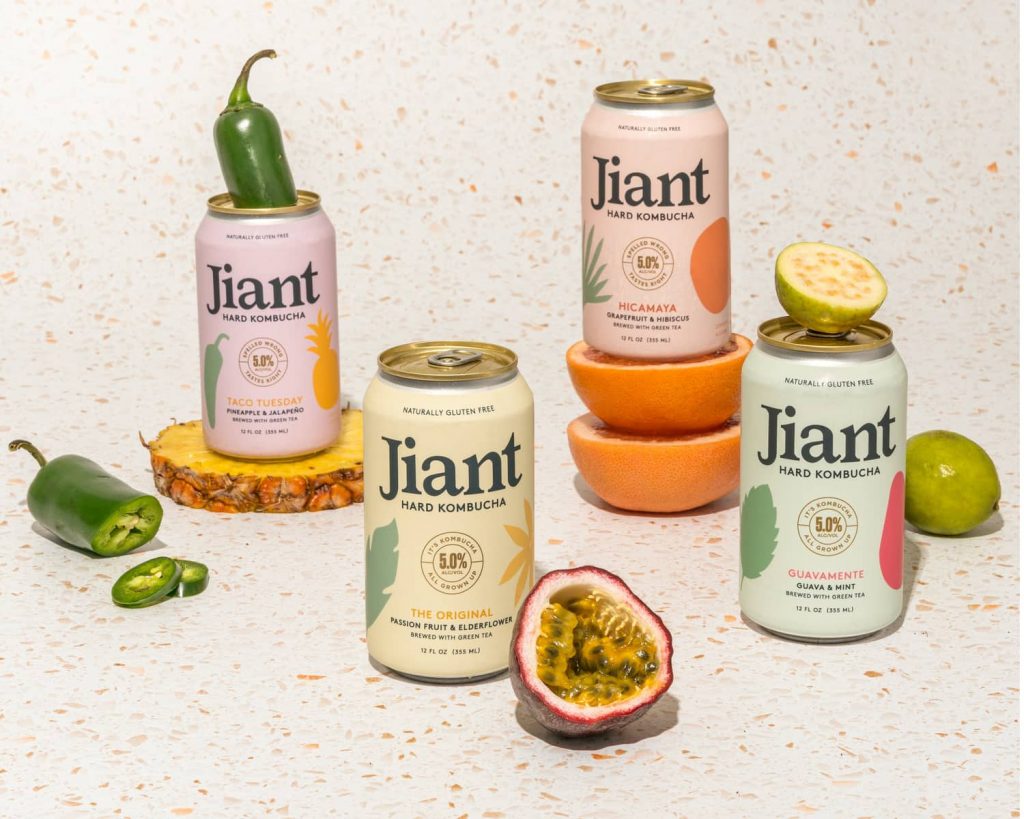 Jiant is a socially responsible brand that supports and protects the environment using only sustainable production methods and only works with suppliers who follow the same philosophy. The company also supports many charitable organizations and holds various events to raise awareness of environmental and healthy lifestyle issues.
Being one of the leaders in the hard kombucha market in the US is proven by their success and rapid growth over the past few years. The brand is sold in several thousand stores and bars throughout the country and continues to expand its presence in the market.
Risks and Opportunities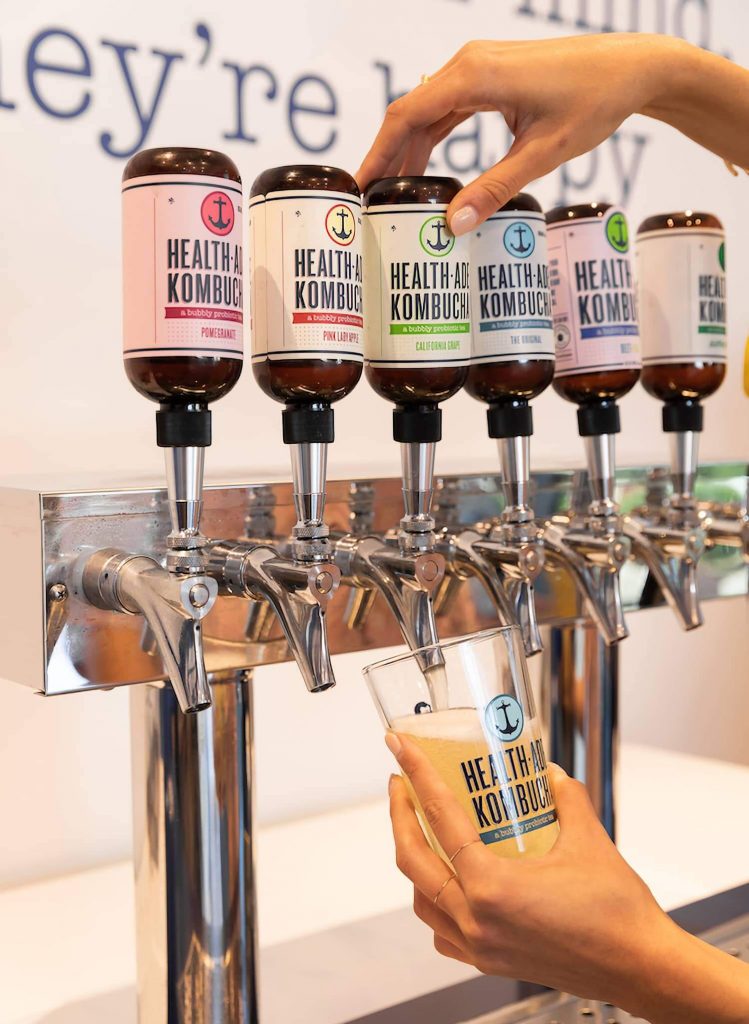 Although the hard kombucha market continues to grow, there are a number of risks that can correct its further development. And regulatory risks are among the most unpleasant.
As with any product that contains alcohol, manufacturers naturally face questions about regulating the alcohol content of their products, leading to restrictions on their sale and advertising.
And if brands cope with the first in strict accordance with the requirements of the law – mandatory messages about the presence of alcohol and the risks of its excessive consumption are applied to the packaging, then difficulties in promotion give rise to interesting finds in the form of advertising and promotions of manufacturers.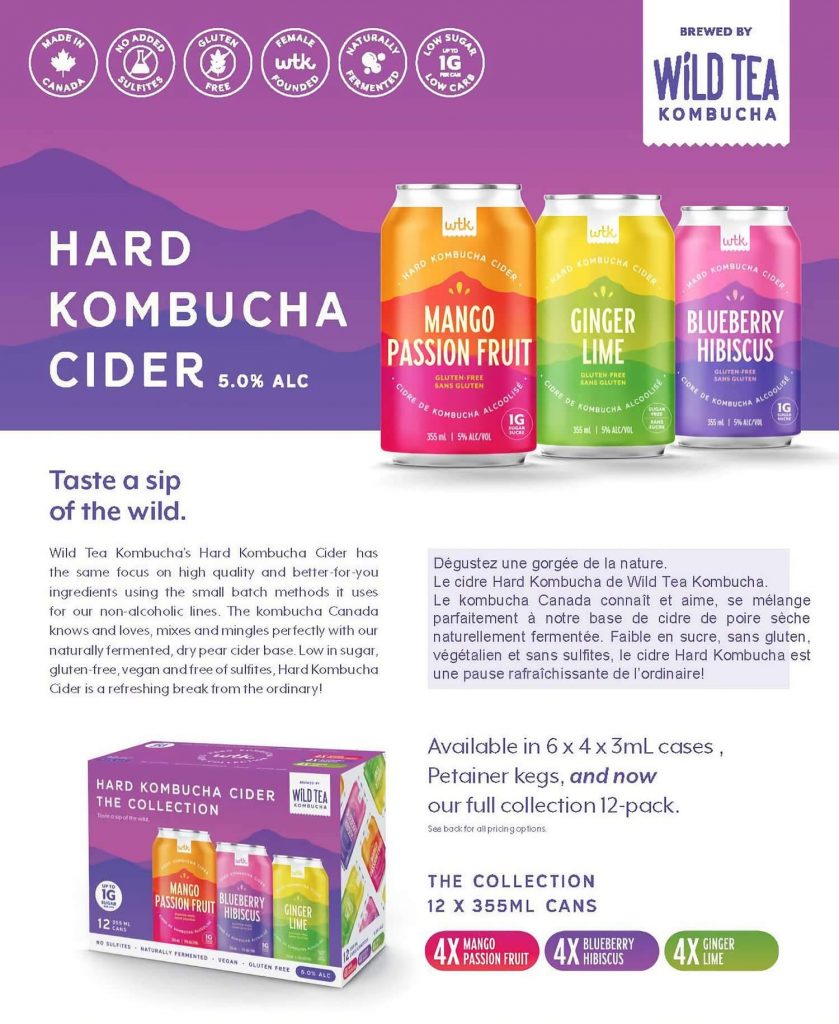 Brands actively sponsor events such as marathons and healthy lifestyle festivals (Jiant), as well as actively develop educational marketing. So Health-Ade Kombucha created the «Follow Your Gut» ad campaign, which featured three videos that convey the idea that human gut flora is the key to health and happiness.
The manufacturer ran promotions on its social media pages, where it offered users to complete a survey about their intestinal flora and receive a discount on products.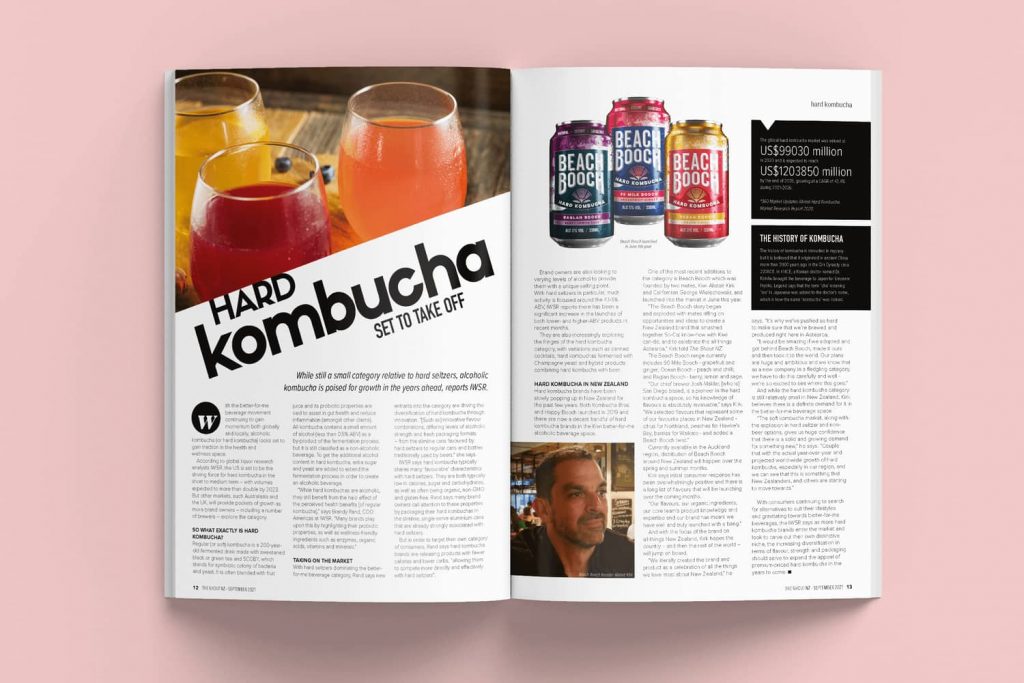 Limited by wide media coverage, hard kombucha makers' promotional strategies include building a closer relationship with consumers. Brands create their own communities where they share ideas, recipes and interesting facts about their product with consumers. In return, they get people's direct opinion of their products, which is extremely useful for its further development and endless improvement.
Market prospects
The market for hard kombucha remains quite competitive, but as consumer demand continues to grow, there is still plenty of room for growers. And as the demand for healthy and natural drinks is forecast to grow steadily in the coming years, the young healthy drinks segment continues to grow.
North America is the largest market for hard kombucha, according to MarketsandMarkets report, followed by Europe and Asia-Pacific.
One of the factors that continues to influence the optimistic development of the new market is increased consumer awareness and changing consumer preferences. With the development of information technology and the availability of information, consumers are becoming more aware of the products they buy.
This leads to an increase in demand for healthy and natural drinks, such as kombucha, which are considered healthier, and hard kombucha, respectively, because they are much less unhealthy than traditional alcoholic drinks.
Increasing the number of people seeking a healthy lifestyle and interested in alternative soft drinks. In addition, a growing number of people suffering from various diseases of the gastrointestinal tract, for which probiotics in kombucha easily become an effective treatment.
And as long as consumer preferences are focused on the consumption of products in line with healthy lifestyle trends, and sales of probiotics are breaking all records, the prospects for a new low-alcohol segment of fermented drinks will be impressive.