In 2022, confectionery is healthier and candy is spicier. The «sweet revolution» observed before our eyes includes completely unexpected tastes and aromas of the delicacy familiar to us. What sweets claim to be the most innovative sweets — we analyze in the material.
Cheer up
To stand out from the crowd in the confectionery category today, you need to create products that are not only tasty, natural and healthy, but also exciting. To be remembered for a long time. Now try all these characteristics to apply to the candy market! Maybe you can imagine the heroes of our today's review.
But if naturalness — usefulness in terms of reducing sugar or calories to no lesser extent — are the drivers for the development of the candy category of the past few years, then from now on, the favorite taste of the past year, caramel, will be replaced by more and more exotic flavors and additives, which can be described in one word — «exciting».
This all-encompassing attribute can describe the innovative and remarkable spicy-sour tastes that claim to be mainstream at the turn of the century. A year ago, they brilliantly revived such familiar categories of gummies and caramels. With an eye on the latest launches (and even more on the production plans of the brands), this year their triumphant march will continue with a craze.
Spicy experiments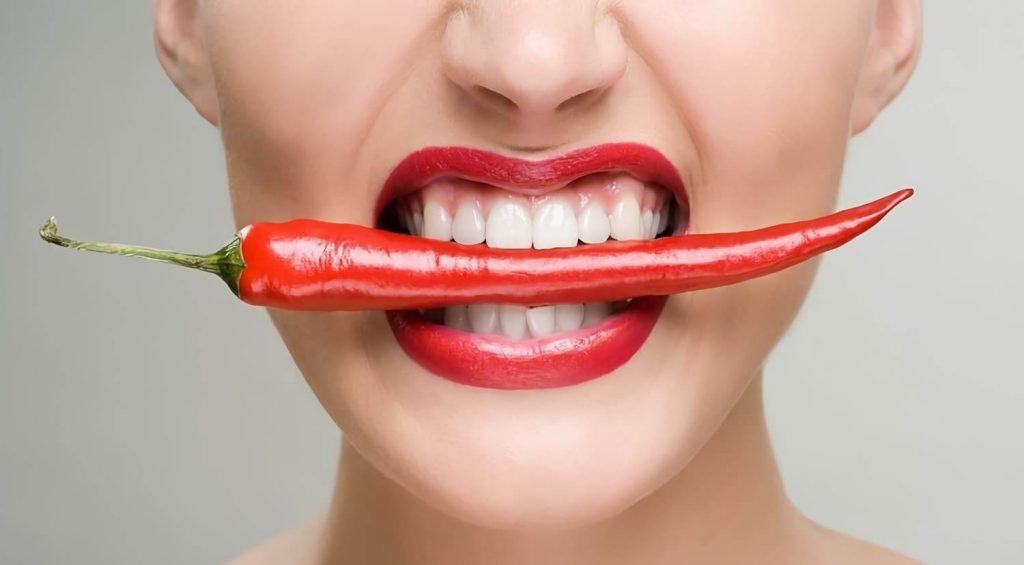 The confectionery segment has been experimenting with new combinations of ingredients or flavors for a long time, whether it's adding cinnamon or natural coconut to give a stronger flavor to the product.
Now, «heat-bearing» invigorating sweets with unusual spicy flavors such as spicy cocoa, chili, black garlic, miso chocolate, jalapeno, habanero or wasabi, which were previously hard to imagine in sweets, win the hearts of progressive consumers looking for new discoveries and experience.
The confectionery segment has been experimenting with new combinations of ingredients or flavors for a long time, whether it's adding cinnamon or natural coconut to give a stronger flavor to the product.
Now, «heat-bearing» invigorating sweets with unusual spicy flavors such as spicy cocoa, chili, black garlic, miso chocolate, jalapeno, habanero or wasabi, which were previously hard to imagine in sweets, win the hearts of progressive consumers looking for new discoveries and experience.
Market Challenges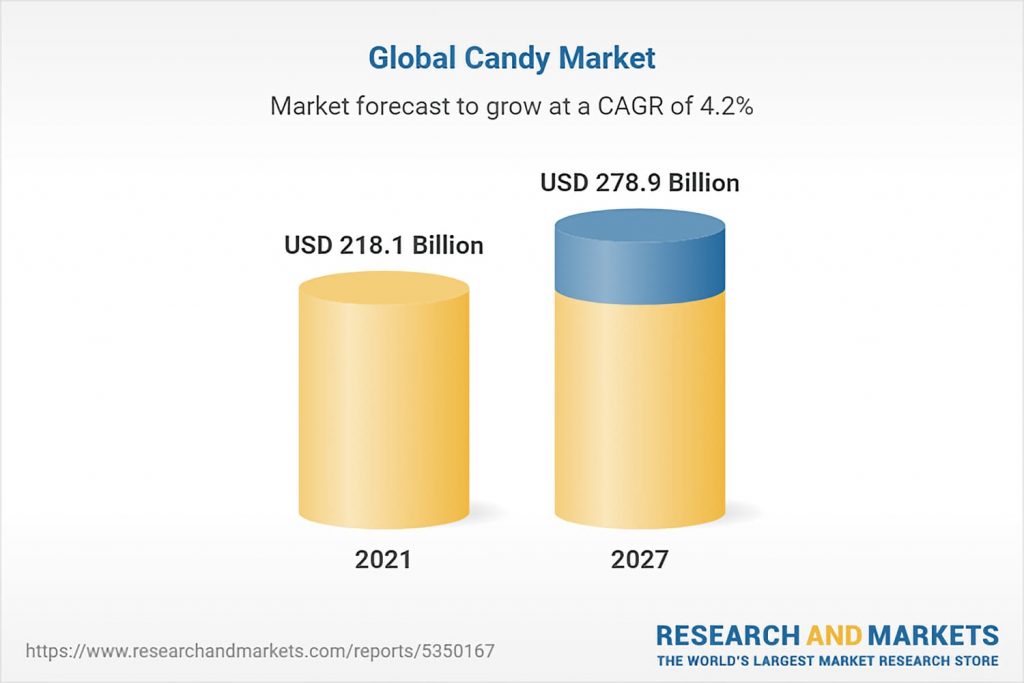 In 2021, the confectionery industry set a kind of sales record. According to the National Confectioners Association (NCA), consumers have spent a whopping $218.1 billion on candy and chocolate ($209.8 billion in 2020). The results for 2022 are still being summed up, but all experts are unanimous — despite the ongoing economic difficulties, the past year was also positive for the industry.
The candy market is expected to grow to $278.9 billion by 2027, if growth continues (the market is expected to grow annually by an average of 4.2% during the forecast period). But manufacturers need to cope with the growing challenges, not hoping that the confectionery industry will be able to avoid any global macroeconomic problems.
Inflation has driven up the prices of all kinds of goods and services, not just in the United States, but around the world throughout the first half of 2022. Long-standing supply chain disruptions since the pandemic continue to affect all forms of global trade and distribution channels.
The State of the Candy Industry 2022 industry webinar materials focused heavily on the uncertainties caused by ongoing inflation and ongoing logistical challenges. As a separate topic, some interesting trends that consumer demands are creating in the modern confectionery industry were presented.
Event host Brian Weil, director of sales at analytics firm SPINS, looked at some of the most important consumer trends shaping both online and brick-and-mortar retail.
The data set used included more than 380 different attributes, derived from over 1 billion data points, that can help define actionable brand insights and for retailing. Data was collected from North American retail giants Target, Kroger, CVS, as well as smaller regional and independent grocers and Amazon.
With a spicy twinkle
Spices are one of the top trends for 2022 that have swept the world of sweets. If we already take bold flavors in chips or popcorn for granted, at last year's Sweets & Snacks Expo, visitors had a great chance to see a new vision of the candy market.
The presented range of sweets in a good way surprised. In our material, we stopped at nine examples of non-chocolate «hot» sweets.
Brach's Holiday Heat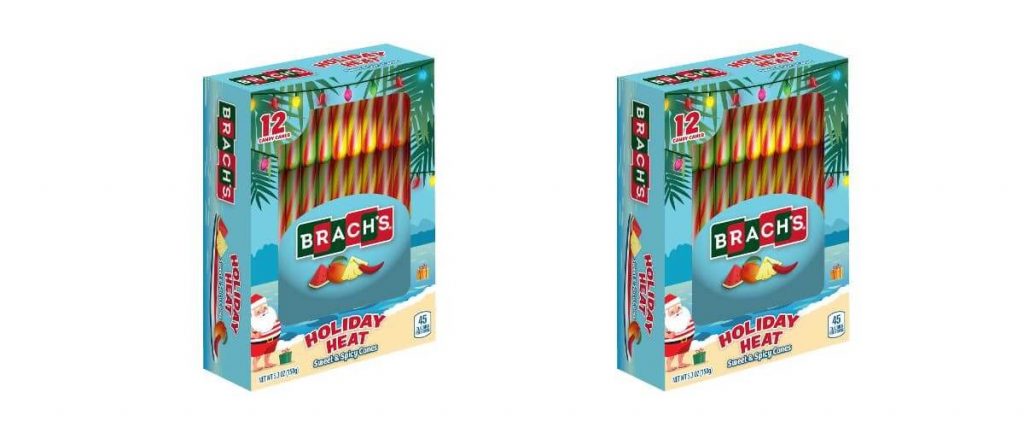 Brach's, Chicago-based Ferrara's candy brand, has unveiled a new Holiday Heat Candy filled with a fruity flavor with a hint of chili. Three flavors include watermelon chili, pineapple chili, and mango chili.
The manufacturer's portfolio already includes a seasonal flavor of Brach's — Red Hots — a cinnamon-flavored candy, another hot hit of the past years. The latest innovation is designed to appeal to consumers who «are not fans of the classic fruit mints,» Cathy Ferguson Duffy, vice president and general manager of Ferrara's seasonal range, said in a statement.
From November until the end of the Christmas holiday, the treat will be available nationwide in a 12-pack of candies for a suggested retail price of $1.99.
Snak Club Rings Coated in Tajin Seasoning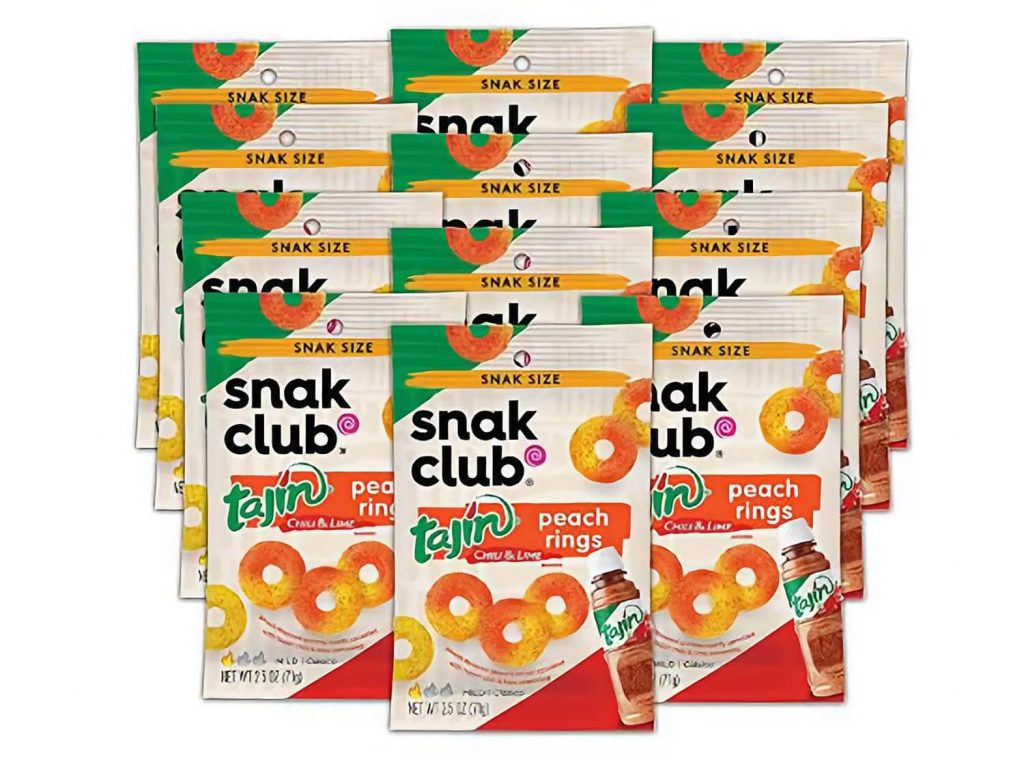 The bold flavor of Tajin Clasico Chili Lime seasoning is now available on your favorite Snak Club candy from Century Snacks LLC (California). Four new SKUs of a brand new style of delicious Snak Club candy come in peach, watermelon, apple and mango topped with Tajin Classico — the perfect fruity-sweet treat with signature chili lime flavor. Adding traditional Mexican flavors to classic fruit candies, the sweet-and-spicy treats are the perfect snack for any time of day.
The 5 oz. pack of Gluten Free Fruit Hot Gummies is available in a resealable package for a suggested retail price of $3.99 worldwide. The 11 oz. FAMILY PACK is currently available on Amazon for $12.99.
In addition to sweets, Tajin's brand portfolio includes a large selection of popular snacks such as peanuts, almonds and toasted corn.
Hot Zotz Fiery Cinnamon Fizz
Zotz are individually wrapped lollipops from Andre Prost Inc, of Old Cybro, Connecticut. The new flavor has the same fizzy center that made Zotz popular, plus a hot cinnamon flavor.
Explosive Zotz are available in various sizes and offer a completely different experience that not only children will enjoy. Although, if you believe the reviews, not all.
The fizzy candy was first made in a factory in northern Italy. And was reproduced by Frank Landry in 1970, after he returned from Europe with Italian sweets received as a gift. When pop candy became a hit with the neighborhood kids, Landry made the first batch of candy that same year.
Now Zotz is going to win over fizzy candy fans with the new Hot and Fizzy Cinnamon flavor.
Jolly Rancher Gummies Sour Lemonade

New Jolly Rancher Gummies Sour Lemonade from Hershey Co, Pennsylvania. What could be easier? The new flavor is the addition of sour lemonade to sweet fruit candies. However, it is necessary to try to achieve a balanced — «sobering» — taste.
The R&D department of the chocolate giant did their best. The successful combination of sweetness with an explosive sour center was deservedly noted by consumers. However, based on their reviews, this product is exclusively for adherents of sweet and sour tastes. But Hershey has no problem with this! As a result, with the three flavor SKUs of Cherry Lemonade, Sour Lime Lemonade, and Sour Strawberry Lemonade, fans will be able to «throw back to a gorgeous summer day wherever they are.»
Sweet & Sour Jolly Rancher Lemonades are available in 7 oz. packs starting pre-Christmas.
Sweetarts Gummies Fruity Splitz

Chicagoans from the already mentioned Ferrara, following the same trend of rethinking the classic confection format, launched Sweetarts Gummies Fruity Splitz on the market in December.
Each piece of the candy novelty is, on the one hand, a familiar fruity and appetizing sweet taste and a peppy taste with a sharp-tart texture, on the other. A novelty with six flavors: blue punch, grape, orange, cherry, lemon and green apple guarantees «opening the chakras» and an unforgettable experience.
3 oz. packs MSRP $1.79; 5 oz. with RRP $2.99; and a large pack of 9 oz. for $3.49.
Trolli Sour Duo Crawlers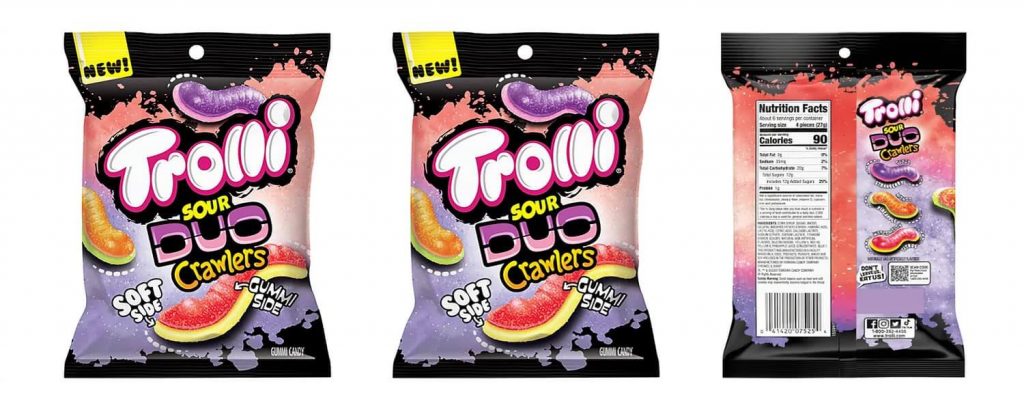 Also in December, fans of Ferrara brands were able to try another popular novelty — chewing worms Trolli Sour Duo Crawlers in a new reading.
According to the manufacturer, Trolli Sour Duo Crawlers is a fruit-flavored gummi worm with a dual texture that provides a multi-sensory experience. Caterpillars combine two sour tropical flavors. On the one hand, it is a classic chewy candy, and on the other hand, it is a whipped and aerated mass, with an unusually delicate and soft texture for maximum consumption pleasure.
Each package has three flavor combinations: mango and pineapple, citrus and watermelon, and strawberry and guava. Pack sizes range from 3 to 6.3 oz., with a retail price range of $1 to $2.99.
NERDS Gummy Clusters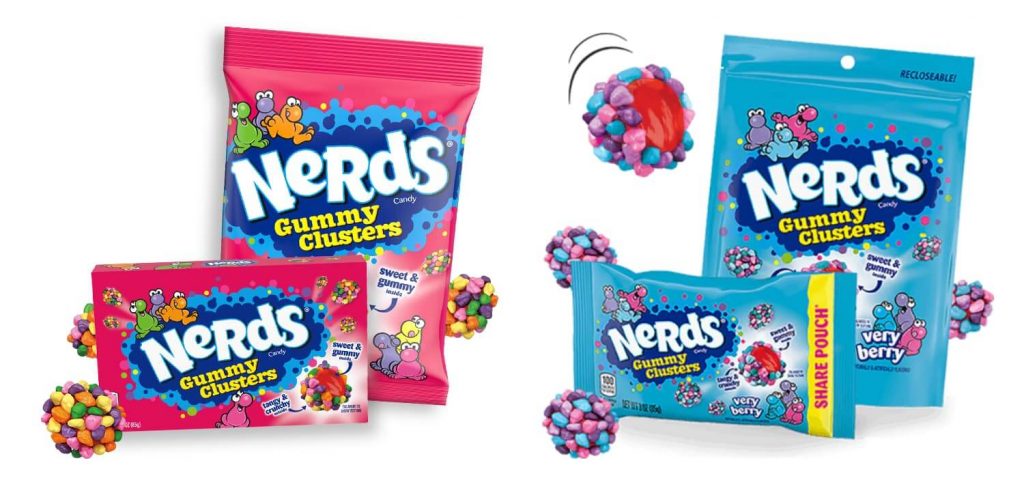 Another novelty from the Ferrara portfolio — NERDS Gummy Clusters
Trying to explain the brand's intent, the manufacturer has brought together crunchy (on top) and juicy (inside) flavors to provide a truly extraordinary consumer experience in every serving of NERDS candy innovation.
Sweet lovers got a one-of-a-kind treat ahead of the New Year sales. Very Berry NERDS is a crunchy rainbow candy with sourness around the edges that accentuates the sweet sticky center. Taste buds are in for a delicious berry revolution with an assortment of blue raspberries, strawberries, grapes and wild blueberries.
A resealable 8 oz. doypack was available during the Christmas weeks for a suggested retail price of $3.15. For small-format hobbyists, a pack of 3 oz. was available.
Starburst Airs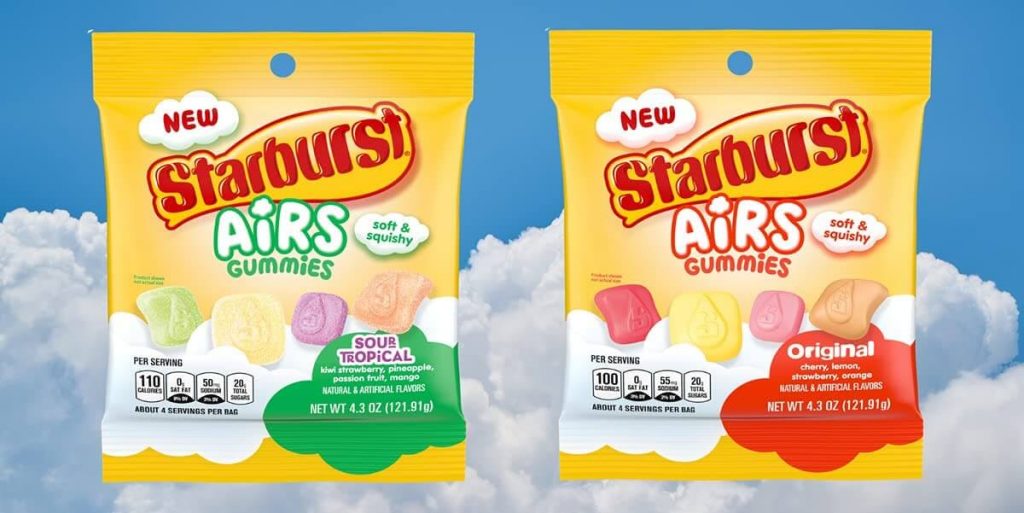 Starburst Airs — new from Mars Wrigley, (McLean, Virginia).
Supplied in packs of 4.3 oz. Two SKUs: Original and Sour Tropical. Original includes flavors of strawberry, lemon, orange and cherry. Sour Tropical packs include sour kiwi, strawberry, pineapple, passion fruit and mango flavors. They were available at Walmart for $2.18.
Now you're probably thinking, «What's so special about these candies?» For starters, imagine that firstly, this is a collaboration between Starburst and Nike that fans of the brand have been waiting for a long time. And secondly, all those traditional flavors you know and love from traditional Starburst candy… but in carbonated form.
In other words, these are sweets with a «bloated texture» that is difficult to describe in words. It's a cross between a marshmallow and a favorite of millions of chewy bears. But only very roughly.
The whole concept of Airs is simply aimed at satisfying the «sweet preferences» of Gen Z, who prefer to «chew» a soft-unusual texture. And they are a little tasty, according to the manufacturer.
The latter, by the way, applies to all the examples that were included in our spontaneous rating.
Read the Popsop newsletter. Sign up now.