If classic sweets (in the usual sense) are traditional sweets for children, then caffeinated confectionery sweets are a treat for sophisticated adult consumers. Whether these confections provide an extra boost of energy through their caffeine content or simply taste like coffee, the popularity of «coffee sweets» is only growing.
Caffeine trends in the confectionery
Caffeine is found in many foods and drinks. Therefore, trying to completely exclude it from your life can be a problem. But if you are looking for additional sources of caffeine or just want to better understand what you are consuming, you have come to the right place.
The category of sweet snacks is constantly replenished with a coffee theme. There are quite a few confections on the market these days that, by adding caffeine to them, give you more energy when you need it most. Therefore, if you prefer to cheer up with a delicious treat, it will not be difficult to find such an offer on the market.
However, if you fall in love with the taste of these delicacies, you definitely should not overdo it. Excess caffeine is not healthy, although we agree that products with it will certainly hit the streak.
It is worth clarifying here. If your favorite candy contains chocolate, it has caffeine. Different types of candy have different meanings of this psychoactive substance. It depends on which chocolate candy you choose. Generally, dark chocolate has the most caffeine, milk chocolate is somewhere in the middle, and white chocolate has no caffeine at all unless it's mixed with one of the other two types of chocolate.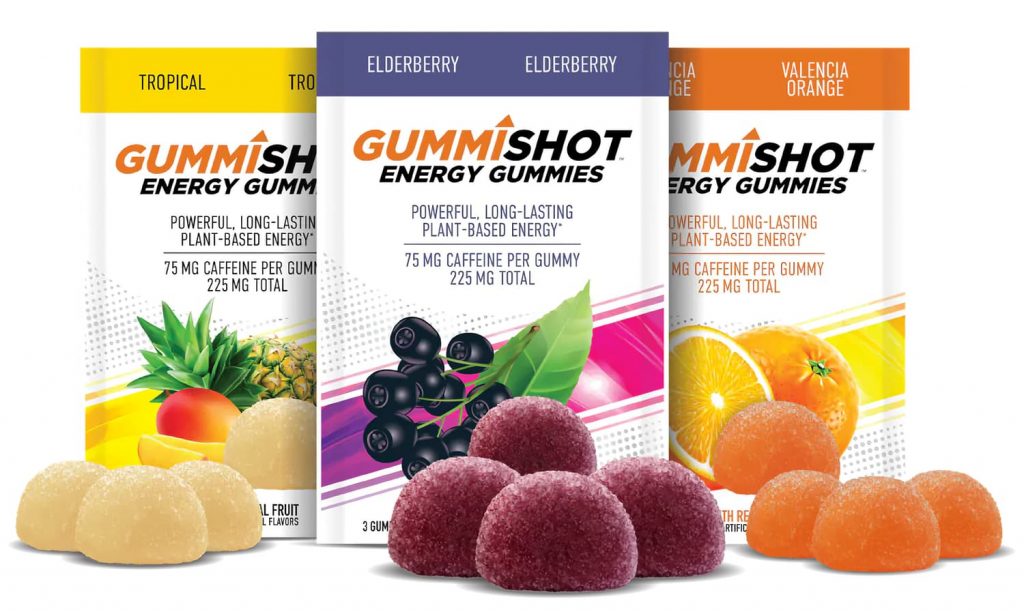 The amount of caffeine, as always, comes down to the specific product. For example, the famous Kopiko coffee candy contains 25 mg of caffeine per serving, while the original Werther coffee caramel candy has only 4 mg per 100 grams of candy. And in each small jelly candy from the GummiShot brand, there is generally a record 75 mg of pure caffeine (225 mg of caffeine in one package). It's definitely enough to get you through the weekend with energy.
This variation is due to what the coffee candy is in fact — either it has the taste of a popular coffee drink, or it actually contains coffee. Each time the buyer will have to look at the packaging to clarify this.
But keep reading, we will tell you about some of the new products that brands delighted their fans with at Christmas.
Two Mars coffee flavors
This season, Mars Wrigley introduced limited-edition M&M's and Dove candies: M&M's Espresso candies with dark chocolate combined with espresso flavor, covered in traditional bright sweet shells in a festive color and Dove in a festive Brownie Batter flavor, with soft dough flavor in a «shell» of the brand's signature milk chocolate. The holiday is added by packaging with a Christmas tree pattern, in which each candy is individually wrapped.
"Mars is obsessed with consumers," says Allison Miazga-Bedrick, senior director at Mars Wrigley. "During each season, we look forward to delighting our fans with unusual seasonal twists from our favorite brands."
It looks like the company is doing it. Mars has previously delighted fans with M&M's Espresso Dark Chocolate Candies, another innovative M&M's coffee flavored product. Inspired by consumer trends, the novelty in the portfolio boosted holiday sales by almost 60%, the company says.
Limited edition Espresso M&M's of two SKUs: 90g (3.14oz) and 210g (7.44oz) and 1 SKU in a pack of 225g Dove Promises (7.94oz) were sold during the Christmas period at retailers across country.
Dunkin' coffee beans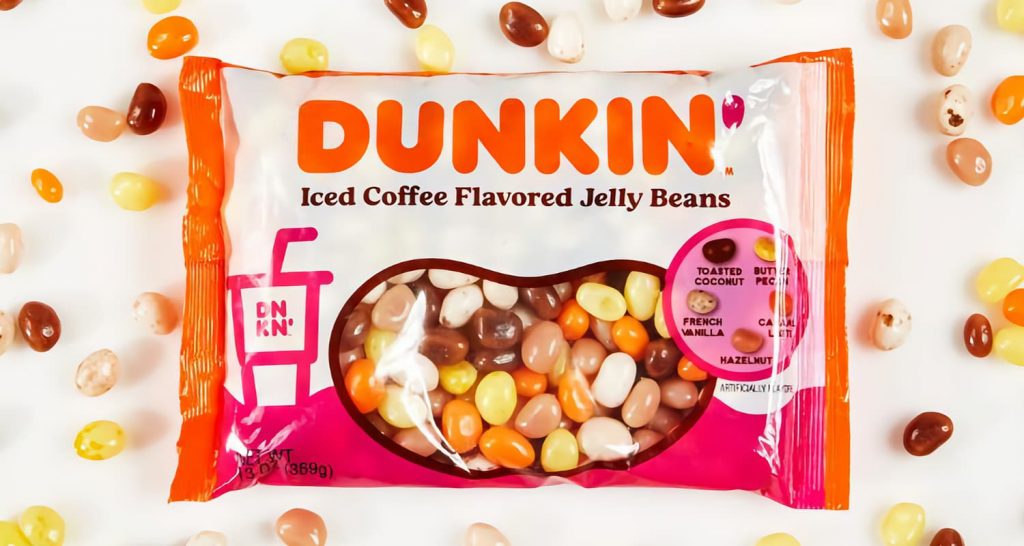 Frankford Candy and Dunkin' have collaborated to release coffee-flavoured Dunkin' candies. There are five flavors in the package: French Vanilla, Caramel Latte, Creamy Pecan, Toasted Coconut and Hazelnut.
Dunkin' coffee-flavoured beans were first tested in a very limited way in 2021. But after a successful and quick sale, the company decided that it was necessary not only to return the new product they liked, but also to expand their retail availability for the next season.
So this past Christmas, Dunkin' Jelly Coffee Beans in 368g (13oz) packages with a suggested retail price of $3.99 were available at retailers nationwide, including Walmart, Walgreens, CVS, Five Below, Rite Aid and Big Lots, as well as on Amazon and the Frankford online store.
Philadelphia-based Frankford Candy is actively partnering with a variety of entertainment and FMCG companies to innovate iconic confectionery brands. With the incredible response to Dunkin' Iced Coffee Flavored Jelly Beans, there's no doubt that the collaboration with Dunkin' will continue. So next Christmas we should still expect new products from the successful collaboration of these confectionery brands and not only.
Founded in Massachusetts in 2004, Dunkin' currently operates locations of 13,000 Dunkin' locations in 43 countries, and more than 8,000 Baskin-Robbins locations in over 50 countries, and is a promising retail partner.
But the potential of the confectionery market is not limited to sweets and caffeinated chocolate. This natural stimulant is actively included in other popular confectionery products. For example, cookies and donuts.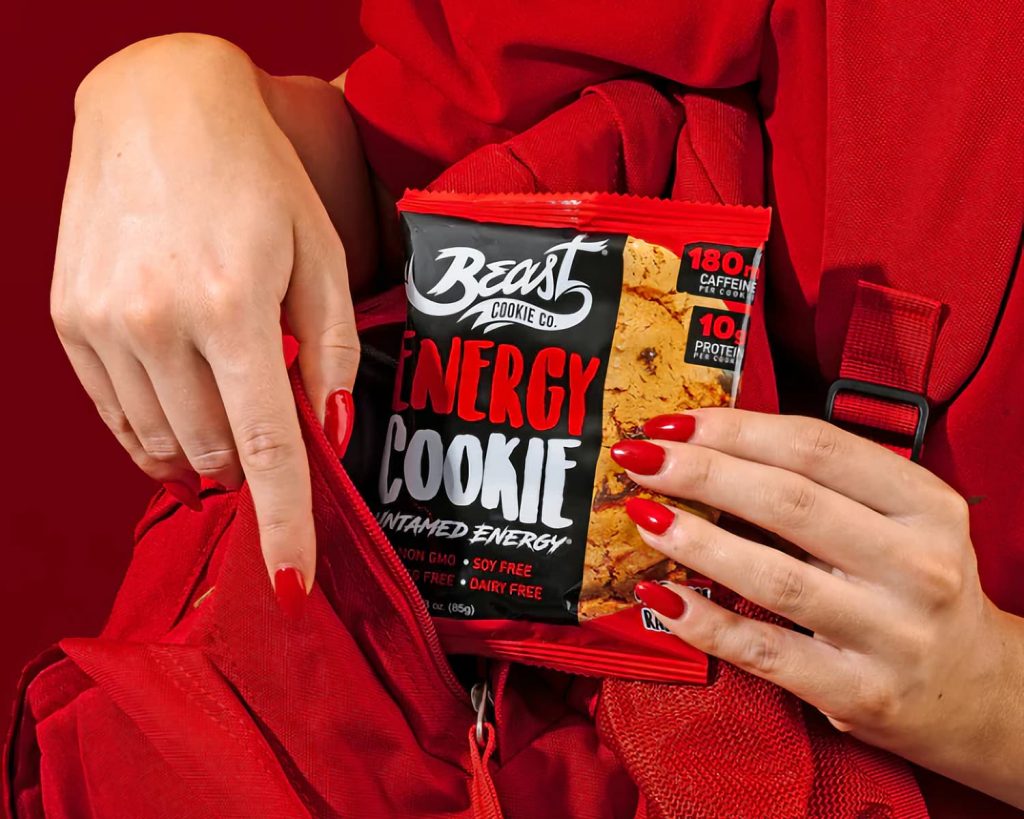 The Beast Energy Cookie brand line has a whole range of coffee flavors. A popular brand of protein biscuits (10g protein per serving) boasts 180mg of caffeine per serving. Which is definitely a lot if you drink coffee with Beast Energy cookies. Therefore, if this is too much for someone, you can start with half a cookie.
No less interesting in the sector of flour confectionery products seemed to us a novelty from the Hostess brand.
Donuts with caffeine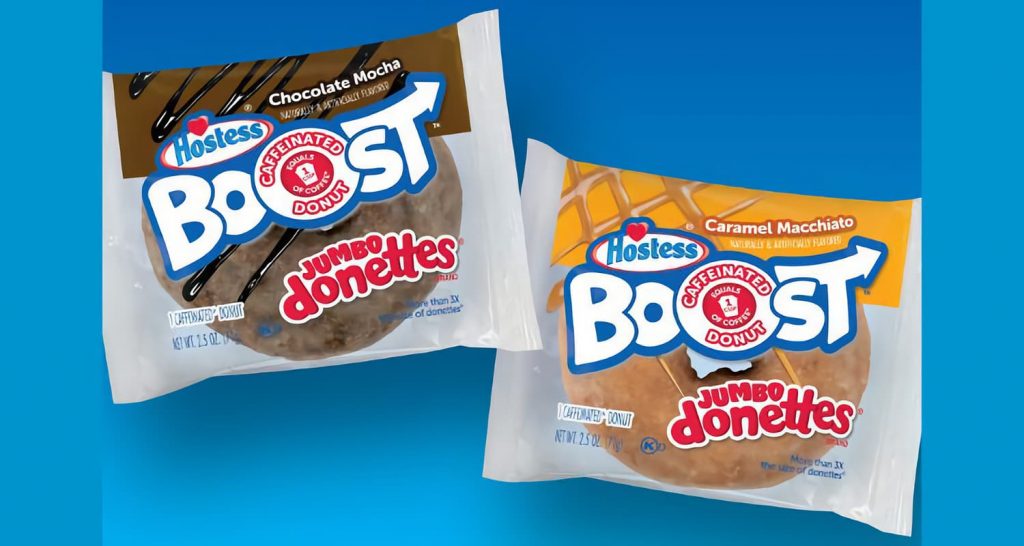 This past Christmas, Hostess Brands LLC introduced two new Boost Jumbo Donettes for retailers: Chocolate Mocha and Caramel Macchiato. Each donut contains 50-70 mg of caffeine, slightly less than a standard cup of coffee.
Innovative new products are designed for adult consumers who are looking for delicious alternative sources of caffeine. Chocolate Mocha combines the taste of chocolate and espresso, while Caramel Macchiato combines the taste of caramel and espresso. Both varieties are covered in a caffeinated glaze. Available in 70g (2.5oz) packs — twice the size of Hostess Original Mini Donuts. The suggested retail price is $2.49.
With its Hostess Boost Jumbo donuts, the world leader offers its own «way to start the day tasty and energizing,» said Christopher Balach, CEO of Hostess Brands LLC.
Caffeine shock from the 30s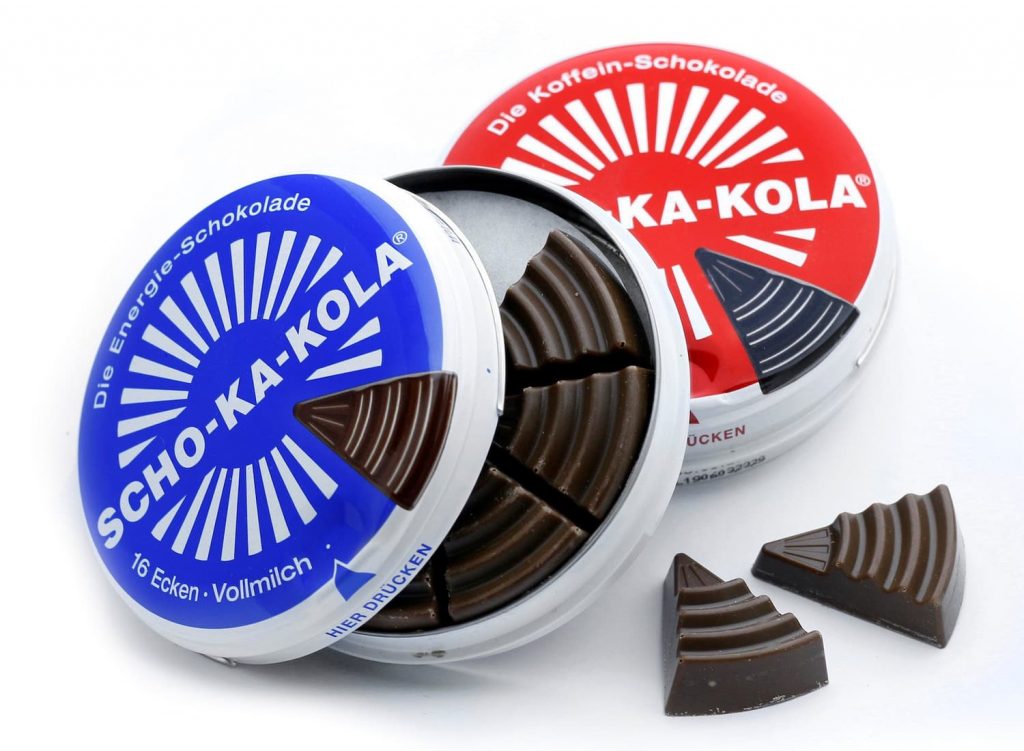 If you think caffeine in confectionery is a relatively recent idea, we're sorry to disappoint you. And we included in our material a story about the cult German brand Scho-Ka-Kola, without which our review would not have turned out so textured. We're going to talk about one of the most interesting caffeinated candies we've ever come across.
You won't find the iconic Scho-Ka-Kola on shelves in the US, but thanks to ecommerce, you can order this candy online. And if you like dark chocolate, you will definitely discover a new hit for yourself.
Scho-Ka-Kola — «caffeine gold» in an easily recognizable round tin box — has effectively cheered up Germans since the 1930s. The product with a slight coffee aroma is made from real dark bitter chocolate. Inside the round box, it's pre-divided into six serving segments, which should help avoid taking too much caffeine at a time.
Initially, the development of Hildebrand, Kakao- und Schokoladenfabrik GmbH was designed for athletes. The release of new items was planned for the 1936 Olympic Games. Therefore, Scho-Ka-Kola, released a year before them, can be considered one of the pioneers of functional sports nutrition products.
During World War II, Scho-Ka-Kola was part of the diet of pilots, it increased endurance and concentration.
In the 60s, the classic original taste (red box) was briefly supplemented with a hazelnut flavored milk chocolate variant. The nut flavor (blue box) was phased out relatively quickly, but in 2012 the «blue variant» returned. To this day, only two SKUs are available in the line.
Chocolate is quite dry and crumbly, so it is not recommended to eat it in your favorite white blouse. Contrary to rumors, the Sho-Ka-Kola recipe never included any psychoactive stimulants other than caffeine. One package of Scho-Ka-Kola (100 g) contains about the same amount of caffeine as a cup of coffee — 200 mg.
Сaffeine history
Continuing the historical digression, it can be noted that at one time quite a few brands dabbled in caffeinated sweets.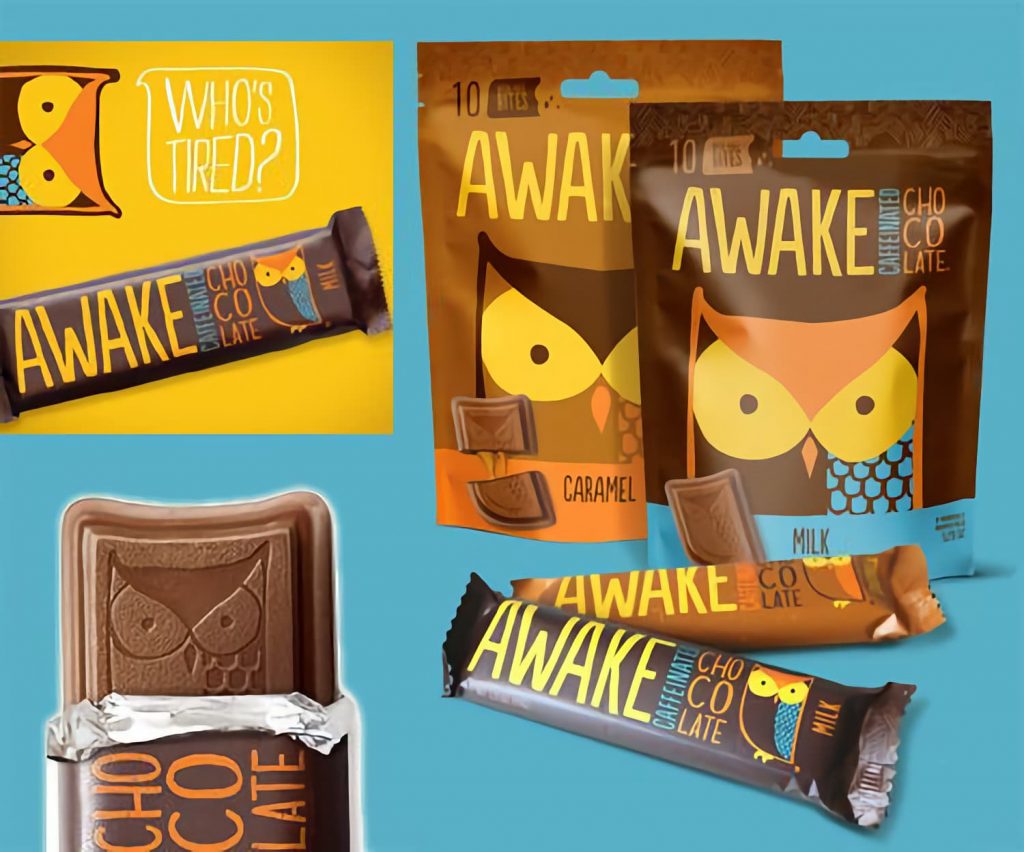 For example, Snickers with its Awake Bar. Awake chocolates are still on the market, which confirms the calculation of the giant of the sweet snack industry already mentioned today Mars — caffeinated sweets will find their buyer.
Awake, as well as another «historical» caffeine product from the category of functional chewing gum — Jolt Gum, continue to hold decent positions, although by now there are not so many «historic brands» of caffeinated candies on the market.
The explanation for this is quite simple. Most consumers prefer to get their caffeine from a relatively simple and healthier source — classic coffee. Candy simply lacks the power and is less likely to be associated with a «healthy product» to become part of someone's daily routine.
However, there is an important point that gives caffeine a chance for a renaissance in confectionery. The state actively regulates the sale of energy drinks to young consumers. For example, most major supermarkets in the UK prohibit the sale of highly caffeinated beverages to customers under 16 years of age.
Retailers are limiting the sale of energy drinks containing more than 150 mg of caffeine per liter at Asda, Waitrose, Tesco and Co-op. A voluntary ban is being introduced by other chains, including Aldi, Lidl, Sainsbury's and Morrisons.
However, people's interest in buying products for extra energy is growing. Therefore, launches of caffeinated sweets are quite in line with current consumer trends.
It can be assumed that with the active expansion of state regulation in the energy drink market, fans of caffeinated products will easily switch to other categories. Which is what we are currently seeing.